The Festival Of Model Tramways
The history of a classic event
For thirty years this national exhibition featured the highest quality model tramway layouts and displays. There were sales stands to supply the modeller with all the necessary materials, kits, drawings, photographs, books etc., for model tram building. There was a competition, with a trophy given for the best model tram of the show.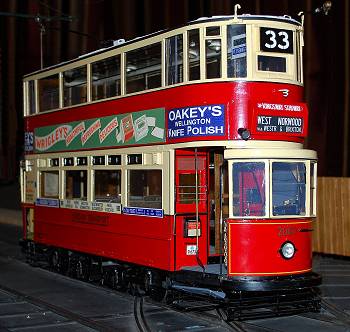 The exhibition alternated between the Kew Bridge Steam Museum and venues further north such as the National Tramway Museum at Crich in Derbyshire, the Birmingham and Midland Museum of Transport at Wythall and the Museum of Transport, Greater Manchester, latterly our regular northern venue. The 1998 Festival, held in Fleetwood, was one of the events held to celebrate the centenary of the Blackpool and Fleetwood Tramroad. In 2013 we moved to the prestigious Fairfield Halls, Croydon (1:16 London model by Terry Russell shown in Croydon - left) but this closed for renovation in 2017 and we returned for one year to the Kew Bridge Steam Museum, now known as the London Museum of Water & Steam.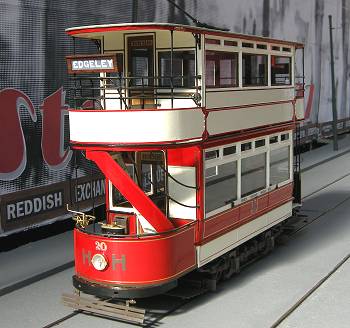 For 2018 we were back in Manchester (1:16 Stockport model by Greg Marsden shown in Manchester - right).
When we started there were very few and very infrequent dedicated model tram shows and we felt that a regular national event was required. Over the years we have set the standard which others can only copy and today there are many regular local shows. In recent years the show has been more difficult on many levels, not the least being the age of the management team. Perhaps the biggest problem has been the lack of a decent London-end venue since Fairfield Halls closed. We took the London Museum of Water and Steam as a one-off replacement in the hope that we could return to Fairfield in 2019 but this cannot happen. In fact the wonderful and recently refurbished Arnhem Gallery has now been demolished! We agreed between ourselves two years ago that unless something really good turned up, then it would be better to draw a line under it after thirty shows and that is what has happened.
There will be no more regular annual Festival of Model Tramways, but perhaps at some date in the future we might run one-off events for special purposes.

---
Festival Archive
There are also a number of films of the Festival on our Videos page.

facebook.com/tramwayfestival


Tramway Information Homepage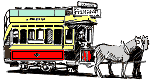 Reload Home if you linked directly to this page



© Copyright John R. Prentice Software 2021