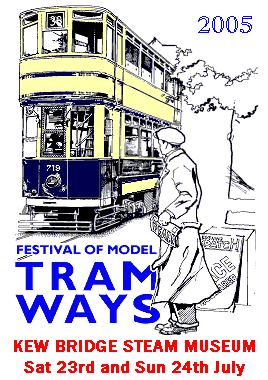 The 2005 Festival Of Model Tramways
The Festival of Model Tramways, is Europe's premier event for the model tram enthusiast.
The 2005 Festival was held on 23rd/24th July 2005 at the Kew Bridge Steam Museum, Green Dragon Lane, Brentford, Middlesex.
Click here for List of Exhibitors at the Festival.
Festival Review by Adrian Batt
Photographs by Bob Appleton
Kew Bridge Steam Museum was again the setting for the Festival of Model Tramways on its return south after an absence of two years. Those who visited it were treated to a first class Festival in every respect.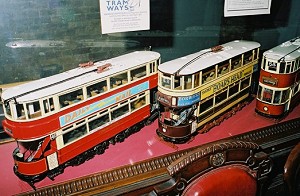 London E/1 class car 1800 and HR/2 car 1900 in London Transport colours and E class car 444 in L.C.C., livery are three of the six models in 1/16 scale at the show that were built by the late Frank E. Wilson and displayed by the Tramway & Light Railway Society.

The highlight of the show was a visit on Saturday by Jancis Pilcher, the daughter of the TLRS founder and former president Frank E. Wilson. She came to see six of her father's 3/4 inch scale models gathered together in the same place for the first time in over forty years. These included Frank's earliest model, LCC No. 444, which he made in 1928.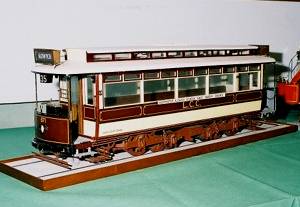 An L.C.C. subway car in 1/16th scale by the Late Frank E. Wilson that has recently been on display in the London Science Museum. This Festival was the first time in over forty years that Frank Wilson's London models had been seen together.

As in previous years, Howard Burford's Wootton Tramway was the first exhibit visitors encountered, as its tracks crossed in front of the Museum main entrance. This one fifth full size tramway was kept busy giving visitors rides over its extensive trackage.
On entering the marquee we saw 'Thamesmarsh', a layout by the Oxford and Chilterns branch of the TLRS in 4mm scale. A fictional setting for trams from different operators was shown and included a building 'on fire' as part of a wartime scene. Next along was Peter Fickweiler's 'Peterstown' in 7mm scale, being operated by the Sussex group of the TLRS. Many continental models were running through the street scene, which included a Model Railway shop complete with a layout in its window. New additions included a spur running to the railway station where two Australian interurbans were waiting their turn for service.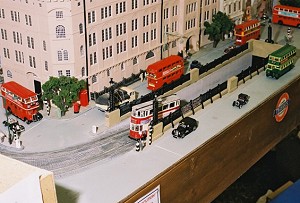 John Howe's impressive Kingsway Tram Subway layout in 00 gauge was a popular exhibit and showed the ramp at the northern end (seen here) and a cut-away view into the underground Holborn tram stop.

Your reviewer has often journeyed to work along Kingsway and, whilst sat on the top deck bus, has pondered how a model of the famous Subway could be made. Well, John Howe's 4mm scale layout 'Kingsway Tram Subway' has faithfully reproduced the characteristics of its northern end featuring the 1 in 10 slope down from Theobald's Road, together with the subway along to Holborn station. The trams realistically dive down the slope and, after passing beneath High Holborn, reappear in the station, where they may be viewed in the classic art deco setting.
Brighton seafront in the 1950's was next with the Volk's Electric Railway running from Black Rock to the Aquarium. This 10mm scale layout was being shown by the Association, and included a static large-scale model (one inch to one foot) of car No. 8, almost entirely made of card, for display in the Brighton Tourist Information window. Another area well known to your reviewer is Wellesley Road, Croydon which was the setting for the OO scale model of 'Croydon Tramlink', shown by the Croydon MRS. This featured a scratch built Tramlink car running alongside a road choked with motor traffic. This, together with representations of the 'slab' office blocks in this area, captured the look of modern day Croydon.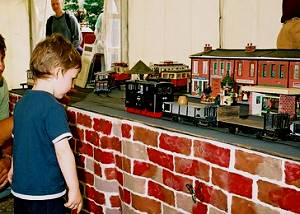 Theo, a young visitor and perhaps future enthusiast, admires a steam tram on the Whiteleaf to Penn Street layout of the Buckinghamshire Garden Railway Society.

The O Gauge Tram Group were next with their layout 'St Peter's Road'. This featured a double track 90 degree crossover over which a Brussels PCC car was running. The Greasy Spoon Café was empty, so I expect the clientele were either at the splendidly modelled Odeon cinema or on the trams. Bob Tidball was showing his HO scale 'Arcadia Electric'. Bob has adapted many Bachman models to represent Pacific Electric cars, together with an unusual Boston Elevated 'two rooms and a bath' articulated car. Also featured was a Mack railcar on shed. Still in the marquee was the Buckingham GRS G scale 'Penn Street - Whiteleaf'. Cars on this line were either scratch built or from Bachman and LGB. A product of the latter manufacturer, the Bernina Railway car, caught most visitors' attention when running as it emitted loud sound effects! Also, true to garden railway operation, some cars were being operated by radio control.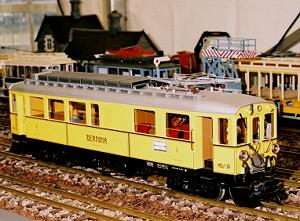 In G scale we see a model of a Swiss Berninabahn car on the Whiteleaf to Penn Street layout of the Buckinghamshire Garden Railway Society. This car emitted realistic and authentic sound effects.

Moving inside the Museum buildings, Alan Kirkman was demonstrating a short slice of the Blackpool tramway as part of the TLRS West Midlands stand. As anticipated, Alan's models reflected the latest developments on this tramway and featured cars in the all over Metro livery and Balloon No. 700 fitted with a pantograph. Crossing through into the neighbouring engine hall found 'Severn Mill', an O gauge layout by the TLRS Solent Area. As befitting a museum line, there were trams from many operators running, which included LT, LCC, Portsmouth and Bradford. Mixed gauge track (standard and 3' 6" gauges) and point work were prominent features of this layout.
In another of the engine houses was 'Stepley Corporation Tramways', a 4mm scale layout by Steve and Martin Whitley. Most trams were running in the modern red and orange livery, but a few remained in the older dark red and cream style. Additions since 2003 included a depot scene, a large loop and a fine double crossover. Outside the Tramway Offices an Inspector is about to begin his duty.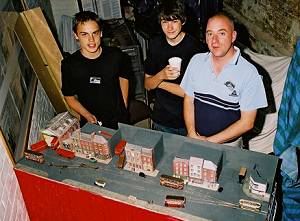 The London themed 00 gauge "Gransun Street" layout by 14 year-old Stephen Trower (on the left) was only finished the night before the show when about half of the buildings were added.

Stepping down into the Steam Hall found 'Gransun Street', a 4mm scale layout by 14 year-old Stephen Trower. This London scene was a very good first attempt by Stephen, who was justifiably proud of the Corgi Feltham that he motorised using the BEC kit. His good eye for detail ensured that the tube station displayed the correct 1933 Underground map! Over the other side of the Hall was Ron Vincett's 'Caronway Tram Museum' in 7mm scale. The double track loop was scratch built using OO gauge rail for the running rail and N gauge rail for the groove. The latest addition to the smooth running cars from London and Southampton was a Leeds overhead maintenance car.
Up in the Steam Hall gallery was 'Cheerio Charlton' by Richard Moules. This 7mm layout simulated conduit operation as the trams, being equipped with skates on the underside, picked up from a live third rail running in the place of the conduit slot. The street scene was closely modelled on the actual buildings at Charlton, which must have reminded many of the last days of the London trams. Next along was 'Trumpton' Darren Franklin's 4mm scale layout. This double track street scene featured many London trams. Standing out in its white livery was car No. 1931, the E/3 that re-opened the Kingsway Subway in 1931. In the Depot was an unusual 'wrecking wagon' (fortunately empty), which was based on a prototype that existed at Purley.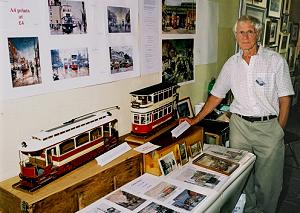 Ashley Best with some of his drawings, paintings and 1/16th scale models of Middleton Electric Traction single-deck car 14 and Salford Corporation car 157.

Down in the Water for Life Gallery was Don Sibley's 'Tramstadt', a Dutch tramway in 3.5 mm scale. Don explained this layout was built 30 years ago and its last outing was five years back. Nevertheless, it was still looking good and the trams ran smoothly. However, the overhead gang have been fixing that same hanger for the best part of three decades. Next along was the 2mm scale 'Port of Enn' (by Bill Avery). Tram, trolleybus, bus and rail models abounded and everywhere your reviewer looked something caught the eye. Having an LUT bias, I noticed the Diddler trolleybus and X Type tram with its upper deck seats (and passengers) beautifully modelled. New tramcar models were the Blackpool Centenary and the Feltham.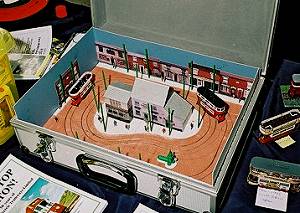 It's an open and shut case for Dave Voice's tramway in a briefcase, but it does show how compact one can make a model tram system.

The twilight scene and twinkling street lamps of 'Valley Tramways' came next. Wilf and Joan Helliwell were individually driving their 4mm scale tramcars to attain realistic speeds though the cobbled streets of this small northern town. The cars picked up from live overhead and ran over interlaced track through narrow streets. The peculiar world of pier tramways was captured by D Carson's 'Walmington Pier Tramway'. A small car and luggage trailer shuttled to the end of the pier where the Edwardian delights of Punch & Judy, a dancing bear and the hurdy-gurdy man could be found.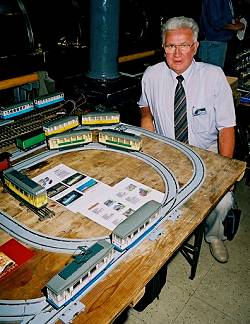 Dieter Lehnhardt from Oberlungwitz in Saxony, Germany, displayed his 0 gauge tin-plate trams representing several systems in eastern Germany. Dieter produces these models on a commercial basis. The blue and white tram set in the foreground is from the NVK (Chemnitz), in the mid-distance are trams 10 and 34 of the Sächsische Überlandbahn Gesellschaft and at the back are two cars of the Thuringerwaldbahn.

Up on the Mezzanine floor was 'The Broadway' in 2mm scale by Alan Lawrence. This layout is based on Ilford and Alan has succeeded in getting a good period 'look' to the street scene. The tramcars are individual delights in that they are scratch built (chassis too!), pick up from live overhead and sport the liveries of Ilford, Great Yarmouth and Ipswich. The open top cars have detailed top decks with individual garden seats. Also on this floor was Paul Penders with his display of O gauge trams from Europe in the 1920's.
The 'Trams at War' display assembled by John Prentice and Ron Howes covered two walls. This caused much interest amongst visitors, who could be seen closely examining the many photographs on show. Last but not least was Gerald Warner's 'Mychett Green' in 4mm scale. This layout has to be seen to appreciate the high level of detailing that Gerald has achieved over the whole layout. Cars on the layout are principally LCC, but LT, MET and LUT Feltham cars may also be seen occasionally.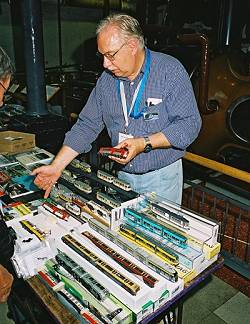 Rolf Hafke from Cologne, Germany selling his range of H0 gauge model trams and continental books. Many of Rolf's models are made exclusively for him by Halling.

The models competition was judged by David Voice and Ashley Best. David was especially pleased to report that the models submitted on both days were to a very high standard. Best of the day for Sunday was Arthur Dawson's large scale model of Darwen 24. Best of the day for Saturday and overall winner was Terry Russell's superb LT HR2 Rehab No.1884 in 1/16 scale.
Space does not permit me to mention any particular trader, but all contributed greatly to the wealth and variety of model tram related items, together with tramway books, maps and prints, available to the visitor. All in all this was an excellent show.
---

Return to Festival of Model Tramways


© Copyright John R. Prentice Software 2005