The 2012 Festival Of Model Tramways
The Festival of Model Tramways, is the premier event for the model tram enthusiast.
The 2012 Festival was held on 21st/22nd July 2012 at the Museum of Transport, Boyle Street, Cheetham Hill, Manchester.
Click here for List of Exhibitors at the Festival.
Festival Review by Ron Howes
Photographs and captions by John Prentice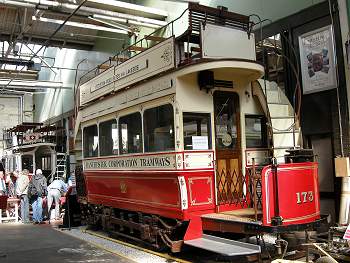 Full size Manchester tram 173 in the Festival venue, the Museum of Transport, Greater Manchester.


The 24th Festival of Model Tramways was held in the Manchester Museum of Transport on 21st and 22nd July 2012, and featured a healthy mixture of new exhibits with others which had been seen before. Pride of place among the latter must go to our two Dutch exhibitors, René Hoppel and Mark van Dijk. René showed his "Kreekse Tram Dienst", a 3.5mm model representing a small Dutch town's tramway complete with depot and quite delightful it was, too.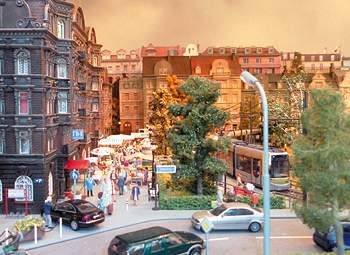 In addition to the trams, Mark van Dijk's "Rheinburger Strassenbahn Betriebe" in 3.5mm scale has crowded scenes packed with little people. (Photo: Mollie Sidwell)


Mark's "Rheinburger Strassenbahn Betriebe", also 3.5mm scale, represented a small German town near the Dutch border. Most of the town's population seemed to be out in the streets! I gave up on counting them and also the number of lamps illuminated. Computer controlled, at one point on the layout trams leaving the stop sounded an audible warning before starting away, the sound being appropriate to the type of car, gong, bell or hooter. The "fiddle yard (round the back) seemed to hold more cars than Croydon's Tramlink can muster. This was a real "tour de force" and beautifully done, too.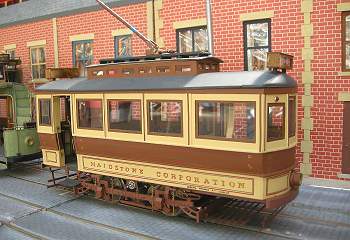 1:16 scale model of a Maidstone demi-car by Ron Leach was running on Ron's narrow gauge layout, now owned by Harry Moore.


Also new to Manchester was Peter Dale's "The Pavilion" in 4mm scale, the building in question being from Penzance, and shown as it would appear at sunset. It was served by the fictitious "Penzance & Newlyn Tramway. Harry Moore showed "Tramway Avenue" a 3'6" gauge tramway modelled in 3/4" scale by its previous owner, Ron Leach and running mostly Llandudno & Colwyn Bay cars. David Wood's 4mm scale "West Porton", with its trams, trolleybuses and Underground trains running automatically, had travelled north to its first Manchester appearance.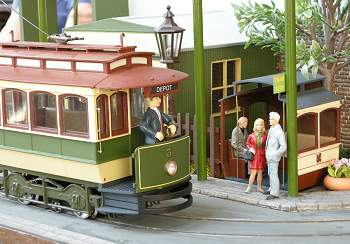 Keith Walton has cut down this Bachmann G scale tram to give a shorter car, and has used the removed section to create a tram shelter.


From Scotland, under the "Tram Stop" banner, came Douglas Sutherland's N-gauge "Dodderbahn", a Swiss tramway (or is it a light Railway?), Mervyn Spencer's "Willemsplein" (3.5mm) which took us to the market in a small Dutch town somewhere between Rotterdam and Amsterdam and Dave Haughton's "Woltersdorfe" in 3.5mm scale. Woltersdorfe is to the east of Berlin. Keith Walton's G-scale "Tram Depot", representing TLRS West of England Group, included a shortened Bachmann car, the removed centre portion re-used as a passenger shelter. This exhibit showed how much one can put onto a smallish baseboard, even in G-scale.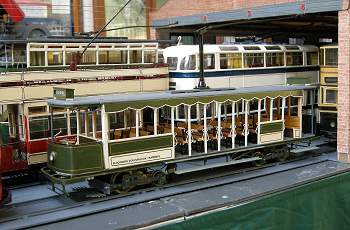 An unusual Blackburn Corporation combination car at the busy depot of the Manchester Model Tramways Group's 5/8" to 1' scale layout.


Those making repeat appearances included the Manchester Model Tramway Group's 5/8" scale track, a scale embraced by Manchester enthusiasts many years ago and still popular today. Some fine work is done in this scale as witness the result of the Models Contest. This track must take the title of "longest in show". Greg Marsden's 3/4" scale Stockport display has also been seen at the Manchester Festival before. Greg's fleet is composed of cars from Stockport, his native town, and the year is 1936, as the accompanying illustrations and contemporary music indicated. Geoffrey Heywood's 3.5mm scale "City Tramway" runs "somewhere in Europe and has a main road, reservation, terminal loops and a depot.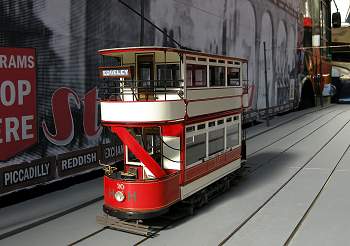 1:16 scale model of Stockport 20, one of Greg Marsden's fine models of this town's trams.


Another welcome re-appearance was made by Peter Whiteley's 4mm Blackpool layout complete with its collection of illuminated cars. I spotted the Santa Fe Train, the Lifeboat and the Blackpool Belle but I know there are more. The TLRS North Lancs Group's static display featured as a centrepiece a large map of the tramways of Lancashire, with a "supporting cast" of static models in several scales. Mark Casson's "Grime Street (4mm), with its new, as yet unfinished extension took us on a time travel journey to Leeds in 1950-1956. It has to be said that parts of the new extension looks even more grimy than the original street!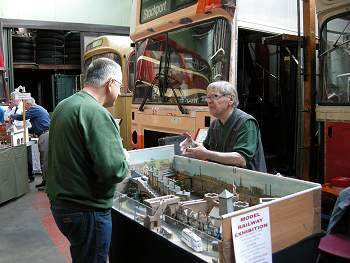 Doug Pritchard with his 4mm scale "Chederall" explaining demi-cars to Helmut Gieramm.


Also re-appearing were Alan Kirkman's 4mm "Leyburn Avenue, Norbreck", which runs with live overhead and now represents a historical scene as it does not run the new cars or balloons with "fat doors". Andrew Hunt's "Jager Strassenbahn" (3.5mm) is another old friend which has developed over the years. It represents a modern continental tramway. Last time the Festival was held in Manchester I remember being very much taken with Doug Pritchard's "Chederall" (4mm). It has lost none of its charm. Likewise Bob Wardle's "Chesfield" in 7mm. Its beautifully modelled trams, their excellent running through well-modelled scenery make for a most appealing display.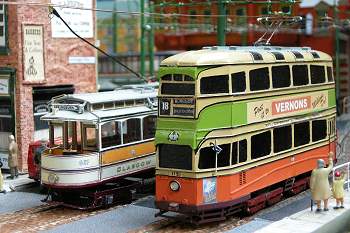 Two Glasgow cars in 7mm scale on the "Chesfield" layout from Bob Wardle.


Werner Jurkowski's 3.5mm "International Tramway Museum" is "work in progress". Progress may not be rapid but to watch Werner turn his back on a trolley-equipped car while it is running through complicated junctions, though a trifle nerve racking, proved that the work in progress is being done well. Steve Smith's "Hasselhof(f)" has an awful lot happening in a fairly confined space. There appear to have been no developments in the drama taking place which has held up the motor traffic but not the trams. Last but not least was Festival Manager John Prentice's working diorama showing the fatal result to a horse of malfunctioning stud contact apparatus on a seaside tramway which is complete with Punch & Judy, donkeys and bathing machines. This 4mm minimal space model is another layout to work automatically.
As well as his 4mm scale trams, David Wood's "West Porton" runs trolleybuses including this very appropriate Manchester one.


No show can succeed without the support of traders and society stands and this show was no exception. Also we must not forget West Midlands Group's stand and David Voice giving advice on "how to do it" and "what to do if it won't go". The group put on a static models display.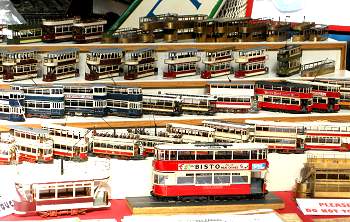 An amazing range of assembled etched brass kits on Chris Cornell's trade stand


David Getgood's 5/8" scale Feltham, LT No. 2088 won Best in Show in the Models Contest and Alan Catlow's 5.5mm-scale Blackpool Standard No. 147 was Best of Day on Saturday.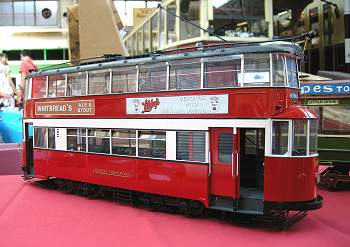 David Getgood's 5/8" scale Feltham, LT No. 2088, the winner of the Models Contest.


The organiser expresses his grateful thanks to all who helped in any way to make the show a success. Here's to next year in Croydon, where the 2013 Festival of Model Tramways will be held on Saturday 20th July at the Fairfield Halls.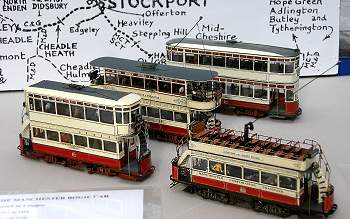 Manchester trams in Manchester. Brian Yates had this group of 4mm scale models of Manchester trams on view on the TLRS North Lancs Group stand.


---

Return to Festival of Model Tramways


© Copyright John R. Prentice Software 2012