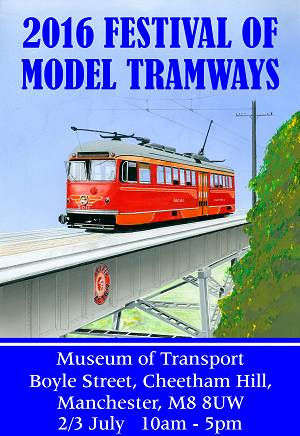 The 2016 Festival Of Model Tramways
The Festival of Model Tramways, is the premier event for the model tram enthusiast.

The 2016 Festival was held on Saturday 2nd & Sunday 3rd July 2016 at the Museum of Transport, Boyle Street, Cheetham Hill, Manchester, M8 8UW.

Click here for List of Exhibitors at the 2016 Festival.




Festival Review by Bob Appleton (Tramfare Editor)
All photographs by the author unless otherwise stated
Having visited almost all the festivals held in London since their inception nearly 30 years ago and having reported on many of them, this was my first visit north to Manchester, the festival's home in alternate years. A number of the excellent layouts have never been down to London so they were new to me, although some were regulars for the Manchester show. A more comprehensive review will be found in the Tramway and Light Railway Society's journal 'Tramfare', issue 292 for September/October 2016.

Click here to view pdf.
The Museum of Transport venue was very spacious. It was good to see so many TLRS German members at the show. A contingent from the German-speaking group of the TLRS had a working layout in H0, a static display of mouth-watering models of Belgian trams (especially those of Brussels) and an extensive sales stand for books and models that seemed to be a magnet for all visitors.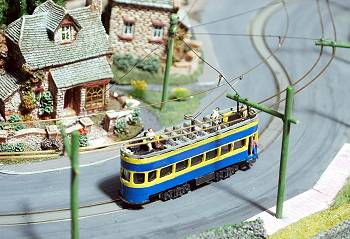 Starting at the smaller scales, Phil Carver's "Harnser's Loke" was an N-gauge circular townscape representing a street-running museum. The attractive layout also sported a working trolleybus system.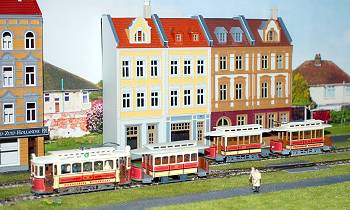 Continuing the museum theme (a useful ploy if you have models from different systems to run), the end-to-end H0/3.5mm scale European Museum by Jamie Pickering was delightful. The scenery was simple but very effective in creating a scene with Dutch atmosphere. A rotation of models working the layout meant there was something different to see every time you passed by.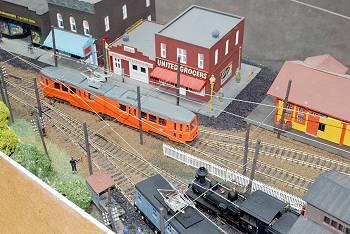 "Hampshire Hills" by John Huddlestone bore no resemblance to southern England in the UK but recreated a New England (USA) interurban trolley system in H0. Getting the scenery right is just as important as having a nicely operating layout and there was plenty to see between Vermontville and Concordia here.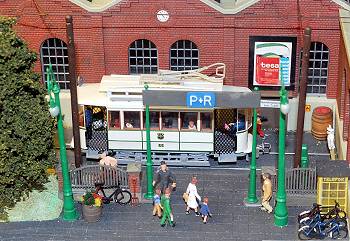 One more H0 layout to highlight was David Cole's "Altstadt" (Old Town) automatic, but short, layout running end-to-end in a glass-fronted cabinet. It showed just what can be achieved in limited space with a little imagination.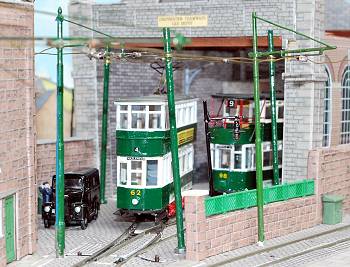 Moving up the scale slightly to 00/4mm but also north of the border, I liked Douglas Sutherland's Scottish trams. Illustrated is the depot containing two Aberdeen trams having a rest but Edinburgh and Glasgow trams were also in evidence running the circuit.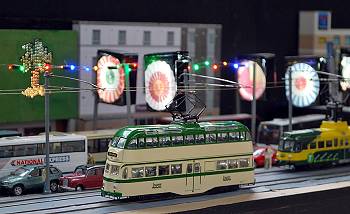 When the clouds occasionally came over on the Saturday of the festival, the glass-roofed museum venue darkened considerably but that allowed John Docherty's 00-scale Blackpool Illuminations promenade scene to shine. Imaginative use of old 'tic tac' peppermint boxes for some of the post-mounted set pieces was most effective. The buildings forming the back-drop nicely recreated a short section of the famous Golden Mile.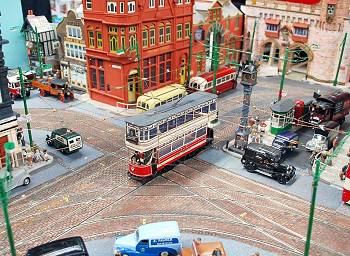 Arriving now at O-gauge, the mightily impressive "Chesfield" layout by Bob Wardle and friends needs a lot of time to study and absorb - there is so much to see but so much to miss if you don't look properly! A wealth of models allowed the service to be changed from Scottish (principally Glasgow and Edinburgh) to Irish (Dublin and Belfast) or to Manchester. In the latter case, not just Manchester trams were running but also those of nearby towns that often used the city's tracks. The picture shows Salford Corporation 114 crossing the layout's main junction. The scenery detail is a wonder in itself. Multiple visits to this stand were necessary in order to have any chance of seeing everything. It was my first viewing so I must have missed something.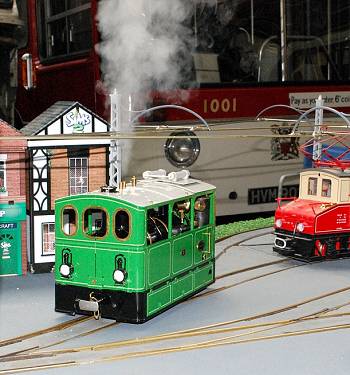 Up to G-scale and the well-known "Whiteleaf Tramway", also seen at the London shows. All the way from Buckinghamshire, the layout at this festival had the longest run I have so far seen. What made it different for me this time was that it was possible to run a live-steam tram engine; an old-style engine but radio-controlled! A delight to see - and hear.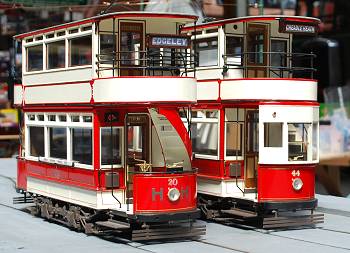 Finally, for the layouts, I arrive at 1:16 scale. Here there were two working layouts. Firstly in standard gauge were the superb Stockport Corporation models of Greg Marsden running immaculately as ever, including an automatic trolley reverser than I never saw fail.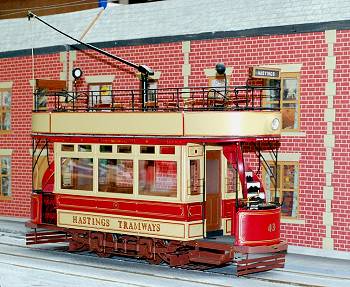 Then there was Harry Moore's "Tramway Avenue" running narrow-gauge models. Originally built by Ron Leach, various additions have been made to the effective scenery. Illustrated is Hastings 43, a model also built by Ron Leach but now owned and run by Harry Moore. Other cars regularly in operation were from Llandudno & Colwyn Bay and Poole.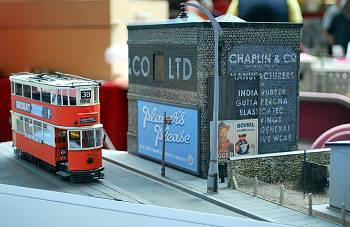 In addition to the layouts, trade and society stands, there were also model tram competitions on both days. A wealth of excellent models had been entered so the judges had a difficult time arriving at the winners. On the Sunday, the 'Best of Day' award went to Julian Carr for his post-war south London diorama featuring HR/2 1858 in a street scene depicting a brick building covered in adverts of the day and a 'prefab' with an Anderson shelter in its side garden. It all looked very convincing.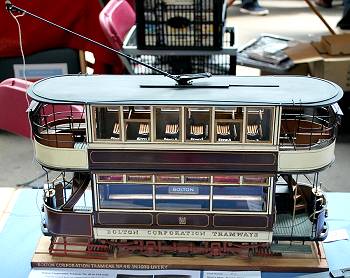 The 'Best of Day' on Saturday and the silver cup for overall 'Best Model Tram - 2016' went to Ashley Best for his seemingly perfect (to my eye at least) 1:16 scale Bolton Corporation Tramways open-balcony car 46, in its 1933 state. The prototype car 46 of 1900 was delivered as an open-top tram but was fitted with a top cover as early as 1903.

In conclusion, this year's festival was another great pleasure.

---
The foregoing review selects just some of the layouts present at the show. A full list of displays and sales stands can be found on the List of Exhibitors.
There are also a film of this Festival on our Videos page.
---

Return to Festival of Model Tramways


© Copyright John R. Prentice Software 2016