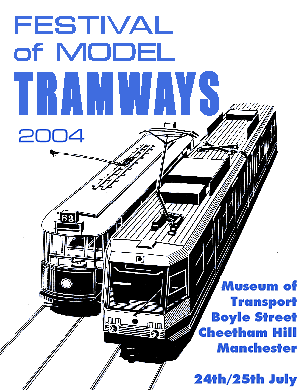 The 2004 Festival Of Model Tramways
The Festival of Model Tramways, is Europe's premier event for the model tram enthusiast.
The 2004 Festival was held on 24th/25th July 2004 at the Museum of Transport, Boyle Street, Cheetham Hill, Manchester.
Click here for List of Exhibitors at the Festival.
Festival Review by Ron Howes
Photographs and captions by John Prentice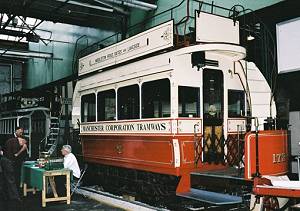 The Festival's Models Contest was set up in front of the museum's full size Manchester tram 173.

Yet another Festival, the sixteenth would you believe, has come and gone. This year it was Manchester's turn to host the event and as usual the gentlemen and ladies of the Museum of Transport in Cheetham Hill were the most helpful imaginable. They move something like fifteen buses from the museum to make way for the Festival stands. Some are used on the free bus service to and from Woodlands Road Metrolink Station, Heaton Park Tramway, and Victoria railway station, but the rest are taken across the city to Trafford Park. Of course as soon as the last Festival stand is dismantled and the tables cleared, they have to be brought back again. So a very big thanks to Chris Lonergan and his museum team.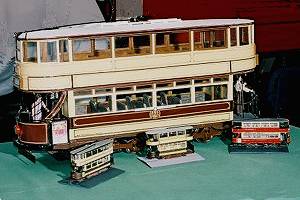 John Prentice, the Festival Manager, showed a display of West Ham model trams and photographs to celebrate the centenary of the opening of that system.

But what of the exhibits, I hear you ask. Some things old, some new, something borrowed and two things blue (Bath and Bristol cars from the West of England TLRS Area Group). As has become customary, the nearest to the door was the TLRS Chairman, John Prentice, wearing his other hat as Festival Manager and exhibitor, this year with a display of photos and models to mark the centenary of the opening of the West Ham tramways. Adjacent was the Models Contest. A good proportion of larger scales entered this year with 3/4", 5/8" and G-scale all appearing. "Best of Day" on Saturday was Steve Broomfield's 3/4" scale model of Preston, ex-Sheffield single-decker No. 45 (to me it looked similar to preserved Sheffield 46.). This model was also awarded "Best in Show", just beating Sunday's "Best of Day", a 4mm scale model of London trolleybus 1671, the one with four wheel steering, entered by Phil Carver.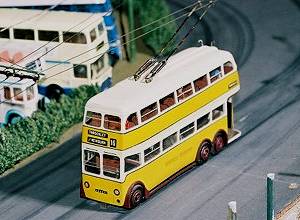 Phil Carver was showing a 4mm scale trolleybus layout representing Sandtoft Museum, here seen with a Newcastle trolleybus.

The London trolleybus could be seen running on Phil Carver's recently acquired model of Sandtoft Trolleybus Museum, in company with representatives of many other fleets. Next to Phil was the excellently presented static display of models in various scales by Arthur Dawson, mostly North of England cars but also a sprinkling of continental ones. Bob Tidball's "Arcadia Electric" representing the U.S.A. was making its first appearance in the North of England. The West of England TLRS Area Group's 3/4" scale track was nearby, with Bob Wilson alongside, selling goodies in aid of tramcar restoration.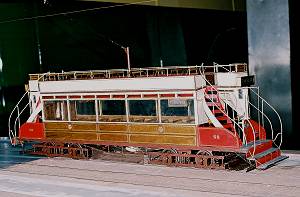 This fine model of a Blackpool Dreadnought tram in 5/8" scale was built by Terry Daniel.

Terry Daniel's 5/8" scale track kept the flag flying for this scale, popular in the north-west where it has several devotees. Across the gangway was Alan Kirkman's 'fold-it-away-and-put-it-in-your-pocket' (well not quite, but nearly) model "Leyburn Avenue", 4mm and Blackpool of course, and alongside was David Voice offering answers to modellers' problems and making good progress over the weekend with the overhead of his new 3mm scale (Lledo trams) layout in a toolbox. Between them an interesting display included models from the TLRS model archive, two of which were a Lytham double-deck toastrack and a Blackpool "Lancaster Palace" car, both in 4mm scale and left to the Society archive by the late and much missed Jim Shearer. The museum provided the opportunity for the kids to try their hand driving a Blackpool tram on the sea front, using a computer simulation.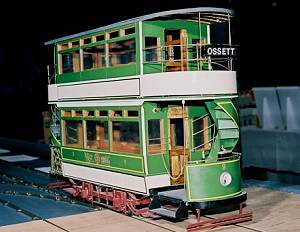 One of the two West Riding cars built in 3/4" scale by Peter Gavin and shown on Jeremy Meal's track.

Derek Lambelle arrived on Friday evening in a car in which he could just about be seen behind the wheel, in the midst of a huge heap of model items for sale. The car was not nearly as full when he left on Sunday. Ernie Mitchell presented his 4mm "Bispham" again, always a delight, with the addition this year of a complete Ferris wheel, complete with lights and a fairground organ (apparently a Christmas tree decoration from a shop in Buxton). The "Tram Stop" boys were there too, Ron Stevenson's freelance 4mm scale layout having several "Wilson's Lorries" among the street furniture. Douglas Sutherland's Edinburgh diorama featured some of Ron's models too and his H0 layout had a Halling "Combino" three-rooms-and-two-baths car running very smoothly. Tim Parkinson's 1950s Leeds in 4mm scale continues to be architecturally pleasing, with a new depot this year.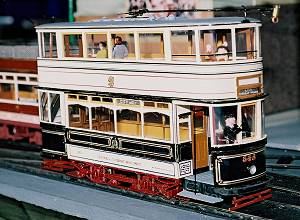 A sample Sheffield tram in 0 gauge from Bob Wardle's Chesfield layout.

Brian Robinson, Mr BEC-KITS, as well as his usual wares, showed new material for DCC control and a short wheelbase 4-wheel truck to fit Chris Cornell's Manchester kit, one of several cars for that city, which together with LUT cars of types Y and U, were new from Chris for this year's show. Gotfried Kure and Rolf Hafke represented the new TLRS German Speaking Group, with Todmorden Models sales stand alongside. Jeremy Meal brought Peter Gavin's West Riding cars, one for its first outing at a show on Jeremy's 3/4" scale display, which also included many small scale trams, and Andrew Hunt showed his 4mm scale "Jäger Straßenbahn" in its shorter modular length, complete with clip-on platforms at stops. Bob Wardle showed us some of the buildings for his forthcoming 0-gauge layout, "Chesfield", on a suitable test track on which some of the "Chesfield" cars were running. Close by David Cole's "Neustadt" proved that model trams will run up quite steep hills.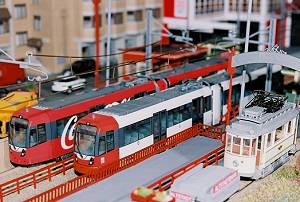 In H0 scale, David Cole's Neustadt layout shows modern trams and includes interesting gradients.

Phil Elverd's "Model Tramway System", Roger Crombleholme's "Alphagraphix" the LRTA sales and Adrian Swain's "ABS Kits" all attracted business. Anthony Sibert's "Liverpool Penny Return" formed a suitable introduction to the show at the front of the hall. Anthony arranged for Tony Hildreth's LCC No.1 to run, and be photographed, alongside his own Liverpool Cabin car 810, Arsenal v Liverpool as Anthony put it. A return "match" was arranged on the TLRS 3/4" layout, brought north by Brian Hymas and a team of helpers including Ron Leach who had on sale some of his wares as TLRS Model Engineering Secretary. There were books on sale from MDS Book sales, the LCC Tramways Trust, the museum itself and the Electric Railway Society, and M.E.T.E.R Electronics showed a control system for Faller vehicles.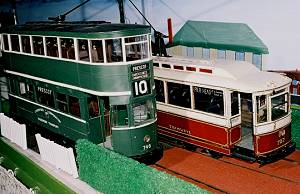 Anthony Sibert's 3/4" scale Liverpool Penny Return layout with cars 746 and 757.

The North-East TLRS Area Group brought Gordon Bulmer's 4mm scale Sunderland layout, Chris Little's 4mm scale freelance "but based on Newcastle" layout and Dave Allinson's static display "London Transport in Miniature". Wilf and Joan Helliwell brought Wilf's first effort at a 4mm tramway, so new that the population was only stuck in place by Joan on Saturday morning. At one time Joan was seen driving two trams at once, with a controller in each hand! Incidentally, this layout has live overhead.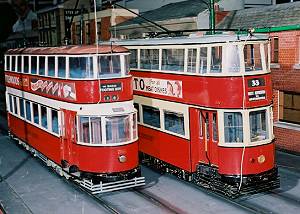 Tony Hildreth was showing his 3/4" scale models of a London Feltham and LCC Number 1.

Overall a very happy and enjoyable show. Well, I enjoyed it! I hope that those who attended, whether as exhibitors or visitors, agree. It's Kew Bridge next year, July 23rd and 24th, 2005. A whole year to make that competition winner. See you there.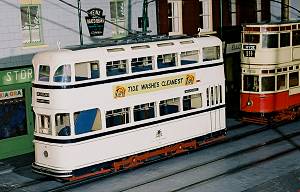 Alan Povey originally made these models of a Sheffield Roberts car and a Manchester bogie, seen here on the TLRS 3/4" scale layout.

---

Return to Festival of Model Tramways


© Copyright John R. Prentice Software 2004