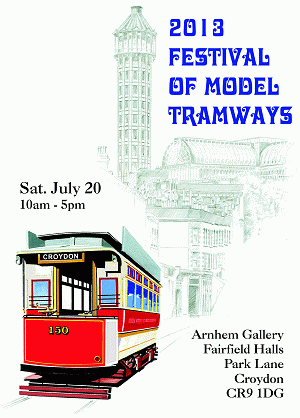 The 2013 Festival Of Model Tramways
The Festival of Model Tramways, is the premier event for the model tram enthusiast.

The 2013 Festival was held on 20th July 2013 at the at the Arnhem Gallery, Fairfield Halls, Park Lane, Croydon.

Click here for List of Exhibitors at the 2013 Festival.
The story behind the poster
The 2013 poster was designed and drawn by Clive Beech (typesetting John Prentice). It shows Metropolitan Electric Tramways Type E tram 150 with the Crystal Palace in the background.
Twenty cars of this type were built in 1905 by the Brush Electrical Engineering Co. Ltd. of Loughborough for the MET's routes to Alexandra Palace. They had 9ft 6in wheelbase Brush trucks, G.E. 52 motors and B.T-H. controllers. They were fitted with Lycett & Conaty radial axleboxes, later changed to Warner radial gear.
However, twenty trams were found to be far more than was needed. Four were sold to Auckland, New Zealand in 1907. From 1921 to 1924 two cars, 145 and 150 were leased to the South Metropolitan Electric Tramways for use on short workings. The MET fleet name was roughly painted out. Car 145 was passed to Sutton depot and worked the route Sutton to Wallington.
Car 150 was based at Penge to work from the Robin Hood to Crystal Palace. This route was not very successful as the car was slow on Anerley Hill, was too small for use at busy times, and had frequent dewirements due to its short trolley pole at a dip in the road by Crystal Palace Low-level station, close to where our poster scene is set.
Both cars were returned to MET in early 1925. The Crystal Palace destroyed by fire in November 1936.


Festival Review by Bob Appleton
All photographs by the author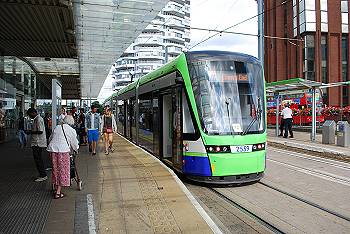 Arriving at East Croydon Station by the latest Tramlink tram. Tramlink also had a publicity stand in the Festival
Following the accepted tradition of alternating with a northern venue, usually Manchester, this year's festival was again held in London, but not at its former 'home' of Kew Bridge Steam Museum. Due to rebuilding work there, another venue had to be arranged and this was in the prestigious Arnhem Gallery of the Fairfield Halls in Croydon. It was appropriate that visitors could arrive by tram, or at least look at real trams on their way from East Croydon Station.
Because of the increased costs involved, it was only a one-day show but attendance was impressive and they all seemed to stay for the whole day! Exhibits were all in one large hall thereby concentrating the 'crowd effect' but there was still plenty of space between stands, something appreciated by all, as was the air conditioning on a very hot day.
Of the approximately 34 stands, half were working tramway layouts with most of the remainder being fund-raising and sales stands, the latter doing good business all day - where's the recession?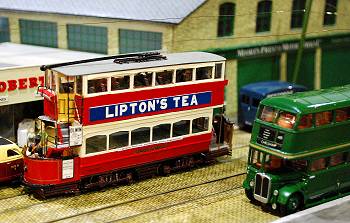 A U-type car runs through John Clarke's West Croydon
Upon arrival, passing John Prentice's East Ham car by the cash desk, I heard my first tram layout before seeing it - Simon Hamlin's Douglas-based (but electrically operated) 00-scale horse tramway, complete with coconut shell clip-clop sound effects - I then knew I had arrived at the right place. Other old favourites at the same end of the hall were John Clarke's 4mm scale model of West Croydon, looking more busy and crowded than ever. This has been added to over the years and new for 2013 was a model of a new Tramlink 'Variobahn' car.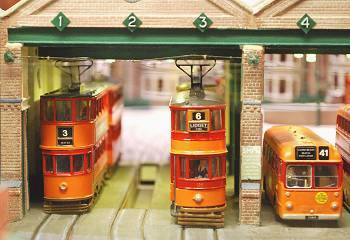 Cars and a bus in the depot of Stepley Tramways
The ever-popular Stepley Tramways were in attendance, together with their impressive driver training module composed of an 00-gauge tram-with-cam linked to a controller and computer screen. One young boy must be an expert now, judging by the time he spent driving.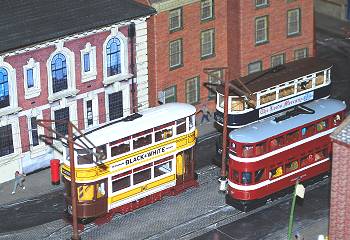 The Town Hall terminus with Leeds cars on the Toop Tramway
The next system was the Toop Tramway of the Croydon MRS, a nicely arranged 00-gauge layout with a north of England flavour enhanced by many well-built models of Leeds trams. The layout can be appreciated from three sides so it was unfortunate that one of its long sides was against the side of the hall.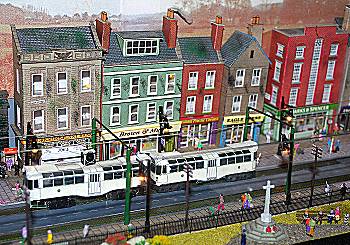 Lots of detail on the miniature Huncote Tramway
Although there were very few young children, they were all to be seen at John Marfleet's N-gauge Huncote Tramway. Although only a small and simple double track loop, there was plenty of fine detail and small figures to interest the little ones. The Blackpool tram and trailer was built from a Pete Watson Card Kits pdf scaled down to N-gauge.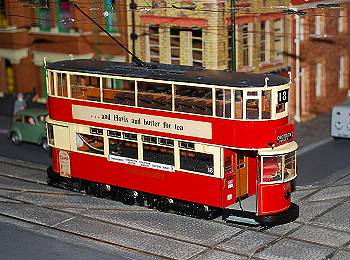 Appropriately en route to Croydon, an E/3 car built by Mike Skeggs runs through St. Peters Road
The 'St. Peters Road' 0-gauge layout was apparently unchanged from two years ago but still very good and there were some different trams (for this reviewer) in service. I particularly liked the Belgian SNCV 'Vicinal' S-class tram 9977 (from the St.Petersburg Tramway Collection) that fitted remarkably well into a British tramscape - thoughts of what might have been post-war in the UK came to mind, especially as I had travelled on the prototypes many years ago and was amazed at their comfort.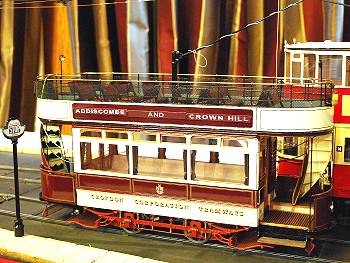 Terry Russell's Croydon Corporation car 18 in service in Croydon
Taking the full width of the hall at the far end was the 1:16 scale end-to-end layout of Simon Cole and the TLRS Sussex Group. What was lacking in background scenery was more than made up for by the slick operation of a first-class all-London tram service. Pride of place could only go to Terry Russell's TLRS prize-winning model (of 2009) of Croydon open-top car 18. The non-enthusiast general public of Croydon were clearly impressed when they saw this parading up and down the track. The other cars in service were all top class. For tram modelling, 1:16 scale is the original TLRS trademark and it was good to see it being maintained so eminently at this show.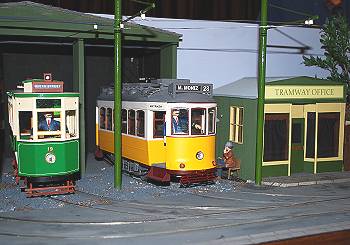 Always ready to enter service from the tram depot
Next to the largest layout was one of the smallest, albeit in sizeable G-scale and operating automatically. Keith Walton of the West of England TLRS Group was showing his depot, tram-stop and running loop for the first time at the London festival, although it was at Manchester last year. The cars themselves provided a Portuguese flavour but the rest of this trim little layout was rural British. The auto-running was quite hypnotic and I had to force myself on to the next layout which took me from rural British to modern British.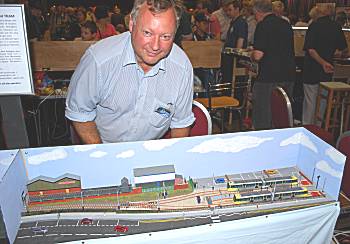 Ian Buck at one end of his Modern British Tramway
On one of its first outings, Ian Buck's H0-scale 'Modern British Trams' has a double-track terminus modelled on New Addington (Croydon) at one end and a more generic or freelance terminus at the other. Ian told me some had likened it to Nottingham. The two sections are currently linked by single track but his plan is to add some modules in between to represent different aspects of a modern British tramway. He's made an excellent start and already has a nice fleet of Manchester M5000 cars and a new Blackpool Flexity 2 car (all from Halling) so more track is essential!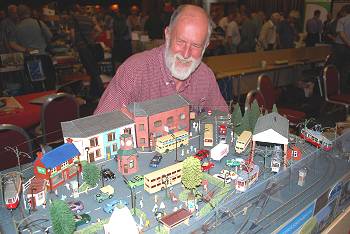 David Haughton, general manager of the Woltersdorfer Strassenbahn
Another compact layout with a rightly proud and enthusiastic owner was the Woltersdorfer Strassenbahn, an H0-scale circular, double-track, layout built by David Haughton. This was shown at Manchester in 2012 so it was good to see it down for the London show.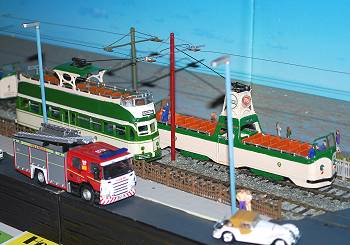 Topless trams at Norbreck!
It was a short journey from Woltersdorf to the seaside on the next stand for Alan Kirkman's 00-scale Blackpool Norbreck display. Automatic operation of open-top seafront trams and a blue sky backdrop reminded us of the real summer outside and gave Alan the time to chat about building his trams, something he does so well. The seaside was also represented by Dave Carson's H0 scale New Walmington Pier tramway.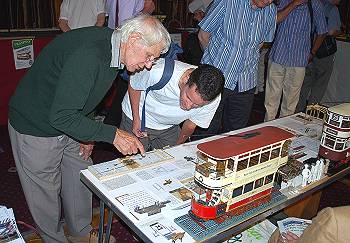 Ashley Best shows us how it is done
That festival stalwart David Voice was on hand to demonstrate his model-making skills and his Birney-car suitcase layout. Together with Ashley Best he also judged the models competition. Ashley had two of his 1:16 scale models on show and also provided a display of parts demonstrating how his models are constructed. Nearby, Oliver Boorman showed his 00 rural tramway and Paul Penders had brought some static models from Brussels.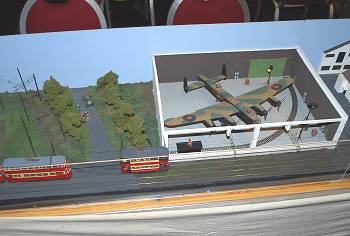 A flight of fancy? The rural terminus and Lancaster bomber
My next model tram journey was to Elstree Fantasy Land, an 00-scale London-themed layout with long straight track past 'Elstree Studios', a rural loop at one end and town centre circuit at the other. John Huddlestone's model even included a Lancaster bomber in a studio with the engines running and being used (presumably) for the making of the 1954 film 'The Dam Busters'.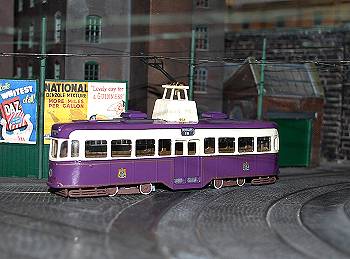 Spick and span Leeds 602 passes through Grime Street en route to Crossgates
Mark Casson's well-known 'Grime Street' layout, exhibited at every festival since at least 2010, has been extended and further updates are planned. It is a very evocative layout and the name says it all, but Leeds looks a lot cleaner and more modern today! However, the occasional brightly coloured tram passing through the grimy and gloomy streets brought a ray of sunshine, as did the miniature cyclist pedalling around a separate test section of roadway. It was most realistic and will add a whimsical flavour when incorporated into the main layout.
Mention has been made of trade stands, many of which supply complete model trams in the smaller scales to enable a layout to be up and running as soon as the track is laid, but more interestingly there were plenty of impressive stands offering the 'bits and pieces' (and good advice) to build your own tram in almost any scale. In all cases, the tram modeller is well catered for so there's no real excuse for not having a model tram or tramway.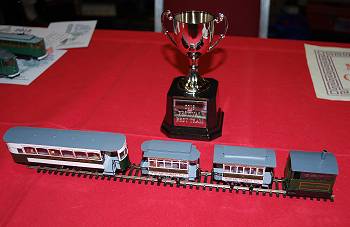 Paul Coles was this year's cup winner with the Wantage Tramway train
Last but not least, was this year's Models Contest. As always, there was a very high standard but, sadly, none of the dozen or so entries were in scales larger than 00/H0. The worthy winner was Paul Coles for one of his two 4-unit trains of Wantage Tramway steam stock. Both were beautifully detailed so it must have been hard for the judges to choose. Most of the other models justifiably received highly or very highly commended tickets.
The Arnhem Gallery was very well received by standholders and public alike for its comfort and for having everything in one hall. The 2014 Festival is back in Manchester on 19/20 July but many asked if it will come back to Croydon after that. I don't know but what I do know is that it was a great 2013 Festival.

---

Return to Festival of Model Tramways


© Copyright John R. Prentice Software 2013