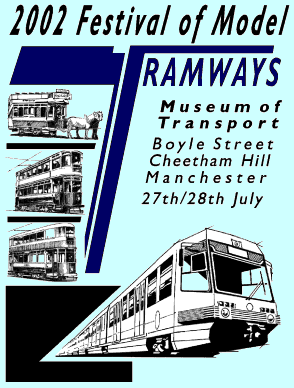 The 2002 Festival Of Model Tramways
The Festival of Model Tramways, is Europe's premier event for the model tram enthusiast.
The 2002 Festival was held on Saturday & Sunday 27th & 28th July at the Museum of Transport, Boyle Street, Cheetham Hill, Manchester.
Click here for List of Exhibitors at the Festival.


Festival Review by Ron Howes
Photographs and captions by John Prentice
The Festival this year returned to the Manchester Museum of Transport, housed in the former bus garage extension to Queens Road depot, Manchester's first electric tram depot.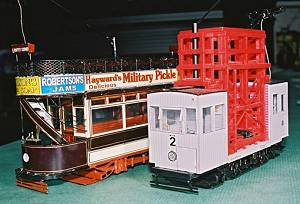 A Preston Open Top 4-wheeler from Terry Russell and a Works car by Vernon Cunningham were both 7mm scale entries in the models competition.

Entering the main hall, in front of a large horse bus, visitors first saw John Prentice's display, marking 50 year's since London Transport's last tram. Alongside was the models competition, this year's winner being Merv Spencer's Rotterdam car in O gauge.
Turning towards the main block of stands one's eye was caught by Anthony Sibert's "Liverpool Penny Return", 3/4" scale, automatic points and trolley reversers and with hand painted backscene. When the sun caught the layout it formed an even more impressive introduction to the show. Behind "Penny Return" was Vernon Cunningham's "Tramwick", now sporting a model of Leeds tower wagon 2, whose realistic "matchboard" sides were in fact drawn on, by computer of course.
The atmospheric "Tramwick" in 7mm scale by Vernon Cunningham with London E1 1025 and a bus bound for Oxford.

Trade stands excepted, the next along was Ernie Mitchell's 00 scale "Bispham", representing the Fleetwood Tramroad, and on which several familiar low-relief building models appeared, well disguised as seaside hotels. This model also featured a great length of standard Blackpool Tramroad fencing, cunningly adapted from standard Ratio.
Continuing down the hall, one couldn't miss the Manchester Model Railway group's end-to-end line with depot in 5/8" scale, a Manchester peculiarity blamed on (or should I say "credited to") George Oakley. Cars of many systems ran on a track supported on a heavily-engineered galvanised steel frame. The reason why one couldn't miss this one was like "Penny Return" it covered the whole width of the hall.
The next working model was "Blackpool Tramways". Like its smaller counterpart "Bispham", this 7mm scale layout conveyed the atmosphere of the Blackpool end of the Tramroad delightfully. However Alan Catlow, its creator, tells me it is not popular with the Blackpool tourist people on account of the model of the end of a sewage pipe discharging onto the beach!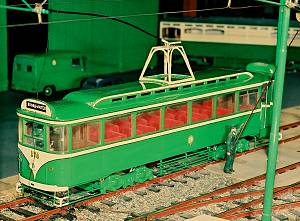 Blackpool Pantograph car 174 in 7mm scale on Alan Catlow's "Blackpool Tramways" layout.

David Voice, Alan Kirkman, and the West Midlands Group were kept busy telling and showing visitors "how to do it". Not far away was fellow West Midlander David Gould with his 3/4" narrow gauge tramway, on which ran cars from several Birmingham and Black Country systems. Your reviewer was particularly attracted by a superb model of Wolverhampton and District Electric Tramways number 7 complete with working lights. The lower saloon lights had glass Edwardian lampshades and the cars also featured dummy stud-collection skates (for through running on the Corporation's lines).
The next row of stands consisted of two tramways. Firstly, Bob Tidball's "Westbridge" in 00 scale. Here my eye lighted on his L.U.T. Type "T", with scratch built trucks and Alphagraphix sides mounted on a brass "shell". This car had two Mabuchi 5-pole motors with flywheels and ran very smoothly indeed. Dare I add that Bob had also included a double deck ST bus with gas producer trailer. Next to Bob was Andrew Hunt with his 3.5mm scale "Jäger Straßenbahn", complex and smoothly working as usual, with some Boeing cars in the orange livery of Greater Manchester PTE. Andrew told me that he had just finished painting these, when Metrolink announced that their livery would not be orange as expected. Life's a swine sometime Andrew.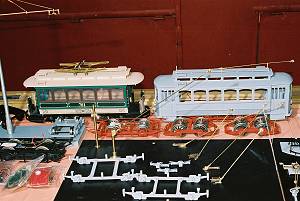 Some of the wide range of parts in 3/4" and G scales available from Phil Elverd's Model Tramway System.

At the far end of the main hall under the name of "The Tram Stop", our Scottish friends Douglas Sutherland and Ron Stevenson were showing a new and very effective Edinburgh diorama in 4mm scale to complement their British historic layout in 4mm scale and Continental modern image layout in 3.5mm scale, plus some fine 0 gauge Dutch trams by Merv Spencer. In the corner of the hall was Bob Wardle's "Bowergrove" in 7mm scale with a new corner section enabling an L-shaped layout. The various sections of this layout can be used to vary its shape from show to show.
Along the side of the hall first came David Cole's "Altstadt Park + Ride" with which were displayed a fine selection of low floor cars by Manfred Graeser of Leipzig. Next door TLRS West of England's figure-of-eight 7mm model was this year accompanied by a new (to me) layout in 3.5mm by Earnest Earnshaw called "Marienplatz" showing just how effective the use of proprietary building kits and accessories can be. Close by on its side to show the "works" was Mark Blackstone's 3/4" scale Bath single decker under construction, several features of which, including the roof mounted advertisement boards were clearly giving Mark much joy to make.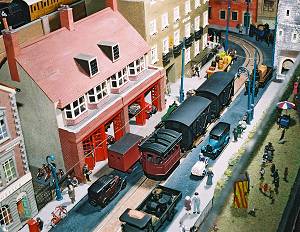 The steam tram and wagons in 4mm scale on Ian Druce's "Times Square" doubles as a track cleaning train.

Ian Druce's "Times Square" (4mm, British) is one of those layouts I can see again and again, yet still derive great pleasure from watching. On the other side of the hall one met once again with Phil Carver's N scale layouts, another display that gives me pleasure and reveals more detail every time I see it.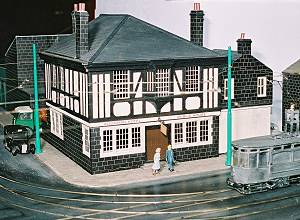 Andy Ross has a works car standing outside the "Woodman" on his 4mm scale Leeds "Headingley Depot" display.

This year we had only one "Tram Stop" as David Allinson showed his new model "Clapham Tramways", a worthy effort made so far away from the prototype location and largely, I expect, from childhood memories. Next along from "Clapham" finds us in Leeds, "Headingley Depot" to be exact, by Andy Ross in 4mm scale, with working road vehicles to complement the trams and a fine model pub where (in the prototype) a decent drop of ale is to be had according to Andy.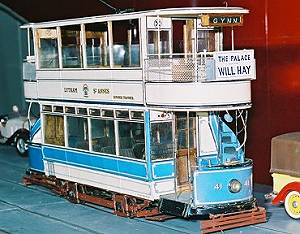 Lytham St. Annes car 41 on the 5/8" scale display by Terry Daniel.

Moving to the lower hall there was a 36ft long track by Terry Daniel where he was running his 5/8" scale cars. Also in this hall was Tim Parkinson's lovely portrayal of a corner of Leeds showing many of the buildings of the city, assembled together most satisfyingly. Last but not least was Gordon Bulmer's representation of Sunderland, a model that so captivated the reporter of the "Sunderland Echo" that she gave it a major feature.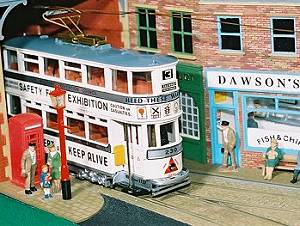 An EFE Leeds car on Tim Parkinson's interesting 4mm scale layout.

As usual the Festival included trade stands a-plenty selling a comprehensive range of tools, kits, modelling material, electronics, videos, books, photos, etc., and of course those of the Museum's exhibits which had not been moved out to make room for the stands, including Manchester tram 173, were also on display. Outside the Museum one could ride on a free heritage bus service to Heaton Park to ride the full size tramway there.
Conclusions? A happy show. (It could not be otherwise in this museum where everyone is so helpful). I will venture that each year the standard of modelling displayed rises. Perhaps almost imperceptibly but the improvement is, I am sure, there. There was a goodly number of very high standard entries in the models competition too. Let's hope that progress continues.
---

Return to Festival of Model Tramways


© Copyright John R. Prentice Software 2002