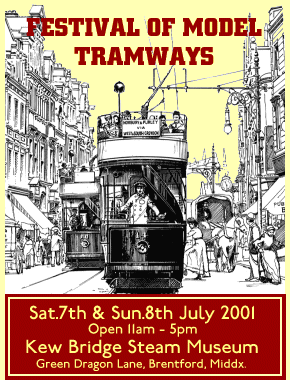 The 2001 Festival Of Model Tramways
The Festival of Model Tramways, is Europe's premier event for the model tram enthusiast.
The 2001 Festival was held on 7th/8th July 2001 at the Kew Bridge Steam Museum, Green Dragon Lane, Brentford, Middlesex.
2001 was the centenary of the first electrification of tramways in London. The 2001 Festival of Model Tramways celebrated this event.
On Thursday 4th April 1901 the first electric cars of the London United Tramways replaced horse trams on the routes from Shepherd's Bush to Acton, Shepherd's Bush to Kew Bridge via Chiswick, and Hammersmith to Kew Bridge. On 22nd June 1901 East Ham Council opened a completely new tramway beginning with three routes Manor Park to the Ilford boundary, Manor Park to Beckton Park (Manor Way), and Upton Park (Boleyn) to Barking boundary. On Thursday 26th September 1901 Croydon Corporation commenced its service of electric cars from Norbury to Purley. The 2001 Festival contained features on all three of these systems and appropriately the Steam Museum is close to the original 1901 Kew Bridge L.U.T. terminus.
Click here for List of Exhibitors at the Festival.
Festival Review by David Orchard
Photographs and captions by Bob Appleton
The keynote of the 2001 Model Tram Festival was not only the Centenary of the London United (LUT), East Ham, and the first-generation Croydon systems, but also the evident quality of the exhibits, both in terms of model trams (in all scales) and of the 'tramscape' that goes with them in the layouts and dioramas of streets and buildings in which the models run. Clearly a great deal of work had been done by many layout modellers since this time last year. Certainly the modelling standard in the models Competition has never been higher, which taxed the scrutiny of all three Competition judges. On display was a "not in contest" glass-case model in 1/24 scale (we think) of an LUT W-type bogie car built as long ago as 1910 (again, we think), but its existence demonstrates how long tramway modelling has been going on.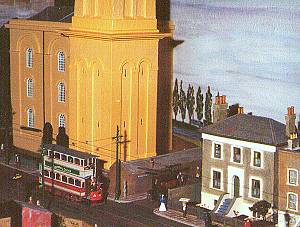 A model inside the real thing. The Kew Bridge 4mm scale layout by the TLRS Thames Area depicts a type 'U' tram of the LUT passing the tall chimney of the Metropolitan Water Board works and about to pass the end of Green Dragon Lane. The buildings are still there as the Kew Bridge Steam Museum, our venue.

What was noticeably different this year amongst the layouts especially was the amount of work that had gone in to enhancing the tramway 'streetscene', background buildings, and general 'atmospherics' surrounding the working trams, in whatever scale (no 1/16 scale track or layout this year, alas, but a lot of 7mm plus 'G' scale, 4mm, HO, and N gauge). It's inevitably invidious to quote examples, but the 4mm layout of Kew Bridge terminus itself in LUT/LCC days by the TLRS Thames area really deserves a prize on its own for the 'Express' pub with complete interior (in 4mm!), the Water Tower we could all see outside the Festival in full size, and an entire diorama of Edwardian London with (incidentally) the two LUT/LCC tram systems interworking in model form, using fine-scale overhead and incorporating some distinctly complex trackwork. What more can one say? This is truly 'state of the art' modelling of the highest order.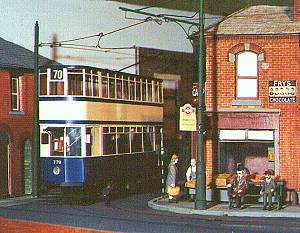 A compact and automatically operated circular layout in 7mm ('O' gauge) that was packed into a suitcase and brought specially from Brussels by Belgian exhibitor Paul Penders. The tram shown is a fine model of Birmingham 779.

Another layout - this time in 7mm - which could have got an architectural award was than of Vernon Cunningham, builder of the computer-generated trams. All buildings were internally lit, as well as the trams and the working RT bus negotiating the 'inner circle' of Vernon's '1948 Townscape'. Again, one could have stayed and watched for hours. Ian Druce's 1930s 'Times Square' layout next door was equally atmospheric, as was the Twickenham and District N-gauge industrial landscape with trams and lots of imposing nineteenth-century factory buildings. Peter Fickweiler's 'Peterstown' also featured some very attractive shops and houses along with his 7mm scale tram fleet, while Paul Gumbrell's G-scale 'Edwardian Tramway' showed just what could be done in customising Bachmann off-the-shelf models; I particularly liked one with a working horse!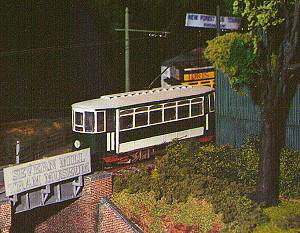 The 'country end' of the Servern Mill museum tramway in 7mm ('O' gauge) by the TLRS Solent Area Group. This scene shows a Tividale car about to cross the bridge to the terminus.

TLRS West of England had two small but interesting layouts, one in 7mm narrow gauge and one in 4mm, while TLRS Solent had one featuring as many traction engines as trams, and also the 50-year old E1 model (working) from the Roy Hubble collection. Phil Carver managed to fit in no less than three small layouts in N gauge! Paul Penders had brought a portable O gauge layout from Brussels by Eurostar. The Whitley 4mm layout, "Stepley Transport", showed just what could be done with steep gradients and an overall orange livery, while on the balcony was an interesting and lengthy track in 10mm scale featuring the Volks Electric Railway.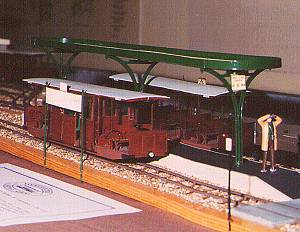 The Volks Electric Railway Association from Brighton brought along their intriguing layout in the unusual 10mm scale. The entire Volks car fleet has been modelled.

A last-minute appearance on the balcony was Clive Croome's "true scale" 4mm scale working track in grooved rail to the correct P4 gauge of 18.83 mm, together with his Feltham car built to that gauge and super-fine wheel profile. Not only did it all work perfectly (and, believe me, the main problem in all super-fine scales is persuading the wheels to follow the track!), but it looked super as well. The difference between 16.5 mm standard OO/HO gauge and P4's 18.83mm is very evident to the eye. (this point won't worry HO, 7mm or 1/16 scale modellers, as their track gauge is already equivalent to 18.83 in 4mm, but it might spark a bit of a debate in 4mm circles, as it already has in the model railway world.)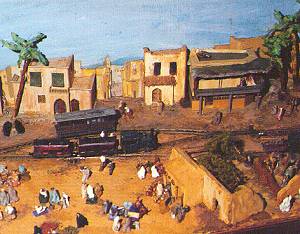 The Souk-el-Khemis steam tramway in the north of Morocco modelled in HOe scale by Frank Saunders. It depicts a typical scene in about 1938 of market day in a small town. ('Souk-el-Khemis' translates as 'Thursday market'). This also shows that, with imagination, any tramway can be modelled.

Frank Saunders' "Souk-El-Khemis" HO narrow-gauge layout evocatively showed us just what could be achieved under the desert sun, while next to it Don Sibley's Arenberg vicinal-type layout in 1/50 scale equally evoked the continental narrow-gauge tramway scene. The Carshalton & Sutton MRC showed their German HO scale layout complete with the ubiquitous tower crane. The Port of Enn Transport Association (Bill Avery) showed us just what diversity could be achieved in 2mm scale, Geoff Sawford's 7mm narrow gauge layout well portrayed the atmosphere of post-war Birmingham, while outside the building the rather larger model trams of the Wootton tramway carried an eager succession of passengers.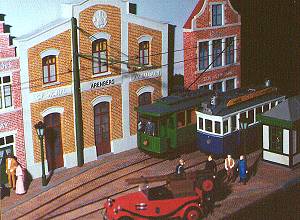 The Arenberg metre-gauge tramway in 1:50 scale by Don Sibley. This short operating layout is in two parts that cunningly dovetail together for easy transport by suitcase, in this case by Eurostar train from Belgium. The tramcar on the left is based on a St.Étienne suburban car and the one on the right is modelled on car 5 of Fribourg, Switzerland.

"Croydon Tramways", a 4mm layout part-constructed (but fully operational) by John Clarke, was ambitious in so far as it (a) attempted to replicate most of the entire centre of Croydon, and (b) combined traditional double-deck trams running with modern LRT in the form of the Croydon Tramlink. Buildings that had not yet been constructed were represented by photographs and the scale of the whole thing was truly massive. It certainly had the air of a real town centre, even though as yet unfinished, and it was instructive seeing the modern Tramlink cars running on the same track system as their predecessors; it also made one realise just how physically long the Tramlink cars are (close on 12 inches, even in 4mm scale- rather put me off modelling one in G scale as I had planned!) It also provided what for me was one of the most moving moments of the whole show, when a little girl of five or so in her father's arms, looking at this layout, squealed in delight: "Look, Daddy, that's the tram I go to school on." Of course it was the Tramlink car she was looking at, but it made me reflect: how long must it be since any young child in southern England has said those precise words to its parent? Close on half a century, I'd guess.
Close by was a static display by John Prentice of East Ham tram models in 3/4" and 4mm scales against a backdrop in 3/4" scale representing East Ham Library and Police Station. This completed the third of the "centenary" tramways (LUT, East Ham, and Croydon) all of which were also depicted by photo displays. Other static models were presented by the TLRS West Midlands Area who were accompanied by David Voice and Alan Kirkman with a modelling demonstration stand. Bob Tidball's 4mm London layout also provided plenty of interest, featuring conduit operation as well as overhead.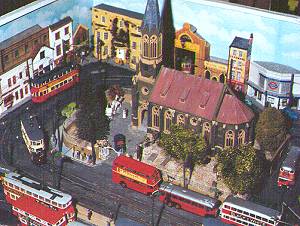 An active London tram and bus scene in 4mm ('OO') scale by Bob Tidball. In fact, the whole display is two separate circuits linked together.

The "trade" stands of our regular suppliers were all there; Terry Russell had his fine 7mm scale offerings. Ron Leach TLRS Model Engineering Secretary had a full range of 1/16 parts on sale and Phil Elverd of Modern Tramway Systems his range of G scale and 1/16 brass and resin castings - both were offering a completely built-up version of the Brill 21E truck in 1/16 scale for figures from two hundred pounds upwards, which in my view is very good value given the amount of work involved, and will encourage more people to 'bite the bullet' of the Big Big scale. Terry Russell's own superb award-winning London E/3 car in 1/16 scale was on Phil Elverd's stand to provide an incentive.
Roger Crumblehome's range of card cut-outs (Alphagraphix), mainly in 4mm and 7mm scales, for both traditional and modern LRT trams was well set-out and displayed - I myself bought several Croydon Tramlink cut-out kits for various uses. Adrian Swain was also there with his wide range of 4mm white-metal kits (ABS), including the re-introduced Varney Green Goddess Liverpool bogie streamlined car, as was Derek Lambelle with a wide range of HO and 4mm kits, and some very well-finished German plastic models of modern-outline LRT trams: again I could not resist buying one. We also had some very impressive bookstands from the LCC Tramways Trust, LRTA, Middleton Press, OnLine video, John Gillham with his tram system maps, the Electric Railway Society, Rapid Transit Publications, and Squires Models large stand of vital electrical and small mechanical bits and pieces. Ashley Best and his wife Anne showed two of Ashley's superb 1/16 models and a selection of his award-winning tramway paintings and lithographs, several of which provide the covers of recent tramway books. Leaving the quality of the models, layouts, and tramway art aside (difficult to do, I know), the Festival also proved to be a splendid market-place for the new and the dedicated tramway modeller alike.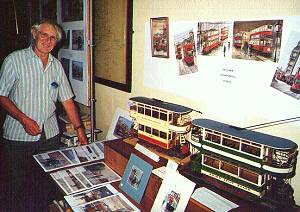 Ashley Best surrounded by his famous tram paintings, drawings and prints, together with two of his superb tram models in 1/16th (3/4 in./ft.) scale - Manchester 502 and S.H.M.D. car 8.

Overall, a marvellous testimony to 100 years of tram operation in London and close on 100 years of tramway modelling in London too, as the 1910 LUT model on display demonstrated, and thus a thoroughly memorable attestation to the value of our hobby and interest.
---

Return to Festival of Model Tramways


© Copyright John R. Prentice Software 2001