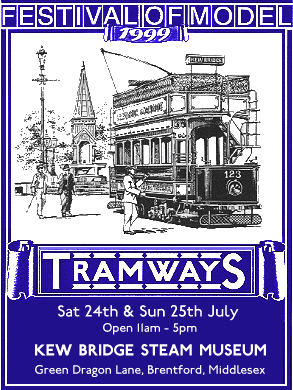 The 1999 Festival Of Model Tramways
For 1999 the Festival of Model Tramways, Europe's premier event for the model tram enthusiast, returned to the popular venue of the Kew Bridge Steam Museum, Green Dragon Lane, Brentford. Middx. The exhibition was held on Saturday and Sunday, 24th & 25th July.
Click here for List of Exhibitors at the Festival.
Festival Review by David Orchard
Photographs by Bob Appleton (unless otherwise stated)
It is always a pleasure to visit the Kew Bridge pumping engine site for the annual model tram festival, and this year was no exception. In the two years since the event was last held there the site itself has expanded the area open to visitors (mainly by opening up the former boiler room) and introduced a permanent museum feature, the 'Water For Life' gallery. All this gave more room for the tramway exhibits, but in the way of such things these expanded too both in size and number (so once again my sincere apologies if I unintentionally omit some exhibit from this inevitably short report.)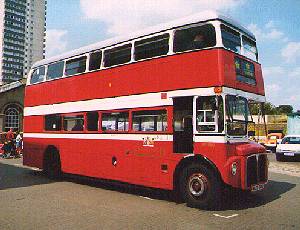 London United Busways Routemaster ER880 provided a bus tour to Heathrow Airport for Festival visitors

Going on a 'walk-through' of the Festival , the first thing to catch the visitor's eye on entry was either a Routemaster bus in a splendid (Diddler-era) LUT livery or one of two miniature passenger carrying trams on the Wootton Tramway that did brisk business throughout the two days.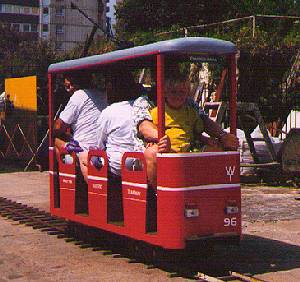 The children enjoyed riding on the cars of Howard Burford's 1/6 scale Wootton Tramway

Once past the turnstile and into the Mezzanine, there was a static display of Hong Kong models in various scales from John Prentice, the indefatigable and hard-worked Festival organiser, and one of several book sales stands. I was struck this year by what a better selection of tramway-related books was on display on stands, including both traditional British systems and modern developments in Europe generally.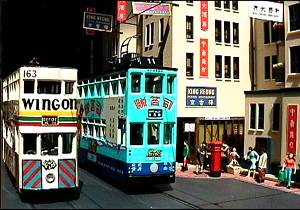 The Hennessy Road 4mm scale diorama, part of a display on Hong Kong Tramways by John Prentice, the Festival's manager. (Photo: John Prentice)

Going past the Dutch HO layout of Don Sibley in the care of Ron Howes, and a TT scale narrow gauge Belgian one Don had brought from Brussels by Eurostar on the Saturday, we come to the daily Models Competition and its selection of models submitted by visitors in various scales, though predominantly 4 mm and 7 mm. The modelling standard was high and the choice of subject (especially obscure works cars) distinctly imaginative, but both judges - I was one, Dave Voice the other, and Ashley Best helped out on one occasion involving a car in 1/16 scale too - felt that all too often a poor paint finish let down an otherwise first-class model. Comment: These days spray cans of acrylic paint are freely available and quite cheap - just look at their widespread use in inner city graffiti! Seriously though, they perform very well in painting models and giving them an easily-achieved immaculate finish without all the chemical and environmental problems involved with the old cellulose-based car sprays. So why not try a can of acrylic for the next model (make sure it is acrylic; there still some old stocks of cellulose around.) Next door to the competition, the TLRS Thames Valley group featured the research for their "Kew Bridge" layout, now under construction, and opposite the Twickenham & District MRC showed their new 2mm scale canal side layout.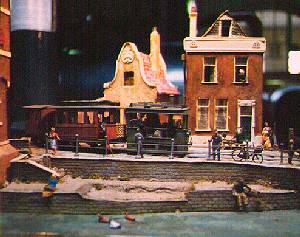 Frank Saunders' 1/50 scale Dutch Steam Tram diorama is set in 1905 and is based on a painting by the Dutch artist Anton Pieck

Continuing round the site, Brumtrams had their usual range of high-quality 7 mm card kits supplemented with a computer-generated 4 mm range, while in the Steam Hall were Tower Models with a very wide range from G scale down to N gauge, Frank Saunders' award-winning Dutch static display, more maps and books on sale, and Carshalton & Sutton MRC with a working 7 mm layout alternating between London and Liverpool. In the gallery were Roy Coates' static displays of Reading and Isle of Man cars, ABS models with white-metal kits in 4 mm and 7 mm alike, Tim's Trams with their motorising service, and a delightful Midland narrow-gauge layout from Geoff Sawford. Going from the gallery into the 100" engine room, we saw Stepley Transport with some very fine-scale 4 mm cars, driven from a scratch built controller giving series, parallel and brake notches. Also in this room the LCC Tramways Trust's book sales along with a large choice of full-size reversing keys and controller handles, complete with one entire Dick Kerr controller top (wonder where that surfaced from after all these years!)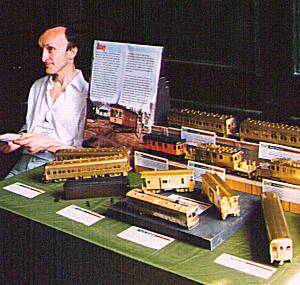 Clive Beech, the artist who produced the Festival's poster design, with his display of brass US trolleys and interurbans in O gauge

In the Boulton & Watt room were Dave Voice with his well-attended demonstrations, West Midlands TLRS with interesting dioramas, and Derek Lambelle with some very interesting HO scale east German plastic kits. The other 'engine' room showed Bob Tidball's excellent 'London Tramways' 4 mm layout, Clive Beech's US Trolley/interurban display, and Phil Carver's 2mm Tramway Museum.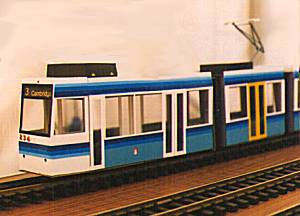 A radio-controlled Heidelberg low-floor car built by David Orchard in G scale. The destination at one end showed "Cambridge", Heidelberg's twin town.

The marquee was more the preserve of the larger-scale models (no 1/16 scale items running this year, though Ossie Emerson had a splendid static centre-piece of the many cars he has built in this scale.) The G scale 'Edwardian Tramway' with full scenery and working single-deck cars was deservedly very popular; I had my own 36 foot unadorned double track in the same scale with both double- and single-deck cars, including a radio-controlled Heidelberg low-floor car that attracted a good deal of attention, especially when it went off the end of the track onto the floor, having picked up a spurious 'full speed ahead' signal from a mobile phone ringing nearby (I believe all those stories about mobile phones in aircraft now!) Grateful to Peter Fickweiler of Sussex TLRS on the next-door layout for lending me a soldering iron to repair it; Peter's layout was a very fine one showing Continental cars in a British street-scene environment; as he observes, most lay-people these days associate (or confuse) double-deck trams with buses or trolleybuses. If instant recognition of a 'tram' is what's needed, the Continental single-decker scores much more highly with the general public. Peter's view may be controversial in some quarters, especially somewhere south of Matlock, but I personally think there is a lot in what he says.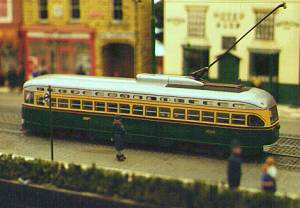 A motorised Corgi PCC car in 7mm scale on Peter Fickweiler's "Petertown" layout. Peter represented the Sussex Area Group of the TLRS.

Castings and parts for both G scale and 1/16 were on show from Phil Elverd of Model Tramway System, including his new LCC trolley pole and bogie sides for Brill 22E and EMB Lightweight/L5, all in 1/16 scale, as well as a prototype motored drive axle for 1/16. His G scale range continues to expand, the Brill 79E 4-wheel truck (aka Liverpool Priestly) doing particularly well, as well as his new brass controller tops. Also in the marquee was the Rev. Benedict Sankey with his charming 'Trambahn Wörth' Swiss layout of Lehmann "Gnomy" mini-trams on 4 mm chassis .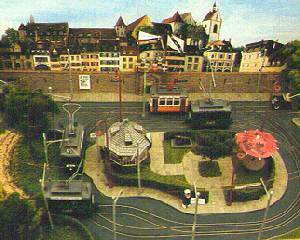 Rev. Benedict Sankey's 1/50th scale "Trambahn Wörth". This automatic tramway in a Swiss setting, uses the "Gnomy" toy trams made by Lehmann.

Finally, in the new (and thankfully cooler) basement were those two Festival stalwarts Terry Russell and Ron Leach, the TLRS Model Engineering Secretary, as well as Solent TLRS with the Severn Mill Tramway Museum, Ian Druce with 'Times Square', and John Butler with 'Westby Townscape'. Terry had his usual ever-expanding range of plans and 7mm castings and built-up trucks and bogies, plus (new for the Festival!) colour-printed correct-for-1930s/1950s advertisements for tram sides in 4 mm, 7 mm, and 1/16 scales. These look beautiful but are computer-printed on an ink-jet printer, so need care lest they get wet; Terry's instructions advise what glue and varnish to use. Ron continues to expand his range of built-up 21E trucks and all possible brass bits and bobs for 1/16 scale construction, including some beautifully-turned trolley-heads. Concluding our tour, we pass the temporary and permanent tea-bars (both doing good business in the heat), and what must be some of the cleanest loos on any museum site anywhere (ignoring the older loos, bidets, and bath appliances suspended from the basement wall as part of the Water for Life museum experience.)
Conclusion
Overall, what impressions? As many visitors as before. More models than ever on display, but perhaps a further shift towards Continental single-deck outlines and more new-style 'third generation' cars with low floors and articulation? There was also a remarkably large number of Hong Kong double-deck models on sale this year from several different manufacturers, which defies explanation for the moment. As for scales, G scale clearly continues to make advances, but possibly at the expense of 1/16 (there were relatively few 1/16 cars on show this year), while 7 mm holds its own well, and 4 mm (including the Corgi 5 mm variant) remains the clear favourite amongst the most UK-outline modellers and 3.5 mm/HO/1:87 amongst those who prefer Continental outline. The latter had an unexpected bonanza when a couple of Austrians arrived on Saturday morning to set up shop "out of a suitcase" in one of the corners with some beautiful ready-built plastic HO cars both in ultra-modern outline and in first-generation form. This welcome exercise only lasted for an hour or two until all the trams were sold, but attests perhaps more than anything else to the Festival's growing international importance!
---

Return to Festival of Model Tramways




Reload Home if you linked directly to this page



© Copyright John R. Prentice Software 1999