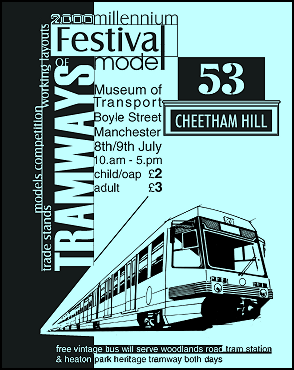 The Millennium Festival Of Model Tramways
The Festival of Model Tramways, is Europe's premier event for the model tram enthusiast.
The Millennium Festival of Model Tramways was held at the Museum of Transport, Boyle Street, Cheetham Hill, Manchester on Saturday & Sunday 8th & 9th July, 2000.
Click here for List of Exhibitors at the Festival.
Festival Review by Ron Howes
Photographs and captions by John Prentice
At last! A successful millennium event! But before describing this year's Festival perhaps I should first set the scene. One side of Boyle Street, Manchester has for something over half its length a bus garage. In tram days this was Queens Road Depot. When motor buses were added to the fleet a garage was built behind the tram depot and is now the home of the Museum of Transport, both halls of which house a large collection, mainly of buses. There are some tram exhibits, notably Manchester Corporation No. 173, restoration of which is now nearing completion, the lower deck of South Lancashire tramways No. 65 and the pre-production mock-up of half a Metrolink car body, plus models, tickets, uniforms, etc.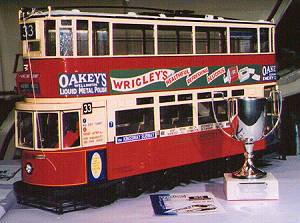 Terry Russell's model in 1/16th scale of London Transport E/3 number 2000, the winner of the cup for Best Model in the competition.

Visitors entering the Festival first found a display of East Ham models and pictures by John Prentice presented as a foretaste of next year's celebration of electric centenaries, and adjoined by the Models Contest which was ably judged by Ashley Best and David Voice. The overall winner of this was Terry Russell's London E3 No 2000 in 3/4" scale, against strong competition, some of which was provided by Terry Daniel's 5/8" scale Blackpool Dreadnought. Was this the first entry in this scale in the Festival contests? There were also entries in 3/8", 7mm, 4mm. 3.5mm, and N scales. Backdrop to the Models Contest table was the biggest horse bus I'd ever seen, a 38-seat monster, and across the front of this beast was Clive Beech's display of USA interurbans. Next to come into view as the hall opened out was Manchester No. 173, a short-canopy 4-wheeler in 12" to the foot scale, one of the few of the hall's normal inhabitants which had not been cleared away to accommodate the Festival. Having admired No. l73, the first model tramway in view was Bob Hill's 2 7/l6" gauge, 5/8" scale double track line, unusual for so large a scale in having a circular form, of about ten-feet diameter.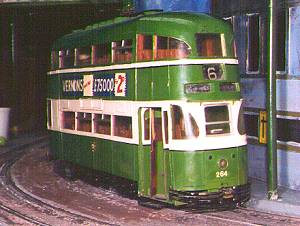 A Liverpool Streamline car on Bob Hill's 5/8" scale circular track.

Ian Druce's 1930 street scene in its illuminated box came next, 4mm scale, British and as charming as ever, followed by the TLRS West of England Group's display of three 3/4" scale cars and two 4mm layouts, plus a new one of figure-of-eight form, whose overhead had only been erected the previous Wednesday and on which two Bachmann Spectrum cars (0n30 on l6.5 mm track) automatically avoided each other at the central crossing of the "8". Walking on a few paces I came to Andrew Hunt's "Jaeger Strassenbahn", 3.5mmm scale and around 20' long with many "ins and outs" and automatic operation.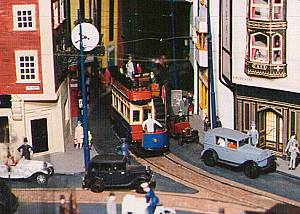 Ian Druce's Times Square 4mm scale layout, set in the 1930s.

Passing two sales stands across the end of the hall I turned round to find Bob Tidball's well known London model, running on both conduit and overhead, keeping company with the TLRS East Midlands Group's own 4mm British layout run by Derek Barnard. Another sales stand separated this from Alan Catlow's 7mm Blackpool line, reminiscent of that line's seafront turning circles and, I am told part of a much larger layout. I had not seen this one before and there clearly was some fine modelling here. Then came Bob Wardle's Bowergrove Tramway in 7mm scale, with some ingenious use of available Code 100 and N-gauge rail to form 7mm grooved rail. This is an end-to-end layout, which avoids the "straight-line" look by passing through a skew bridge and turning through ninety degrees before one of its termini. Rolling stock included a very nice Manchester bogie car, full of character. Alongside Bowergrove Tramways was Geoffrey Heywood's continental 3.5mm town tramway, "now with added church", complete with wedding group.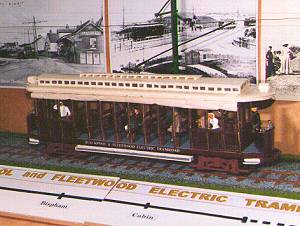 Frank Griffiths' Blackpool & Fleetwood display in 3/8" scale.

It was nice to see once again Frank Saunders' beautiful Dutch steam tram diorama, so well presented on its revolving base. Another sales stand came between it and Ron Leach, the TLRS Model Engineering Secretary's stand. Alongside this, Frank Griffiths displayed his 3/8" model of Blackpool and Fleetwood No. 34, an American-style car with American equipment, not surprisingly known as "Yanks". This display featured tasteful and informative description panels. Terry Daniel's track, on which ran three Blackpool cars and one Lytham four-wheeler was another in 5/8" scale, the popularity of which in the Manchester area presumably stems from George Oakley's layouts having been shown for so many years at Manchester Model Railway Society's Christmas shows.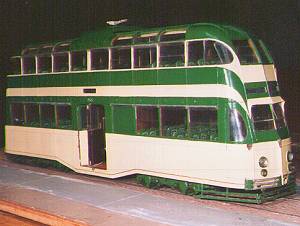 Terry Daniel's Blackpool Balloon car in 5/8"scale.

Alan Kirkman and David Voice demonstrated various skills in tramway modelling (though I did catch Alan repairing a plastic model of a London B-type bus!), next to the TLRS West Midlands Group's display of static models, including Peter Huxford's latest diorama depicting the Fleetwood lighthouse. I should perhaps mention the next sales stand by name, since it was the Model Tramway Shop run for TLRS members by Derek Lambelle. Alongside Derek was Gerald Southern's "Werneth Cross" in N-scale and British outline, another layout in an illuminated box, giving a very professional presentation, complete with a rail for old fogies like me to lean on! Last in this row of stands was another model tramway I'd not seen before, Tim Parkinson's 4mm representation of Leeds in the 1950's. I was particularly taken by Tim's modelling of some of the actual buildings of Leeds and could easily recognise the tram shelters in Briggate. This layout is notable for the ingenious way it folds together for transportation and this greatly impressed me too.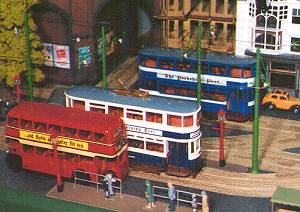 Tim Parkinson's 4mm scale layout of Leeds in the 1930s.

The next row of stands consisted entirely of Anthony Sibert's Liverpool Penny Return 3/4" scale and some thirty feet long, served by four Liverpool cars including 757, the "Priestly Subway" single deck car as built by English Electric. The row behind Anthony consisted entirely of sales stands and led towards Dave Allinson's "Tram Stop", that glorious mixture of London and Blackpool in 4mm scale on which road traffic must outnumber trams by at least a ratio of 20:1. I'm tempted to ask if this is the first show where both "Tram Stop" layouts have appeared side by side, as Ron Stevenson's layout of the same name was close by, together with his 3.5mm continental layout.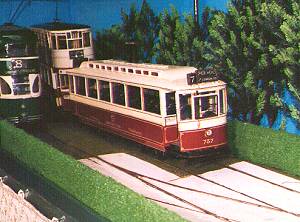 Anthony Sibert's Liverpool Penny Return 3/4" scale layout with the "Priestly Subway" single decker.

Next to Ron was another sales stand but the most obvious feature of this corner of the hall was David Haynes' famous Manx Electric in 1:32 scale, due to retire from the exhibition scene later this year, on which a constant succession of children, their faces a picture of concentration, are allowed to drive the cars and are awarded one of David's 'Motorman' badges. What better way to encourage youngsters into the hobby? Incidentally, some of those badges were being sported by some pretty elderly 'children'! The vehicle with the "mousimum-traction truck" (a mouse on wheels) now has a tram to chase, one of the little-known "Wenslydale Tramways" fleet. Welcome, Wallace and Gromit. Thank goodness we tramfans still retain a sense of humour.
Garwick Glen station on David Haynes' Manx Electric Railway 1:32 scale layout, with M.E.R. car 12.

David's display was in front of the Museum's Tea Room, where their volunteer staff did wonders in keeping us all fed. Through an adjacent doorway I found myself in the other hall the Museum, confronting the Metrolink mock-up, on my way through the ranks of well displayed buses to find the remaining six stands, including that of Ron Carson, who had come all the way from Philadelphia, USA, to sell the videos which he himself had shot, edited, etc. The sixth stand here was David Cole's 3.5mm "Altstat P+R", end-to-end, automatic operation, another layout presented in a glass-fronted case as a "3D Picture", with its beautifully-crafted scenery.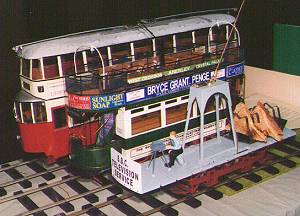 A selection of models in 3/4" scale on the stand of the TLRS West of England Group includes a Feltham, a SouthMet car, and a tram which give a whole new meaning to the term "Toastrack".

Conclusion
When one had tired of the model trams, one could take a heritage bus trip on some of the Museum's buses to Heaton Park and ride on the vintage trams there. The buses also ran to Woodlands Road Metrolink stop and to Victoria railway station. If the standard of the Festival exhibits was as good as ever, if not better, the same cannot be said for the weather. Now I know why Manchester has a reputation for rain! (Yes, I do remember Fleetwood!).
That the Festival is becoming more international was demonstrated not only by the presence of Ron Carson but by the happy experience of two Austrian visitors, who had been trying for a long time to meet in Austria but without success and who at last did so in this Festival in Manchester. Need I say more?
One last word. I've not described most of the sales stands for lack of space. However they all appear on the list of exhibitors and their attendance is always much appreciated, enabling as it does so many of us to buy all the bits we need to build models for future Festivals. Speaking of which I hope to see you all again at Kew Bridge on 7th and 8th of July, 2001.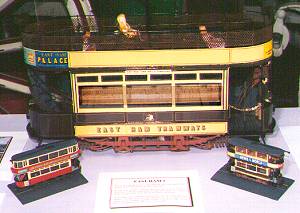 Models of East Ham by John Prentice, the Festival Manager, give a preview of what to expect at the 2001 show, which will celebrate the centenary of the first electric trams running in London.

---

Return to Festival of Model Tramways




Reload Home if you linked directly to this page



© Copyright John R. Prentice Software 2000