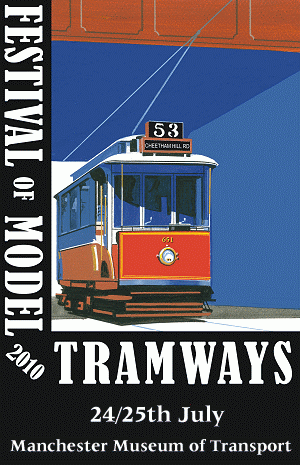 The 2010 Festival Of Model Tramways
The Festival of Model Tramways, is the premier event for the model tram enthusiast.
The 2010 Festival was held on 24th/25th July 2010 at the Museum of Transport, Boyle Street, Cheetham Hill, Manchester.
Click here for List of Exhibitors at the Festival.
Festival Review by Ron Howes
Photographs and captions by John Prentice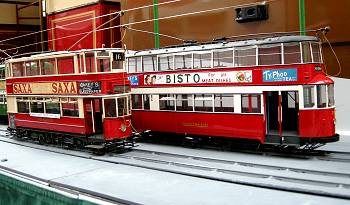 London trams on the Manchester Model Tram Group's 5/8" scale track. This scale was pioneered in the Manchester area many years ago by George Oakley.


Variety, they say, is the spice of life and this year's Festival proved it. From 3/4" and the peculiarly Manchester scale of 5/8", through G, 7 mm, 5.5 mm. 4 mm, 3.5 mm to N scale, most of the sizes were there. Note the 5.5 mm scale, these were Alan Catlow's models, part of the North Lancs Group's display of static models, photos and maps.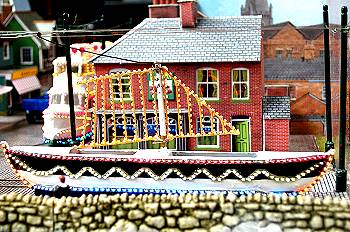 All lit up! Peter Whiteley's 4 mm scale illuminated Blackpool trams attracted a lot of interest.


So, how about a tour of the show? Special efforts had been made to ensure that visitors knew of the exhibits in the lower hall and certainly the Manchester Model Tram Group's 5/8" track, with a great variety of cars on its 85 feet length, was attracting a good crowd whenever your scribe visited it. So was Peter Whiteley's 4 mm layout, whose distinguishing feature was its fleet of Blackpool illuminated cars, each with its quota of several hundred LEDs, each one individually soldered on.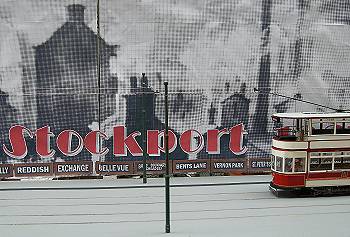 Greg Marsden's 1:16 scale Stockport layout with its unusual backscene and his new car 44


In the upper hall, visitors first met the models contest (Best in Show was Arthur Dawson's 3/4" scale Lausanne car), then John Prentice's stand, a six-foot table for a layout only seven inches square, pyramidal and its ex-Ferrero Rocher box case only just big enough to bear a label for its name 'Eisenfels Strassenbahn'. (Eisenfels = Iron Rock = Ferrero Rocher). It featured a Japanese N-gauge car (by Kato). In contrast Greg Marsden's 30 feet track carried his beautiful 3/4" Stockport cars. Number 44, a vestibule balcony car was new this year.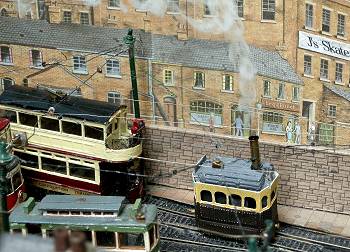 Doug Pritchard's 4 mm scale 'Chederall' complete with smoking steam tram.


Ernie Earnshaw's 3.5 mm modern image 'Marianplatz' had the West of England Group's display of static cars and working layouts as its neighbour, which in turn was next to North Lancs' display mentioned above and Arthur Dawson's new G-scale L-shaped tramway 'Blackrod', still under construction but running smoothly. Also new to the show this year was Doug Pritchard's charming 'Chederall' in 4 mm, not much more than 3' x 2' but packed with interest. A smoking barbecue, ditto steam tram, the Halifax kitchen car and the scenery a mixture of Chester (the town walls) and Derbyshire (well-dressing complete with Bakewell Brass Band, lead trombonist Jim Dyer). Morris dancers performed next to Chester Cathedral's bell tower and a gully sucker, an urban fox and two pigeons completed the variety. Harry Moore had brought 'Ellandbrooke', which was started by Arthur Brooke, completed by Harry and features Arthur's father-in-law's mill, 'Pretoria Mill'. At the church the bells are ringing as the visiting bishop processes with the choir towards the church door.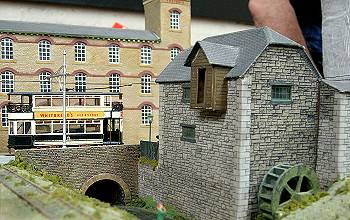 Harry Moore exhibited the 4 mm scale narrow gauge 'Ellandbrooke'.


The 'Tramstop' layouts ('Edinburgh' and 'Willemsplein') came next, presented by Douglas Sutherland and Mervyn Spencer. On Steve Smith's 'Hasselhof(f)' the road traffic is still delayed by the threat to drop a baby from an upper storey, but the trams continue as normal. A new feature was the fire lit by vagrants under the bridge. Geoffrey Heywood's 3.5 scale 'Heuwald' is longer than it was, 'Not extended' said Geoffrey, 'but instended, as the extra bit is in the middle'. Bob Wardle and his colleagues brought such a quantity and variety of cars for his British O-gauge tramway that they could run themed sessions. I watched an 'Irish' session, Dublin and Belfast cars. There is also a 'Manchester' session (of course!).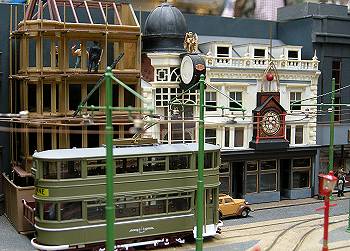 Tim Parkinson's 4 mm Leeds model with fine 1950's buildings.


It was good to see once again Tim Parkinson's excellent 4 mm Leeds model, featuring authentic 1950's Leeds buildings, and also Andrew Hunt's 3.5 'Jaeger Strassenbahn II'. The North-East was represented by George Wilkinson's 7 mm 'Sealane', Sunderland's seaside, and Gordon and Margaret Bulmer's new 'Foxwood Park', recently described in Railway Modeller. There are several Daleks on this model. One of them is eating (exterminating?) an ice-cream. Well, it is a theme park. Werner Jurkowski had brought his HO/HOm layout project, to which scenery still has to be added. Its absence enabled us to appreciate the 'Easy Street' track system, commercially available (in the USA), grooved rail as near scale as possible and working well, too.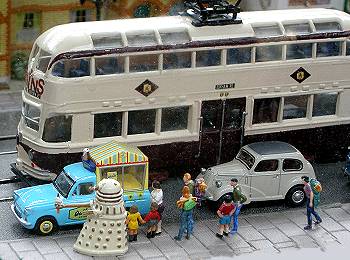 Gordon and Margaret Bulmer's 4 mm scale 'Foxwood Park' complete with the ice cream eating Dalek


The West Midlands team including, of course, Messrs Kirkman and Voice, were doing their bit to assist visitors, answering modelling queries and demonstrating techniques while next in line was Darren Franklin's Trumpton' on its first trip to a Manchester Festival. 'Grime Street' by Mark Casson, in 4 mm scale, was a good example of simple but effective. Double track ovals, no points or crossovers. The buildings were wonderfully weathered, though one is left reflecting that Leeds weather in tram days was rather sooty. It was very convincing scenic modelling, not quite finished, the Co-op not being fitted out. Asked about whether it would have a cash railway Mark said 'Possibly, but definitely not working'.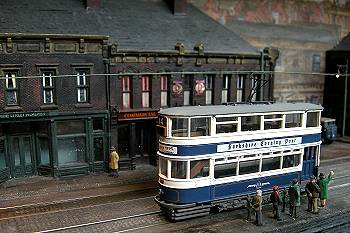 Mark Casson's, 4 mm scale Grime street with a Leeds tram.


Lack of space prevents detailed mention of each individual trade stand, though an exception must be made for Chris Cornell who had brought out not just one new kit for the Festival but four. Also creating comment were Mark Hughes' overhead parts, on sale from Alphagraphix and East Lancs Model Supplies. Also present were Videoscene, TLRS Sales (Derek Lambelle), Rolfe Hafke, Dieter Lehnhardt, the LRTA, Model Roads and Tramways, MDS Books, ABS Models, The Electric Railway Society, David Packer, the LCC Tramways Trust, Elro Kits and a publicity stand for the Heaton Park Tramway.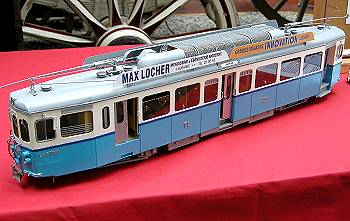 The Models Competition winner, Arthur Dawson's G scale model of a tram from Lausanne, Switzerland


Yes, variety was definitely the spice of life, served up to be enjoyed by all present, topped by an ever-rising standard of modelling. We now look forward to next year, at Kew Bridge Steam Museum on 24th and 25th September 2011.
---

Return to Festival of Model Tramways


© Copyright John R. Prentice Software 2010