Tramway Video Links
British Pathé
British Pathé have a fine database of rare archive newsreel film. You can search for "trams" etc. for feature clips, and many other views have a tram in the background. Stills and film clips can be purchased from British Pathé.
We have set up "Workspaces" with short films that we think are well worth seeing.
The still (right) shows London County Council car 1931 re-opening the Kingsway subway from the British Pathé film "Linking Up London".



---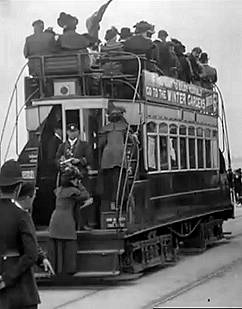 YouTube
YouTube is a good source of video clips. Tramway items are far too various and rapidly changing for us to have a complete list here. We suggest that you visit YouTube and search for words such as tram, tramway, streetcar, strassenbahn, trolley etc., and you will get a large number to choose from. Each clip also gives you related videos, which are often interesting.
The still (right) shows a Blackpool Dreadnought tram in 1904 from a Mitchell and Kenyon film.
Here is a selection of films the we particularly like and which we think you will enjoy:-
---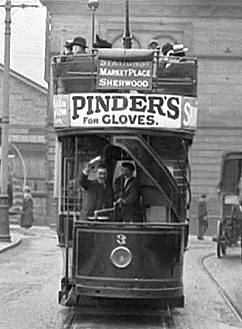 British Film Institute (BFI)
The BFI has released a player to enable viewing of items in their collection. Many are free to view and include the Mitchell and Kenyon films in longer versions and at higher quality than as seen elsewhere. At present this service is only available in the UK.
The still (right) shows a Nottingham tram in 1902 from a Mitchell and Kenyon film.
Here is a selection of early M & K and similar film clips with a high tramway content:-
---
Huntley Film Archives
The Huntley Film Archives have a large range of material including many transport related items. There is a good search facility.
---
De Digitale Tram
De Digitale Tram has a useful archive of videos, mostly of Dutch tramways. Two that we think are of special interest are real time cab rides (each takes about an hour) on Den Haag route 1:-

Return to Links and Webrings
© Copyright John R. Prentice Software 2022