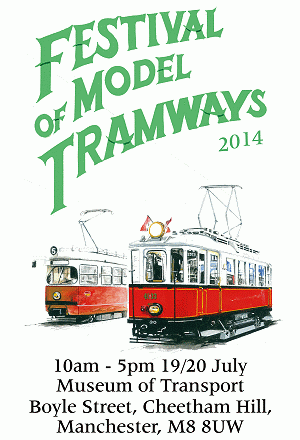 The 2014 Festival Of Model Tramways
The Festival of Model Tramways, is the premier event for the model tram enthusiast.
The 2014 Festival was held on 19th/20th July 2014 at the Museum of Transport, Boyle Street, Cheetham Hill, Manchester.
Click here for List of Exhibitors at the Festival.
Festival Review by Ron Howes
Photographs by John Prentice
The 2014 Festival was held in Manchester, a city with ample opportunity for tram riding in addition to the Festival. Here a selection of layouts which were new to the Festival have been described but a complete list of all 2014 exhibits is from the link above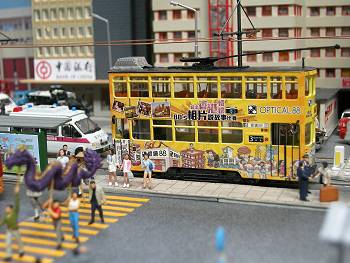 Our hobby is full of variety and Steve Smith's 00-scale model of trams in Hong Kong (left) shows this. Steve's previous layout, Hasselhof, came up with a wonderful answer to the often-asked question from the public "Why don't the motor cars and lorries move? The answer was that there was an "incident" taking place and though the police had stopped traffic the trams could keep moving. "Yellow Threads Treat" (from a book title) has a bank robbery in progress. This layout is packed with things happening. (Note the "dragon" crossing the street on a zebra crossing.) It well displays the busy-ness and vibrancy of Hong Kong, a place which seems to have been a bit of a theme for this year's Festival.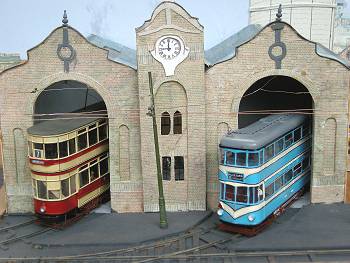 In complete contrast was Harry Moore's "Southport", (right) a work-in-progress in 7mm scale, representing Southport's line from Botanic Gardens to Crowlands Depot via Churchtown Village. This photo shows the depot, with Harry's Southport car being kept company by a Leeds "Lance Corporal", made by Arthur Dawson and borrowed from the TLRS North Lancs Area Group's static display. It seems to have made itself at home! It will be interesting to watch this layout develop in the future. At present it's a nice manageable size to fit in a car and the use of prototype buildings from a real town gives it added interest. Will it grow larger? We must wait and see.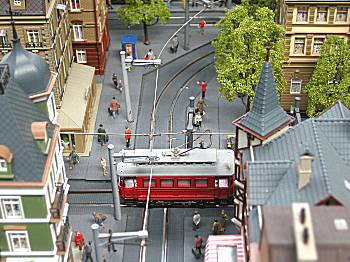 Way back in the days when most tramway modelling was done in 3/4" scale (plus a bit of 0), and even your reviewer was young, there burst upon the scene the "Hamo" model tramway system (left). This was in the days when most railway modellers were satisfied with Hornby-Dublo 3-rail tinplate. Hamo meant that anyone could go to a shop and buy a working model tramway system though not of a British prototype. Later there were trolleybuses, too. If my memory's correct these were from Rivarossi (originally Minobus). John Huddlestone has assembled a delightful layout using Hamo trams, Eheim and Brawa trolleybuses (in a static role) and Vollmer buildings. As the picture shows it works very well indeed.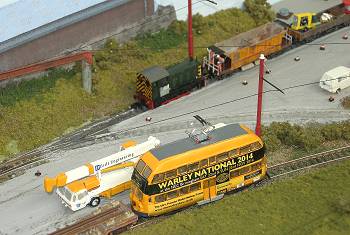 From a "straight out of a box onto the dining room table" layout, we move to another model of a recognisable location, Thornton Gate sidings (right), Blackpool's Permanent Way depot, modelled in N-gauge by Tom Williamson. The beauty of N-gauge is that it makes possible the modelling of a complete location. I have been to Thornton Gate, though it was a long time ago and I was just passing through (on a tram, of course). Nevertheless I instantly recognised it, though the "Balloon" works car was a bit of a shock. A lot of work must have gone into researching this location and translating the information into a delightful model, which worked as well as it looked.

As well as Steve Smith, another long-time Festival exhibitor is Andrew Hunt of "Jaeger Strassenbahn" fame. That layout started out shortish and grew to be longish. I cannot name his new metre-gauge HO layout (left) because as yet it doesn't have one (perhaps because it's East Germany and top secret?). Already it has started growing. At the show it comprised three baseboards, two scenically finished and capable of being joined together and operated. For this show Andrew had inserted the as yet unfinished third board between the other two, the track at the joins following the modular principle. On the third board was a huge depot, which Andrew had bought (actually made by the late David Haynes). Andrew proposed to shorten it but lots of people wanted it kept as it was. Poor Andrew! Decisions, decisions.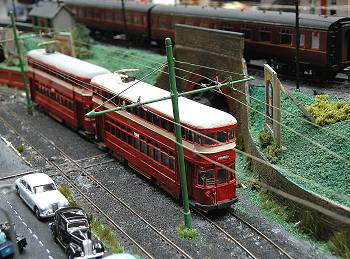 Tramway or railway, nowadays there's not a lot of difference. From its earliest days the Swansea & Mumbles Railway operated what looked like trams, whether horse, steam or electric. Tony Loughman's model of it (right) rendered discussion about this difference superfluous. It is such a delightful, and accurate, portrayal. The front represents the Swansea terminus, with the LMS railway on its embankment behind. When the cars leave, they run round to Oystermouth station. Both ends were exquisitely detailed. To enable the vehicles in the depot to be seen the roof was modelled as under replacement. At one end of the car shed the scrap man, with his tatty lorry was removing old corrugated iron sheets. At the other new panels were being fitted. Nearby a crane equipped with a swinging ball was demolishing a building. This kind of modelling comes from a keen eye for observation. There's even a Griff, Fender van.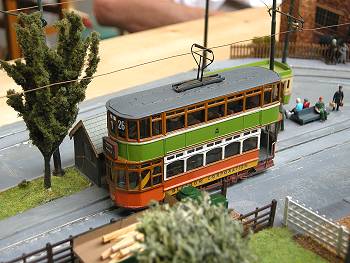 Brian Robinson's small town (left) was modelled in 00 scale. It has a Congregational Chapel modelled from real life, a Town Hall modelled from that at Fordingbridge and a section of city wall based on Bootham Bar in York. Your reviewer particularly liked this layout but, if asked, would not be able to say why. I think it stems from the modelling of real, actual buildings or maybe my having been brought up Congregational has something to do with it. I don't know quite where this small town is situated, either but it has to be in the south of England. A selection of cars operates its tram services, serving a population who have gathered in delightful cameo scenes about their town.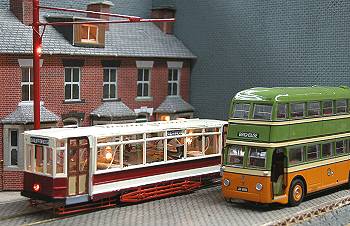 Our final storytelling picture is a look to the future. (right) For some years now we oldies have been decrying the lack of younger people coming into the hobby. Huw Cairns' end-to-end 4mm scale town tramway is another work-in-progress. It will be interesting to watch it develop. While I was chatting to him he asked if I thought he was the youngest exhibitor. I think that, at 21, he probably was. So this is the future and I suspect that if he tires of this layout, or is inspired to greater things, Huw will be one of our next generation of competition winners. Oh, I nearly forgot. It's DCC-controlled. What next? 18.8mm gauge?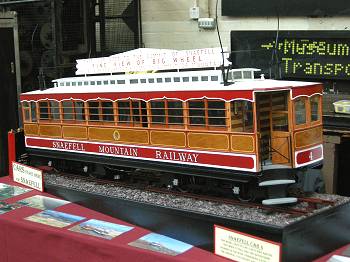 Snaefell Mountain Railway car No. 4 (left), to 1:8 scale on 5" gauge, won the TLRS Model Engineering Trophy at their AGM in Llandudno, and Martin Birch repeated that success by being awarded the Cup in the Models Contest at the Festival, gaining full marks from the judges (100%). Snaefell 4 was displayed on a length of scale-model track, complete with Fell rail, and a few discarded rail-fixing nails left lying on the ballast. This car is capable of pulling passenger-carrying cars.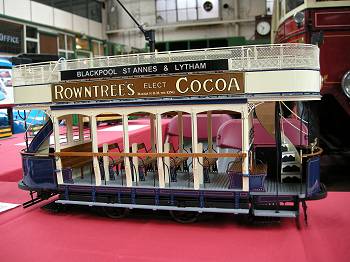 He had strong competition from Peter Howard, whose 3/4" model of a Lytham St. Anne's toast-rack double-decker (right) also gained 100% (winner of the Frank E. Wilson Trophy at the TLRS AGM). Both cars were superbly finished.

That's it, then, for Festival 2014.
---

Return to Festival of Model Tramways


© Copyright John R. Prentice Software 2014