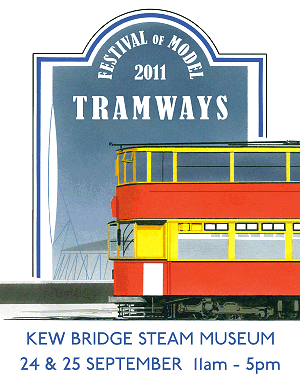 The 2011 Festival Of Model Tramways
The Festival of Model Tramways, is the premier event for the model tram enthusiast.
The 2011 Festival was held on 24th/25th September 2011 at the Kew Bridge Steam Museum, Green Dragon Lane, Brentford, Greater London, TW8 0EN.
Click here for List of Exhibitors at the Festival.
Festival Review by David Orchard
Photographs by Bob Appleton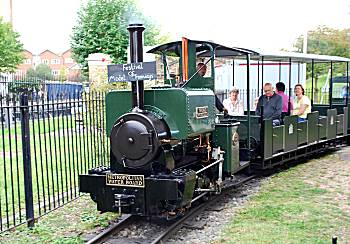 Kew Bridge Steam Museum's replica Hunslet water works loco carries a chalked "Festival" headboard.
A little later in the year than previously, the Festival was successfully held once again in the welcoming environs of the Kew Bridge Steam Museum in Brentford, an area that is constantly changing and developing (the two pubs opposite the centre have now been demolished to create a massive new Business Centre), but the Museum itself - with its iconic Water Tower - has protected status and survives unscathed. It also has a miniature passenger-carrying steam railway that was performing rather better than the weekend's South-West Trains service to Kew Bridge station, and the stationary steam engines inside the Museum (many of which were operational during the Festival) are a splendid monument to Victorian technology, and marvellous to watch and hear in operation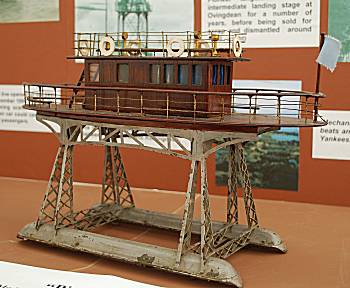 Dating from 1893, this model was built by Magnus Volk to demonstrate the system of his proposed Brighton and Rottingdean railway.
The first stand was the Volk's Electric Railway in Brighton, beautifully modelled in the unusual scale of 10 mm to the foot, and in the Tramway Marquee. An excellent working model, and much admired. The next was the large and impressive West Croydon layout in 4mm scale from John Clarke, with all buildings now completed (I had previously seen this layout with several building sites still under construction.) All the trams running were first-generation cars from the then operators such as Croydon Council, though there was a Croydon Tramlink car visibly lurking in the background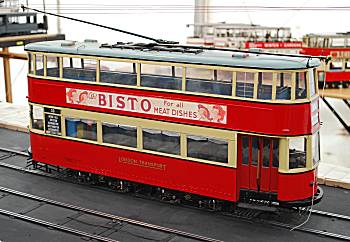 Tony Hildreth's 1:16 scale model of LCC number 1 running on Simon Cole's layout.
Turning round, I saw the well-stocked bookstall of the Electric Railway Society, with a buzz of interested buyers around it. It is always useful to have something on sale that tramway modellers will want to buy, and gives them yet another reason for flocking to the Festival. I then went on to the largest stand in the Marquee, which was the 1/16 scale end-to end double track layout "Tramway Arms" of Simon Cole, aided by Sussex Area Group TLRS members. This was extremely impressive - a variety of first-generation cars was operating, together with LCC 1 in later livery, plus the giant of the show in the form of Croydon Tramlink 2530. This probably qualifies as the largest model tram ever made, being rather over 6 feet long, but it was splendid to see. I didn't see it running, but LCC 1 ran very well and I took great pleasure in photographing it in action.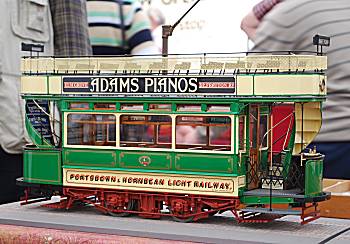 Peter Howard's 1:16 scale Portsdown and Horndean car, also the winner in the models competition of the "Best Tram of the Show"
Going onwards, I came across a very well-laid-out stand from the TLRS Model Engineering Secretary, Peter Howard, with ready-turned wheels in 1/16 scale plus the usual range of bogie sideframes and trucksides, also an interesting "bargain basement" of non-standard but useable motors and other parts which the 1/16 scale modeller would find invaluable.
Going back to smaller scales, the next stand was "Walworth Green", an impressive 4mm scale layout from the Chelmsford & District model railway club depicting London during the Blitz, and showing tramways in South London as well as the London Underground, complete with tube station. Feltham trams played a prominent parts in their fleet (we all owe a lot to Corgi for producing a very accurate 4mm model which is straightforward to motorise), though I saw the centre-entrance "Cissie" Feltham in use too, with its blanked-out right-hand front window. Technically the centre-entrance Feltham never ran in south London, as it couldn't be converted to conduit current collection, but I think we can overlook this.
The final item in the Marquee was an excellent display stand by the Brighton Tram 53 Society, in aid of their restoration of surviving Brighton tram 53. Having been involved myself in the discovery and preservation of Coventry tram 71, I can only personally applaud them.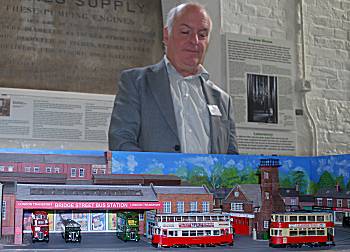 Gerald Warner's 00 gauge Bridge Street is being looked after by Eddy Dawes.
Stepping on now to the Boulton & Watt room, we come to Elro Kits, from Elena and Robert Hendry, which is a new (and wide) range of high-quality card kits in both 4mm and 7mm scales. Very good to see. In the same room were Gerald Warner's very impressive and complex London conduit 4mm layout called "Bridge Street", where Corgi Felthams were much in evidence. Unhappy news was that Gerald had been taken ill just after installing the layout and friends of his were looking after it. Webmaster's note: Sadly Gerald passed away a week later on 30th September 2011, without having regained consciousness.
Also in the same room was J & K Video's excellent selection of DVDs and transport prints, with some very good shots of Westminster station. Going on to the passageway to the open air, Rolf Hafke had a splendid sales stand of German tram books plus an excellent range of German ready-to-run models of current second-generation trams in 3.5mm/H0 scale. The Tatra T6s were particularly interesting as this car is only used in former East Germany and elsewhere in Eastern Europe, but in contrast to previous tram models from that area, this one was well done. Going on to the adjacent Maudsley & Bull room, Oliver Boorman-Humphrey had his impressive 4mm rural English layout on display, and was partnered by Dave Carson's Edwardian Pier tramway in 3.5 mm scale.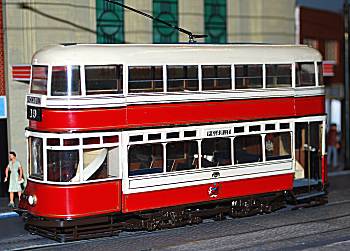 A Manchester Pilcher car in 7mm scale runs on the layout of the 0 Gauge Tram Group
Moving on a bit now to the 100 inch Engine Room, there were again two stands. One was the TLRS Sales Stand, very well stocked as usual (and well-patronised too), and the other was Mark Casson's excellent 4mm Leeds layout "Grime Street", depicting Leeds around 1950. Going downstairs (past an interesting selection of bidets and other Victorian hygienic water appliances whose purpose one would rather not guess at!) I went to the "Water of Life" gallery where the LCC Tramways Trust had a well-patronised stand with a lot to sell, and then the "0 Gauge Tramways Group" layout in 1/43 scale entitled "St Peter's Road" and demonstrating quite a variety of 1/43 scale cars operating on a complex fine-scale layout. The junction/cross-over work on this layout was particularly impressive.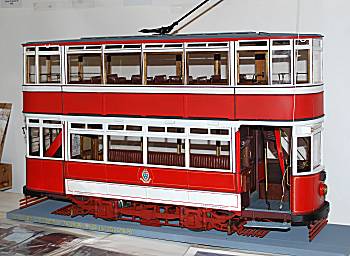 A superb model of Stockport 53 in 1:16 scale by Ashley Best
Ashley Best came next, with a very fine 1/16 scale model of Stockport 53 on display, plus a very wide range of both framed and unframed prints, the latter of which were done by the new "Giclee" process. This apparently guarantees that the copy is as good as the original, and lasts about 80 years. From what Ashley had on display, I can certainly vouch for the truth of the first statement. David Packer's sales stand with an enormous and impressive range of black/white tramway photographs came next, and then came Darren Franklin's new 009 scale layout "Fircombe", featuring a fictitious light railway somewhere along the south coast. This was very good indeed, and I really enjoyed watching it working.
We next come to Werner Jurkowski's international tramway museum in 3.5mm scale in the Steam Hall, which was very impressive indeed, covering both standard and metre gauges. Richard Moules' 7mm layout showing London Charlton in the 1950s was also really worth watching, and the TLRS West Midlands display of static models in a variety of scales was pretty eye-catching too, and prompted many visitors' photographs.
Having now got up to the Gallery, there was a vast crowd round the "active desk" manned by Alan Kirkman and David Voice, giving modelling demonstrations and advice to visitors. East Lancs Model Tramway Supplies had a very well-stocked sales stand too, with an astonishing range of model trams and kits in all sizes and scales, and going downstairs the LRTA had a well-patronised sales stand. Steve and Martin Whitley's "Stepley Tramway" in 4mm scale had a very impressive layout with the interesting addition of a "CamTram", where visitors could try their hand at through-the-cab miniature driving.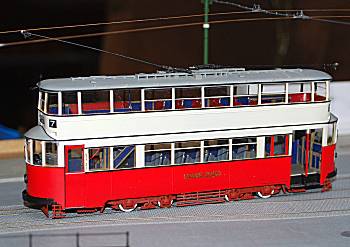 It is hard to believe that this stunning true scale Feltham from Clive Croome is in such a small size as 4mm to the foot.
Clive Croome' "Uxbridge Road" came next, in P4 fine-scale gauge (i.e. 4mm scale but with an exact track width of 18.83 mm rather than the usual 16 mm), and we saw not only his ultra-fine scale Feltham (no, definitely not a Corgi!) running at proper scale speeds - i.e. slow - but a new LUT X-type that he is building, based on a Chris Cornell etched-brass kit but with additions. As always, one salutes the ultra-fine scale modellers - it takes far longer, but is worth the effort.
Peter Boyt's 4mm/3,5 mm scale layout followed on (and yes, the two scales do intermingle perfectly well, despite what some purists say, as Continental prototypes modelled in 3.5 mm scale look fine next to their smaller UK prototypes modelled in 4mm scale. Just don't do it the other way round.) Peter's layout - called "Crickey" was a very good one showing both British and Continental prototypes working together.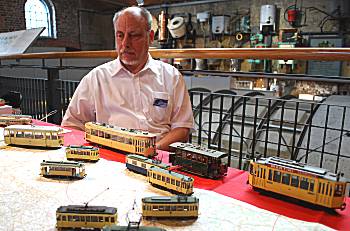 Paul Penders from Brussels with his display of Vicinal trams in various scales.
Chris Cornell's sales stand came next, with an ever-expanding range of etched-brass kits in 4mm scale, and some very impressive built-up models displayed too. Next to it was Paul Penders' excellent static display in both 3.5 and 7mm scales, entitled (in English) as "From the North Sea to the Maas in metre gauge" , and in Flemish / Dutch as "Geen Frieten Op Den Tram", which - for my sins knowing some Flemish - I would translate as "No Chips On The Tram". Belgian chips are probably the best in the world, and everybody there (in both French and Flemish communities) consumes them regularly, especially while waiting for trams. But Paul's models - in both scales - of Belgian trams were superb.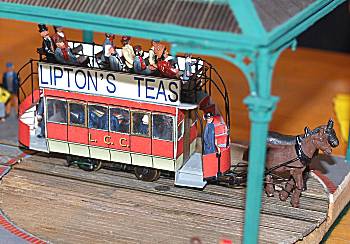 A new horse tram on the 4mm scale Dougal tramway from Simon Hamlin is this double-decker from South East London.
Simon Hamlin's "Dougal Corporation Tramways" had been audible for some time, as this splendid 4mm model of a horse tramway has sound effects produced by his father with two coconut shells, which resound around the gallery. However, I loved the exhibit, with its horses' legs that move. Well done, both of you. Next came the display of models entered in the Festival's Models Competition - I saw this at lunchtime on Saturday, so obviously saw only a small selection, but there were some very nice models on show already. Ron Howes' "Garratt Green" in 4mm scale was a welcome returnee to the show, depicting Wandsworth in 1945/1950, though as Ron himself points out, the model shows how modelling standards have improved over the years. Still very good to see it back, though.
Finally, last but by no means least, there was a static display of the London "Poppy" bogie tram in 1:16 scale, started by others but beautifully completed by John Prentice. This was a one-off tram built in the late 1920s by the MET as a precursor to the "Feltham", and models of it are rare. However, this is a very fine example.
Overall, a super show, and thanks to the organisers, the excellent cafe' staff, and to all the exhibitors. Well done!
---

Return to Festival of Model Tramways


© Copyright John R. Prentice Software 2011