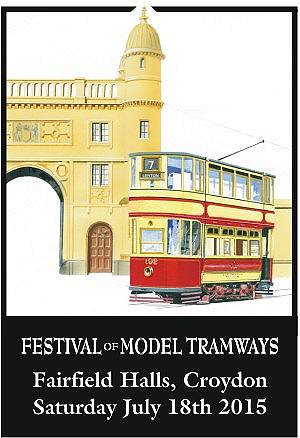 The 2015 Festival Of Model Tramways
The Festival of Model Tramways, is the premier event for the model tram enthusiast.

The 2015 Festival was held on 18th July 2015 at the at the Arnhem Gallery, Fairfield Halls, Park Lane, Croydon.

Click here for List of Exhibitors at the 2015 Festival.




Festival Review by Bob Appleton
All photographs by the author unless otherwise stated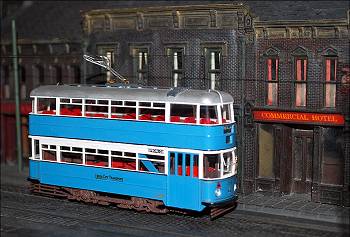 With popular approval, this year's festival was back at the Fairfield Halls in central Croydon. A fair weather day brought out the visitors and attendance was actually up on two years ago when last here and the hall was well-filled all day.
The main grimy street of Mark Casson's Grime Street brightened up by passing Leeds 276.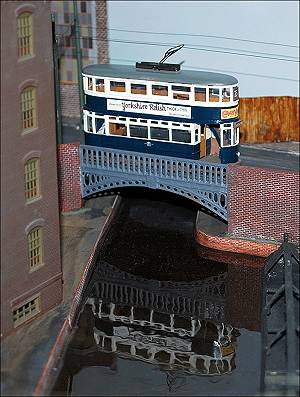 The canal bridge loop on Andy Burrows' Florin Street with the passing tram reflected in real (canal?) water. The model is based on one of a number of ex-Hull trams that were taken into the Leeds fleet during WW2.
The organiser John Prentice, the TLRS chairman but acting in a private capacity, again had a good mix of previously shown displays (although many had grown) and some excellent first-time layouts, at least for the London show.
Turning left into the main hall on arrival, was the well-known and atmospheric 'Grime Street' layout of Mark Casson. Forget the trams for a moment but the public just loved the lone cyclist pedalling around the block! However, this year, Andy Burrows had linked his 'Florin Street' layout to 'Grime Street' thereby allowing through running over an impressively long display for 00 scale. 'Florin Street' is more compact and can run independently but still contained plenty of detail to keep viewers enthralled.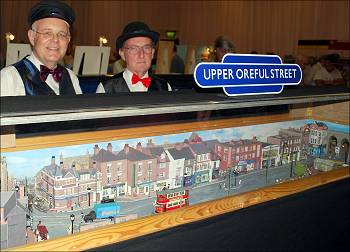 David Groves and Martin Chiverton smartly dressed at Upper Oreful Street. This was an all-action layout with automatic running of both trams and road vehicles. The undertaker's premises were scary after dark…..
One of the best new displays was David Groves' 'Post-war Street' in 00 scale. Representing a fictitious street in London, this encased layout was full of amazing and amusing detail.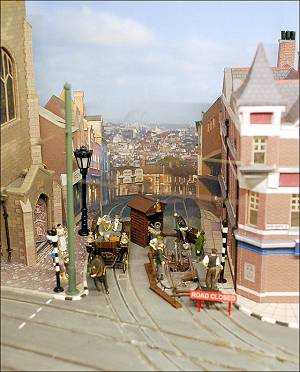 An exceptional illusion of perspective as the track-gang work on the conduit at the top of the hill.
Many of the buildings were modelled on real ones in various parts of the country and the imaginative backdrop included a 'track up' street that disappeared almost seamlessly off downhill, apparently that is - a most effective trick of perspective. Other cute touches included a tram stop with a line of passengers that appeared and disappeared as the trams stopped and an undertakers where, during the night phase of operation, a 'customer' comes back from the dead! Nevertheless, the trams and their infrastructure still took pride of place. All-in-all, a most professional and fun layout that David clearly enjoyed showing and talking about.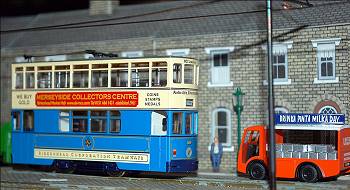 Dave Carson's 'Terminus - All Change!' had that 1950s post-war atmosphere that most of us will remember.
Staying in 00, next door was Dave Carson's 'Terminus - All Change!', a new display of a residential tram terminus featuring the Hong Kong style double-deckers running at Birkenhead. The fine detail meant that when getting up close and personal, this two-track stub terminus was virtual reality in miniature. A turnaround of rolling stock transformed it into a German terminus, but then not quite so convincing with the very British milk float still in the background!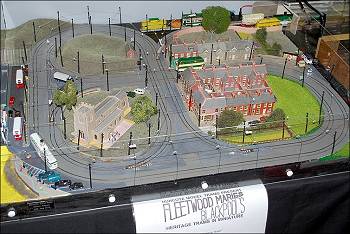 'Fleetwood Maries' was a trim little layout in N-gauge by John Marfleet and running automatically. In spite of the small size, there was a wealth of fine detail and lots to look for.
Next to the friendly and familiar clip-clop of coconut shells on the ever-delightful Dougal Horse Tramway, was another new discovery, that of John Marfleet's 'Fleetwood Maries'. This N-gauge, 3/4-cloverleaf, double-track, semi-automatic layout certainly seems to impart some Fleetwood magic, even though your reviewer is not overly familiar with the district. The central crossover was safely managed with integrated traffic signals; a nice touch that fascinated the few youngsters present at the show.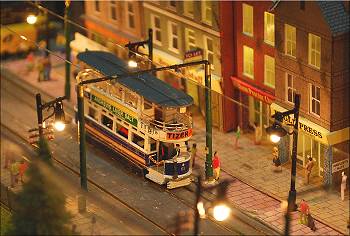 The Huncote town tramway, also by John Marfleet in N-gauge, during a night phase. There was imaginative use of miniature lighting units that gave a realistic impression of night time.
The 'other half' of this 'Huncote Tramway' display was a busy townscape, also in N scale, that regularly transformed from day to night with the concomitant light show.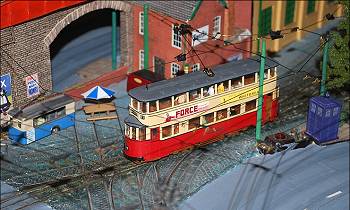 A Metropolitan (MET) Feltham effortlessly negotiates the trolley reverser on a return journey on David Wood's 1950s town tramway.
David Wood showed his 1950s 00-scale town layout of trams and trolleybuses running automatically. The working trolley reverser (I never saw it fail) was a discussion topic between David and several visitors during the day.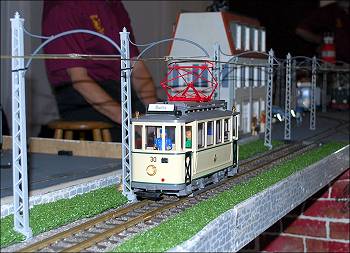 The interurban section of the G-scale Whiteleaf Tramway that links the depot area with the town section; a great layout.
In the larger G-scale, the extensive 'Whiteleaf Tramway' across the far end of the hall was a popular stopping-off point for visitors. It was nice to see so many G-scale trams running on such an attractive and adaptable layout.
Appropriately, 'Croydon Tramlink' was represented by the local model railway society's 00-gauge road layout at Wellesley Road, not far from the festival venue, complete with a Croydon tram negotiating the change from right lane to left lane, prior to turning into George Street. The scene is set slightly in the past with trams in red and white and the Prudential House office block that has been now replaced by Jury's Hotel.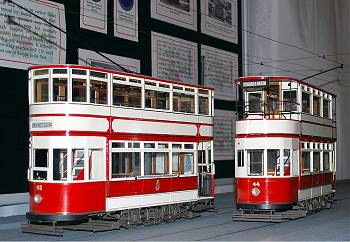 A fair proportion of Stockport Corporation's tram fleet was running on Greg Marsden's 1:16 end-to-end layout. Here are cars 43 and 44, originally of the same open-balcony type in 1906 but 44 was never enclosed like 43.
Moving up the scales, Greg Marsden was running his all-Stockport fleet in 1:16 scale for the first time in London. What lacked in background scenery was more than made up for by the build quality of his models, operating quietly and efficiently of course; a delight to watch.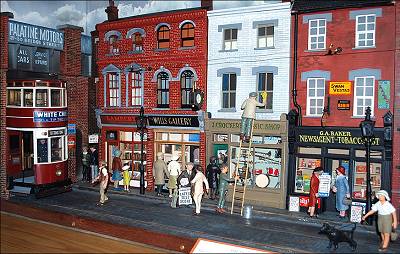 Ashley Best's 'Hook Green Diorama' in 1:16 scale; an exceptional work of detail and imagination.
Another new display was really 'A. Best new display' - Ashley Best's amazing new 1:16 diorama featuring the front end of Bury tram 57 entering a period street full of exquisite detail and little secrets. Although nothing actually moves, it is a scene of bustling activity frozen in time as people go about their business in this 'Hook Green Street Tramway'. Adjacent to the diorama, Ashley's superb model of Bury tram 13 was on display.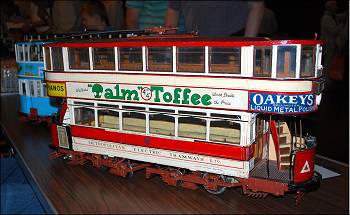 One of the TLRS historic models in 1:16 scale (¾in to 1ft): MET 'Type-H' car 316 of 1910 built 50 years ago by the late Vic Whitbread, a very early TLRS member
Close to the entrance was a table display of historic tram models from the TLRS collection. Those on show were 40-50 years old and have been largely retired from operational service at Society exhibitions. Your reviewer remembers operating all of these at shows in the 1960s and 1970s - another sign of advancing years.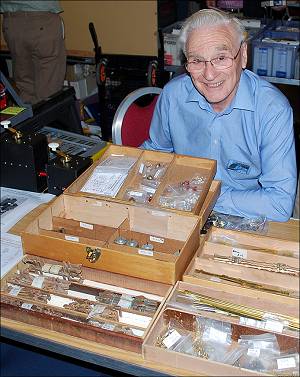 Peter Howard, the TLRS Model Engineering Secretary, sits behind a treasure trove of parts for making 1:16 scale tram trucks and bogies
Finally for 1:16 scale, the TLRS Model Engineering Secretary, Peter Howard, was on hand to help and advise on large-scale modelling. He was surrounded by enough bits and pieces to build several motorised tram trucks and was able to tell customers exactly how to do that.
Going back down the scales, principally to 00, Alan Kirkman was running the demo bench and surrounded by all manner of little pieces that somehow got converted into working parts for little trams. A non-stop commentary added to the workshop atmosphere as he soldered on...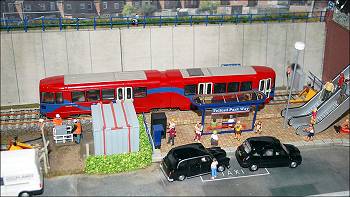 Docklands 'like' Railway by Noel Dollimore looked most authentic and incorporated a neat trick to operate three cars when you thought there were only two - sneaky.
There was yet another new layout to sample, Noel Dollimore's micro (i.e. compact) 00-scale display of 'Docklands 'like' Railway'. Obviously based on Docklands Light Railway (DLR), it had all the flavour of the original, down to the whimsical touches that do so much for layouts of this genre; cue the dossers under the viaduct, for example. It was good to see Noel back again exhibiting at a prestigious show like this after an absence of some years.
Regular 00-scale returnees, especially at the biennial London festivals, included 'Rural Tramways' by Oliver Boorman-Humphrey (an attractive layout featuring a working depot traverser), 'Stepley Tramways' with their Camtram that visitors can drive and the large 'West Croydon' layout from John Clarke, more crowded with trams and buses than ever.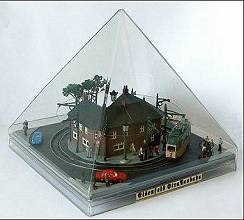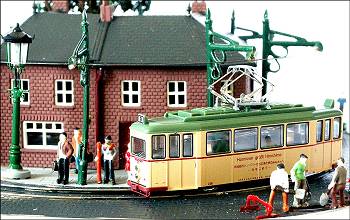 The pyramidal N-gauge 'Eisenfels Straßenbahn' (left) and in close-up (right), by John Prentice. The tram model is by Kato. Photos: John Prentice
Returning to N-gauge, some visitors may have missed the smallest and sweetest operating layout of the whole show by the main entrance. This was John Prentice's 'Eisenfels Strassenbahn', a circular track inside a plastic 'Ferrero Rocher' pyramid just 7 inches square and 6½ inches high! The hardest part of the build must have been eating the 30 chocolates that were originally inside! (Any left over, John?). The model (by Kato), which ran faultlessly all day, was of ex-Hannover 'Aufbauwagen' 238 that was presented to Hiroshima in 1988.

Not everything moved. Stands of note were Paul Penders from Belgium with his array of Japanese model trams in various scales and all linked to a map of Japan showing where the originals ran, a number of trade stands selling small-scale models (or kits therefor), DVDs and many second-hand transport books, the latter always hidden behind those eager to look and buy.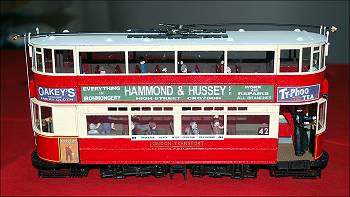 Overall Winner in the Models Contest was London E/1 555 in O-gauge built by Terry Russell, starting from a Shapeways 3D-printed resin body kit and obviously completed with his own components for bogies etc.
Of special note were the entries for the Models Contest. As always, the standard was very high but Terry Russell's O-gauge London E/1 car 555 from a 3D-printed Shapeways kit was justifiably judged "Overall Winner" and took the prize cup home. [See also Terry's car 558 that featured in Tramfare 280, p.26, for September/October 2014]. Very highly commended was a model of similar scale of a Hanamaki (Japan) tram with goods van by Paul Penders. All other models were commended or highly commended - no rubbish here!

This was a thoroughly first-rate show with enthusiasm, good fun and top quality to the fore. It was deservedly well attended and I was glad to be part of it.
Next year's Festival will be back in its northern home at the Museum of Transport in Manchester on 2nd and 3rd of July 2016. Cancel all other plans and go.
---

Return to Festival of Model Tramways


© Copyright John R. Prentice Software 2015