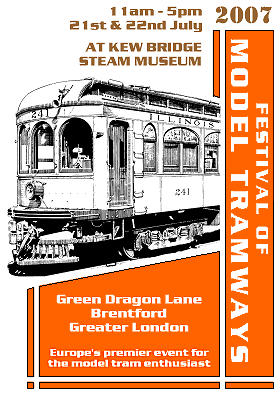 The 2007 Festival Of Model Tramways
The Festival of Model Tramways, is Europe's premier event for the model tram enthusiast.
The 2007 Festival was held on 21st/22nd July 2007 at the Kew Bridge Steam Museum, Green Dragon Lane, Brentford, Middlesex.
Click here for List of Exhibitors at the Festival.
Festival Review by David Orchard
Photographs by Bob Appleton
Once again the Festival returned to its "southern" home of Kew Bridge Steam Museum, where it has been held every two years since 1987. (In the intervening years, the Festival is hosted in a "northern" venue such as the Manchester Museum of Transport.) Over the years it has acquired more and more of an 'international' flavour, with exhibitors increasingly coming from the Continent, and many Continental tram prototypes being modelled as well as British trams, so it is truly the premier European event for the tram modeller in every scale.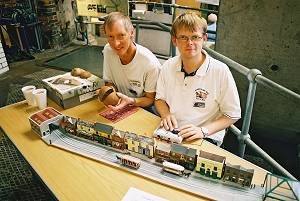 Mark Hamlin on the coconut shells and his son Simon driving on Simon's excellent working 00 gauge horse tramway. The horses' legs actually move!

The Steam Museum has several floors open, so I started at the lowest of them - the "Water for Life" gallery, where the first layout I saw was Dougal Corporation Tramways in 4mm scale by Simon Hamlin, a Manx-inspired end-to-end double-track horse tramway, which contained several very clever features. Firstly, the horses' legs actually moved, very realistically! Secondly, each end of the 'street' contained a tiny concealed turntable which automatically rotated the horse and tram and put it on the correct track for its return journey, with the horse in front. Thirdly, there were convincing sound effects of horses' hooves made by Simon's father Mark using coconut shells. This was serious modelling of the highest order, and was a splendid start to my tour of the show.
Bill Avery built Port of Enn, of which this is part, a highly detailed layout in N gauge with all forms of transport represented.

The next exhibit was just as impressive in a different way: this was "The Broadway" based on East Anglian systems by Alan Lawrence, in 2mm/foot fine scale on 7mm track gauge, and with fully working OHL ( OHL = Overhead Line Equipment, as the new UK tramway systems insist on terming it - in this case it meant working trolley-poles, quite an achievement in so small a scale). Next came John Howe's large "Kingsway Subway" 4mm layout, showing the 10% gradient tram portal in 1950 together with surrounding buildings and contemporary London buses (the portal still exists to this day, complete with conduit track, and yes, John's 4mm trams will tackle the gradient !). Then came the 'Port of Enn' N-gauge layout by Bill Avery showing every form of electric transport imaginable - trams, trolleybuses, trains, Croydon Tramlink, funicular lifts, all within a couple of square yards. One could spend hours studying it, but I had to move on upstairs after passing Ian Druce's 00 gauge Times Square, a beautiful 1930s style street scene, J. & K. Video, and John Gillham with his map sales.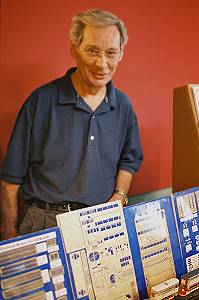 Chris Cornell (left) shows us his etched brass kits and Adrian Swain of ABS models (right) with a range of his white metal kits.

Adrian Swain's sales stand came next, with an excellent range of white metal kits (yes, they still exist, and will continue to do so) and 4mm traction units: he said that the only minor problem with new EU legislation - the WEEE Directive - is that electric motors can now only be sold as separate items, and cannot be incorporated into "ready-to-run" traction units. However, it is perfectly legal to sell the motor and the traction-unit kit at the same time, but the customer has to do the final assembly. Useful info. Next was the well-stocked LRTA bookstall and opposite was the "Blechbahn" Continental display by Dieter Lehnhardt from Saxony, showing German trams of his own manufacture on pre-formed O gauge street track. Beside it was the most unusual 1/12 scale "Glastonbury" exhibit of the TLRS West of England group, being a N-gauge model of the original 1/16 garden tramway layout of the late E.Jackson-Stevens, together with a sample of the heavily weathered track of the original tramway.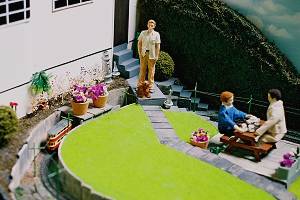 Model of a model. The TLRS West of England Group have produced a 1:12 scale model of the famous 1:16 scale Glastonbury garden tramway of the late E. Jackson-Stevens, Steve to all his friends.

Another TLRS group (Thames Valley) came next with their superb diorama of Kew Bridge itself in 4mm scale, together with a varied fleet of LUT and LCC trams, and shops and pubs that are jewels of the modelling art (the originals could be inspected just by walking out of the Steam Museum, except that "developers", legal vandals, have demolished one of the pubs!). Chris Cornell's stand showing his ever-expanding range of etched brass kits - including the LUT X-type as on the Kew Bridge stand and his latest E/3s and HR/2s - was on the nearby Mezzanine area, as was Alphagraphix (Roger Crumbleholme) with their huge range of card kits for trams or buildings / tram scenery, the latest being a Gravesend demi-car in O gauge. All the trade stands told me (I was visiting on the Sunday morning) that business the previous day had been exceptionally heavy.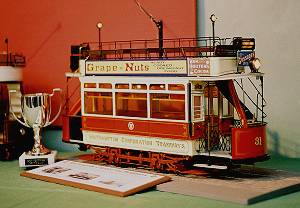 The winner of the cup for Best Tram of the 2007 Festival was Peter Howard with his 1:16 scale model of Southampton 31.

Turning round, I saw the table for the Models Competition, which so far that day had acquired two very impressive 1/16 scale trams and a nicely-modelled Birmingham car in 1/24 scale. The contest was judged by David Voice and Ashley Best with Peter Howard's 1/16th scale Southampton car winning the cup for "Best Tram". The Festival Manager, John Prentice's own 4mm layout came next, "Torhampton-on-Sea", which featured a lot of Edwardian period vehicles plus an automatically-running open-top stud contact car (this seemed to fascinate a fair number of junior visitors), and Paul Penders - from Brussels - had a static display opposite, mainly of 7mm / O gauge Belgian prototypes (Vicinal, Brussels, or the Ostend system) which he either scratchbuilds or else does his own etching. Impressive indeed. Going on, in a glass case to advertise the Festival in advance, I came to Ron Howes's Garrett Green, very realistically representing in 4mm scale the grimy post-war London of 1945 with trams, buses and a few vans.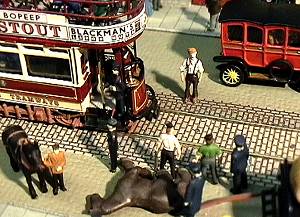 John Prentice's Torhampton-on-Sea automatic layout in 00 scale depicts the use of stud contact current collection in a seaside town, and shows the problems it can cause to horse traffic. (Photo: John Prentice)

Through a corridor was Ashley Best's impressive display of tramway-theme paintings and artwork, together with two of his superb prize-winning 1/16 scale models: Bolton 66 and Oldham 128. In the 90" engine room there was the Walmington Pier Tramway in H0 by Dave Carson, represents a fictitious pier tramway in Edwardian times. Passing on to the 100" engine room, there was a notably well-stocked and popular sales stand (mainly books) by the LCC Tramways Trust, together with an attractive 4mm layout (Stepley Tramways) by Steve and Martin Whitley, distinguished by the fact that all the UK trams had an all-orange livery (just like in Milan !)
Progressing onwards to the marquee, I saw Terry Russell operating the TLRS Sussex area modular 1/16 scale layout built by Simon Cole, together with two of his superb 1/16 London cars (E3 and HR2) and Robert Harley's unusual green open-top single decker from the Portsdown and Horndean system. Beautifully modelled, but somebody said unkindly that it look like a Blackpool 'Pantograph' single-deck car that had had an unfortunate encounter with a particularly low bridge! Anyway, I spent longer than I should in admiring it and watching the smooth and realistic operation of the 1/16 scale cars; once one has modelled in this scale the 'bug' rather gets you !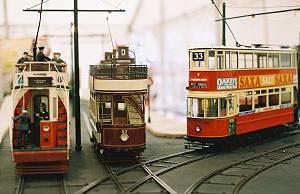 In 1:16 scale are models from members of the Sussex Area Group of the TLRS. They are Blackpool Dreadnought 59 from Les Mitchell, Portsmouth 67 from Peter Howard and London E/3 2000 from Terry Russell.

Facing the other way, however, I was very surprised to see one of my own 7mm scale Liverpool cars ('Baby Grand' 293) which I had built from a Terry Russell kit some years ago and sold on, running on the O Gauge Tram Group "St Peter's Road" layout, along with two of the St Petersburg Tram Factory Liverpool "Green Goddess" cars, also available from Terry on a pre-order basis. This is a lovely well-operated layout with realistic buildings and a complex junction where somewhere a Brussels PCC is lurking. One can watch it for hours !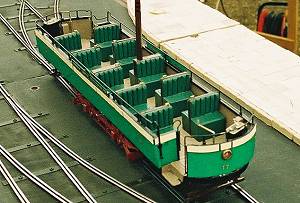 Robert Harley's 1:16 scale model of the open single-deck ex-Grimsby car modelled as number 17 of the Portsdown and Horndean Light Railway, that our reviewer found so interesting. It is running on Simon Cole's layout.

Opposite, however, was probably the largest 4mm layout in the Festival, John Clarke's "West Croydon" urban model, featuring Croydon transport past and present, from the 'U'-type trams 'cascaded' from LUT and Croydon's own W-type open four-wheelers right through to Croydon Tramlink, accompanied by many buses and the inevitable pair of 630 / 654 trolleybuses. I last saw this magnificent layout / urban townscape in 1991 at Kew, when some of the shops and houses were still represented by photos, but now every building has been properly modelled in three-dimensional form. (My only suggestion is that, now that Halling have produced to their usual superb standard a Croydon Tramlink car in 3.5 mm scale for London's Transport Museum, it might be worth acquiring one of these. My personal view is that first-generation trams modelled in 4mm scale and second generation trams modelled in 3.5mm scale look perfectly well together, as the second-generation prototype is so much bigger. Others may disagree, of course).
Ron Leach, the TLRS Model Engineering Secretary, was nearby with his usual range of castings and motors; it had taken him some trouble to get up from Kent on Sunday with all the appalling weather, flooding in many places. Next came John Thurston's "Holmeforth" Leeds 7mm layout, brought from France, showing a nicely scratchbuilt 'Pilcher' in blue livery and a St Petersburg Tram Factory Leeds Feltham (lovely model, but I think the London livery shows the details better). Dave Packer's photo sales and Train Crazy with their books and videos completed the area.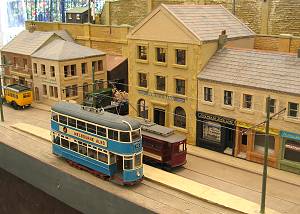 John Thurston's "Holmeforth" Leeds O gauge layout was brought to the Festival from France, where John lives. (Photo: David Orchard)

Going out of the marquee and back into the main building, Rolf Hafke's "TramShop" German tram book and Halling-model stand was in the entry passage, and clearly attracting a lot of visitor interest. His colour photo-books of former East German/DDR tram systems were particularly tempting to me at least (there's one on trams in 'Ulbricht's time' - i.e. 1950-1970 - and another one on 'Honecker's time' - 1970-1989. Photo quality is superb, but the condition of some of the trams isn't). Going into the Boulton & Watt house, Alan Kirkman and David Voice were seen slaving away on workbenches demonstrating repairs / renovation of ancient 4mm tram models; Alan had his '2 hour' basic 4mm tram layout on show, and David had a couple of 'stamped brass' 1950s/1960s 4mm tram models from Anbrico and Meadowcroft respectively, showing how to dismantle and recondition them (quite a task, but not impossible in skilled hands.) David Lambelle was running a well-stocked models sales stand nearby, and the amount of good-humoured chat that went on with all the standholders and visitors was notable. Gotfried Kure from Austria represented the German Speaking TLRS group with a small layout in 1:64 scale showing Linz.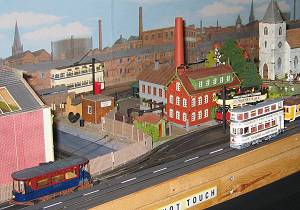 Part of "Rural Tramways" in 00 gauge by 14-year old Oliver Boorman Humphrey. An example from the next generation of tramway modellers. (Photo: David Orchard)

Going up the spiral stairs to the Gallery, there was still more to be seen. "Cheerio Charlton" by Richard Moules came first - a 7mm layout with conduit track vividly depicting the last days of the first-generation London tram system - and then there was "Rural Tramways", a nicely-modelled 4mm layout from 14-year old Oliver Boorman Humphrey, depicting the outer termini of the first-generation Sheffield system that I for one hadn't seen before. Turning in the other direction, one found the super 18.83 gauge 4mm layout of Clive Croome, showing a very finely-modelled Feltham (no, it isn't a Corgi !) running at scale speeds over junctions and using P4 ultra-fine-scale wheels on grooved track, together with ultra-fine-scale OHL using Suydam trolley poles. To say I was impressed would be an understatement. A well-stocked book shop by the Electric Railway Society came next, and then I went on into the Maudsley Room, my last port of call.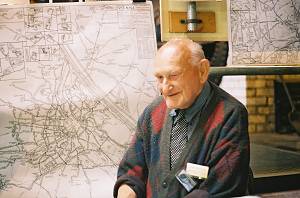 Recently made an honorary life member of the TLRS for his services to tramway enthusiasts, here is John Gillham with a selection of the tramway maps for which he is most well known.

An attractive 1/50 scale European tramway "Arenburg" brought from Brussels by Don Sibley was the first item I encountered, featuring first-generation single-deck trams in a rural Vicinal-type setting. "Granson Street" in 4mm scale came next, with an unusual combination of motorised EFE 1939-stock tube trains and LUT 'T' class trams, designed, built and operated by 16-year old Stephen Trower and his friends. Very impressive, and beautifully modelled. Congratulations to Stephen and Oliver; it is very good to see younger people entering the hobby so successfully.
Overall, a super show despite the weather, and full marks to the Festival's patient and ever-resourceful organisers. Roll on the 2008 Festival in Manchester. Hopefully the weather will be better then.
---

Return to Festival of Model Tramways


© Copyright John R. Prentice Software 2007