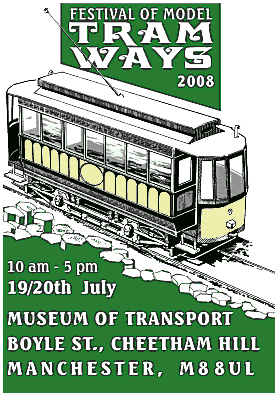 The 2008 Festival Of Model Tramways
The Festival of Model Tramways, is Europe's premier event for the model tram enthusiast.
The 2008 Festival was held on 19th/20th July 2008 at the Museum of Transport, Boyle Street, Cheetham Hill, Manchester.
Click here for List of Exhibitors at the Festival.
Festival Review by Ron Howes
Photographs and captions by John Prentice
The twentieth Festival of Model Tramways took place in Manchester's Museum of Transport on 19th & 20th July 2008. A great many of the working and static models on display were new to your reviewer and several old friends had been worked on to present new features since last seen. The following notes are in no particular order except that I started taking them at one end of the hall and then proceeded to the other.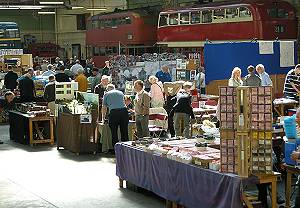 A number of stands at the Festival, with Adrian Swain's ABS Models sales stand in the foreground and the museum's two trolleybuses in the background.

First up is John Thurston's "Lyon Ligne 16". John lives in France and had brought just one-tenth of his full layout. As such it was the smallest 0-gauge layout in the show but size isn't everything and small is beautiful, certainly in this case. I then went to Sunderland (in the next aisle - travelling by model is very quick and easy!) to see Gordon and Margret Bulmer's "Sunderland Tramways" in 1/64 scale. Its streets are possibly more highly populated than any others I have seen and the working road rollers have a charm of their own. Next was George Wilkinson's "Sealane", a 7mm layout which benefits from being modelled on a prototype location with prototype buildings, and gulls so realistic that I wished I'd put my hat on.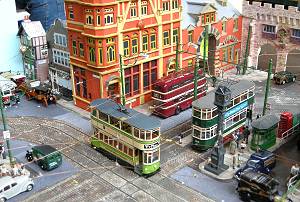 This is a busy crossroads on Bob Wardle's 0 gauge layout, Chesfield Tramway, which depicts the period from the 1930s to the 1950s.

Then I came upon Andrew Hunt and his "Jäger Straßenbahn - 2", a new version of an old friend which, although shorter than Mark 1, showed provision for an as yet unmodelled depot, from inside which a line is to go through the backscene to a fiddle yard. Andrew said that he still has a lot to do, but what he'd done so far looked fine to me. Bob Wardle again showed "Chesfield", his 7mm depiction of a town in the 1930-1950 period. The distinctive cupolas on the Pavilion Cinema roof are made from microwave pudding dishes. Bob's cobbles are particularly attractive (as are George Wilkinson's) and the contributions from his colleagues in terms of road vehicles and trams should be mentioned. I particularly liked Jim Saunders' Shelvoke & Drewry dust cart.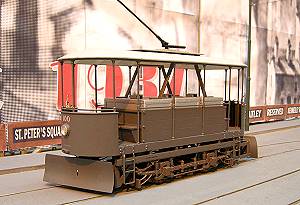 Stockport 1937 is a ¾" scale street track from Greg Marsden, here showing his works car which also won the cup for best tram in the Festival's model competition.

Not far away was the eye-catching display by Greg Marsden and his daughter Beth featuring Greg's three magnificent 3/4" scale Stockport cars, backed by Beth's montage wall of photos and newspaper cuttings to display "Stockport 1937", on which the Coronation of King George VI and the LNER Streamliners featured. The whole display was backed up by music of the period. Opposite was Arthur Dawson's magnificent display of photos, maps and models of Lancashire tramways. Arthur had purloined one of the museum's bench seats, from which one could comfortably peruse his display, and then swivel round to enjoy "Stockport 1937", a much appreciated facility. On Arthur's map we found the location of "Dangerous Corner", the destination appearing on the museum's Leigh Corporation Leyland double-deck bus.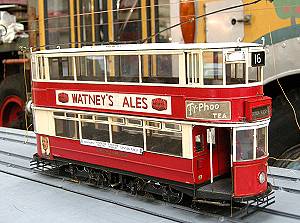 A London Transport car on the Manchester Model Tramway Group's 5/8" to 1' scale layout, which is their largest ever layout at the Festival.

Alan Brown's 3mm "Upson Downs", a minimum space layout, was one with new features, including a "castle" folly and a footbridge across a ravine. Alan uses the Lledo tram models as the basis for his cars. He says he has a new 4mm layout in development. Watch this space! The "Tramstop" lads from Scotland had brought two layouts. "Dutch Tramscape" in 3.5mm scale is by Mervyn Spencer, the town in question being Willemsplein, complete with a statue of King Willem in the town square. The second layout, by Douglas Southerland, was "Reichenbach" in N scale, a representation of a Swiss light rail system. No sign of Sherlock Holmes or Moriarty though. Not even Dr. Watson.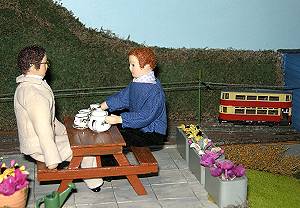 The West of England group of the T.L.R.S. have produced this splendid 1" scale model of the late E.Jackson-Stevens's 3/4" scale garden tramway. A model within a model.

Tim Parkinson's representation of Leeds around 1950 is another layout which features genuine buildings and is as delightful as ever, with motorized EFE Horsefields passing by. Opposite Tim was the TLRS West of England Group's "A Glastonbury Garden", the model in 1:12 scale of the late "Steve" Jackson-Stevens garden tramway. On the model (of a model) is a model of Steve's son Nigel watching his father's model trams go by. What a lot of models!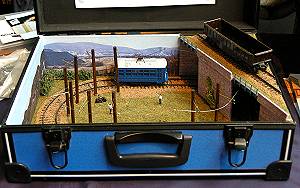 David Voice has demonstrated how you can build a working diorama into a small case. Everyone has space at home for this type of layout.

On Steve Smith's 3.5mm scale "Hasselhof(f)" there's a bit of a traffic problem. Someone is threatening to drop his baby off a balcony. The fire brigade are there, blocking the street, and motor traffic is at a standstill. The trams are still running though. A message there somewhere? Geoffrey Heywood had chosen the unusual scale of 1:100 to model metre gauge on 9mm gauge track. His "Fildentalbahn" served an area of Switzerland on the border between the French and German speaking areas, the boundary being marked by a mountain, though it has to be said not a very large mountain. Well, if you are transporting a model of part of Switzerland to a show, too big a mountain won't go in a car boot. An unusual layout, this was its first outing to a Festival.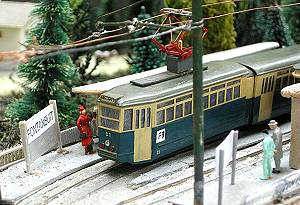 Inspired by the ASD and AOMC, Geoffrey Heywood's Fildentalbahn represents a typical Swiss metre gauge light railway of the 1970s.

Gottfried Kure's "A Linz tram on holiday in Britain" describes itself. The Barnsley Model Railway Society brought part of their huge model railway, this part having the "Yorkshire Coast Electric Tramway". The club describe it as "not the Manx Electric" but if that wasn't Derby Castle Depot and the Groudle Hotel I'll eat my hat. Oddly none of the team had ever visited the Isle of Man. Trams on the streets mingle with road vehicles working on the Faller system, the latter's performance boosted by an infra-red anti-collision device.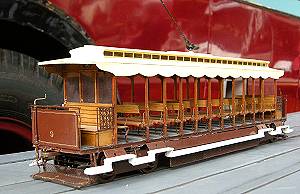 Terry Daniel was showing us his 5/8" to 1 foot scale Blackpool and Lytham trams running on a 35 foot long track.

In the museum's lower exhibition hall Terry Daniel was running his 5/8" scale Blackpool and Lytham cars. Alan Kirkman's busy "fit in the car boot" Blackpool Promenade "Norbreck - Leyburn Avenue" 4mm scale layout was close to a diorama from the TLRS West Midlands Group showing the relaying of the tramroad to Fleetwood and sandwiched in between was David Voice showing "how to do it".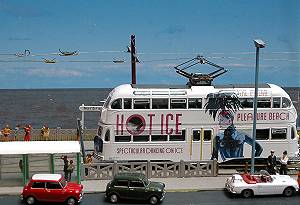 Alan Kirkman's small 00 scale layout represents a section of the tramway in Blackpool, here seen with a nicely decorated "Balloon" car.

Back in the other hall John Prentice's 3/4" scale model of a Monaco car and Nice photo display attracted appreciative comment, indeed delight, from a lady from Nice. Other visitors included some from Australia and Berlin who were over specifically to visit the Festival. Last but by no means least in the layout stakes, the prize for the greatest track mileage must go to the Manchester Model Tram Group's 5/8" scale layout, some 150 feet long. On it ran a huge variety of cars, including the London United water car which at one stage was towing a "whisky car". The water car's builder found a tantalus in the form of a tram, bought it for a song and found it exactly matched the water car. It bore the Legend "Sold Out".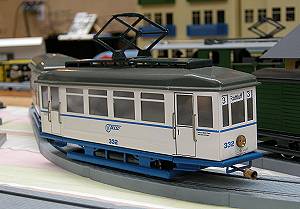 Dieter Lehnhardt from Germany was selling his range of 0 gauge tin plate trams, one of which is shown here.

There were 18 stands where you could buy things. To mention a few, it was good to meet Ian (BEC trucks) Williams and his wife Susan, and Robert Hendry with his new card kits. Chris Cornell showed his latest 00 4-wheel Preston 3-window car kit in etched brass. Rolf Hafke and Dieter Lehnhardt brought sales stands from Germany.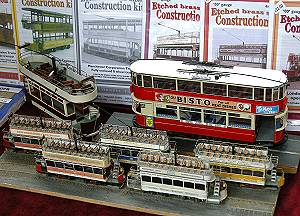 Chris Cornell was selling his etched brass 00 and 0 gauge tram kits. Here is a selection of ones that he has made up.

The models competition "Best of Day" on Saturday was a G-scale SHMD car entered by John Whitehouse and on Sunday it was Greg Marsden's Stockport water car number 100, which also won the cup for "2008 Festival, Best Tram". One TLRS junior member entered his AS-levels school project 3/4" freelance car (prototype for a kid's toy) and was highly commended. Other juniors please note.
---

Return to Festival of Model Tramways


© Copyright John R. Prentice Software 2008