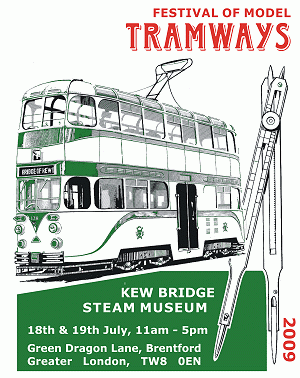 The 2009 Festival Of Model Tramways
The Festival of Model Tramways, is the premier event for the model tram enthusiast.
The 2009 Festival was held on 18th/19th July 2009 at the Kew Bridge Steam Museum, Green Dragon Lane, Brentford, Greater London, TW8 0EN.
Click here for List of Exhibitors at the Festival.
Festival Review by David Orchard
Photographs by Bob Appleton (unless otherwise stated)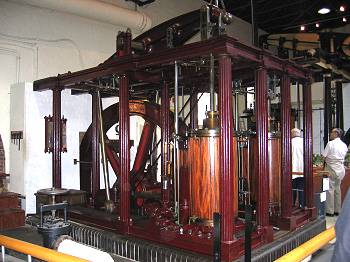 Every two years something happens to galvanize the otherwise slightly sleepy weekend environs of the north end of Kew Bridge, when tramway modellers arrive in their droves to head into the Kew Bridge Steam Museum for the Festival of Model Tramways. (In the alternate years, of course, the Festival is held in the North, usually in Manchester.) This year was no exception: for once the weather was fine (in contrast to some recent previous years), there were no sudden closures on Network Rail near Kew, and everybody seemed to have a most enjoyable time. Visitor numbers were comparable to previous years at Kew and the quality of the exhibits was, as always, exemplary. One added bonus for those of slightly wider interests was that the permanent exhibits at the Museum, which are mainly connected with Thames Water, have expanded year-on-year, and there is now quite a lot to glance at in the margins of the exhibition too, such as the James Kay or Dancer's End engine shown here (Photo:David Orchard), plus an excellent miniature passenger-carrying steam railway with its newly constructed locomotive, and what must be London's best-maintained set of visitor loos. Ideal for a "family day out"!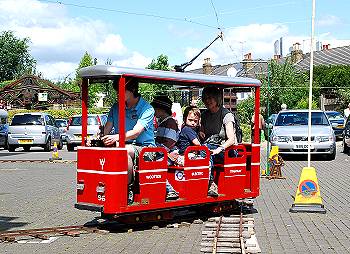 The Wootton Tramway carries a full load around the outside of the museum.
Howard Burford's passenger-carrying 7¼" gauge Wootton Tramway is the first thing that the visitor sees, outside the main Museum building, and pretty busy when I saw it on the Saturday morning when I visited. (The youngsters loved it). Going in, I made an effort to visit and record the exhibits exactly in catalogue order.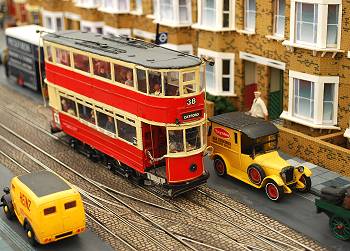 Richard Moules 0 Gauge "Cheerio Charlton.
Stands 1 to 7 were in the Marquee, a pleasant environment (when it isn't pelting with rain, as it wasn't this year) and with excellent ambient lighting. The first stand, by Croydon MRS (the "Toop Tramway") had an interesting history. Built by the late Mr Toop in 00 gauge as a small-town layout with buildings, it was displayed by Croydon Tramlink in their office for some time, then unaccountably was left on a skip. Luckily it was rescued by Croydon MRS, and now features first-generation cars pursuing quite an elaborate track layout very realistically. Croydon MRS: douze points. Tramlink: nul points.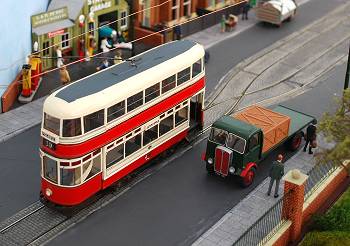 The St. Peters Road layout of the 0 Gauge Tram Group.
The LRTA and Electric Railway book stands were as busy and well-stocked as ever, while Richard Moules "Cheerio Charlton" 7mm scale layout next door was supremely evocative of latter-day London in the dark days before final closure in 1952. The 7mm scale "St. Peters Road" layout from the O Gauge Tram Group was a generic 1930s/40s cityscape with a particularly fine track layout and some interesting cars running, while Adrian Swain and his ABS models stand was full of interesting white-metal kits as always. The "big boys" were there too, in the form of Simon Cole's 1:16 (¾" scale) track spanning one entire side of the marquee, with a variety of trams operating from the TLRS Sussex Group. As a former 1:16 scale modeller myself, this scale always catches my eye, and the quality of the models running was excellent. A Newcastle 4-wheeler struck me as particularly attractive, but they were all first-class models, and nice to see them in operation.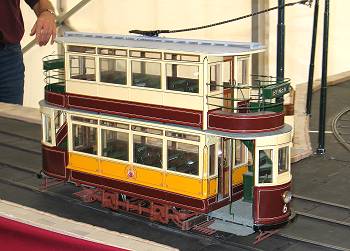 Newcastle 4-wheel car on Simon Cole's 1:16 scale track. (Photo:David Orchard)
Moving on to the Boulton & Watt room with its massive ironmongery, we saw the stand of Ian and Susan Williams selling their wide and impressive range of motorized trams and mechanisms, as well as Stephen Trower's excellent London "conduit" layout in 4 mm scale, and Rolf Hafke's busy stand selling the latest built-up HO scale tram models and books from Germany, which excites particular interest amongst a growing number of the tramway modelling fraternity .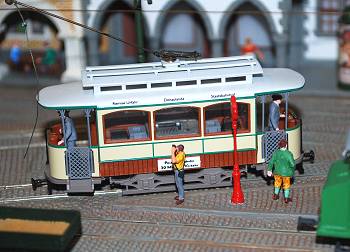 Don Sibley's Tramvajove Nebé layout in H0m gauge.
The next exhibition room was the Maudsley Room, which also contains the recently restored Bull engine, with just two tramway exhibits, both continental. One was Gottfried Kure with his model selection and splendid range of photographs showing his home layout, and the other was "Tramvajove Nebé", Czech for "Tramway Heaven", with a very impressive range of HO narrow-gauge continental models brought by Don and Val Sibley from Belgium. Moving on, to the "100 inch engine room", I found Oliver Boorman-Humphrey's impressive British-outline layout surprisingly entitled "Rural Tramway". It featured a highly complex working track layout with traverser and a multiplicity of double-deck tramway stock. Extremely impressive and I spent quite some time watching it all working. In the same room was J&K Video with their range of transport DVDs and some splendid large-size photos. (I particularly like the one of the restored STL bus, but I shouldn't say so here!)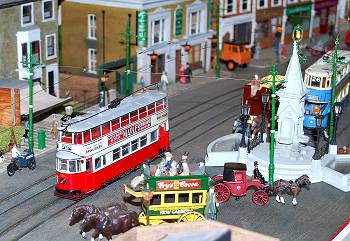 The TLRS Thames Valley Group's 4mm scale Kew Bridge.
Moving onwards involved a trip downstairs to the crowded "Water for Life Gallery", with seven fairly substantial exhibits attracting a lot of visitor interest. The first was the LCC Tramways Trust stand with their large range of book and photo items on sale for restoration funds, followed by the splendid TLRS Thames Valley exhibit seen in previous years at Kew Bridge, which is entitled...er....Kew Bridge! This is a truly magnificent street diorama in 4mm scale of the entire area surrounding the Steam Museum, showing buildings (as they were in 1910 or so), trams, buses (not trolleybuses, for those of us with wider tastes who remember the 655), with a standard of modelling accuracy in the buildings that is well up to professional museum standards. The trams were pretty good too (I ignore the ST bus); whether an E/1 ever really ran in light blue and cream livery I might otherwise wonder, but I am sure that with those standards of accuracy it indeed did. (Yes it did car 583, and was photographed at exactly that location at Kew Bridge in 1934 - John Prentice). The only disappointment was walking outside the Museum and looking at the present-day Kew Bridge area buildings, which look a good deal more dilapidated than those modelled, especially as the rather stylish house - beautifully modelled by TLRS Thames Valley - on the corner of Green Dragon Lane is now boarded up and on "distress" sale-by-auction.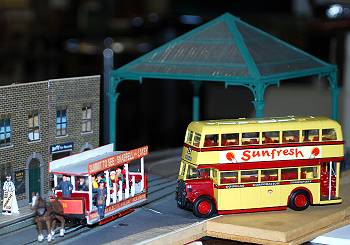 Simon Hamlin's horse-drawn "Dougal Corporation Tramways" in 4mm scale.
Going back to happier times at Kew Bridge, a splendid 1:16 scale LUT "Y" type model (which would have once gone past on the 55 route) was on display by TLRS, as well as Gerald Warner's evocative LCC tramways layout "Mytchett Green" in 4mm scale. The wall was taken up by Ashley Best's superb collection of tramway paintings and prints for sale, plus one of Ashley's superb 1:16 scale prize-winning models to tantalize us all. David Packer's enormous collection of tram and trolleybus photos attracted a large crowd (me included), and finally the "clip-clop" of horse's hooves drew me inexorably to Simon Hamlin's horse-drawn "Dougal Corporation Tramways" (not quite Douglas) in 4mm scale. This is a work of art: the horse's legs and hooves move as the tram goes along, an automatic turntable at either end of the double track ensures that horse and tram "magically" turn round and are routed to the correct track, and all the time Simon's dad Mark Hamlin operates...er...coconut shells (!) to provide the right sound effects. It's brilliant! I could have watched it (and listened to it) for hours!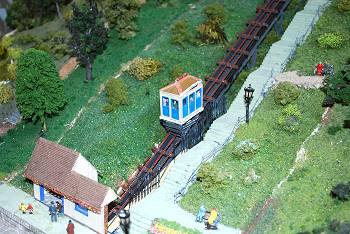 The Pier lift on Mick Kelly's 4mm scale "Micklethwaite"
Going on now to the Steam Hall and Gallery, I was struck by the very wide range of card kits newly available from Elro Kits (Robert and Elena Hendry), in all three scales (1:43, 1:76, and 1:88.) Clearly colour-printed card kits, which can look superb if properly constructed and varnished, can be a cheaper way of building an excellent tramway model in these scales. (It certainly saves the hassle of providing a good paint job, the weakness of many models in the smaller scales.) TLRS West Midlands came next, with a very impressive display of models in various scales, as did Mick Kelly's "Micklethwaite" in 4mm scale on the ground floor, which featured a pier lift and with "live" OHL (overhead in 'newspeak' for today's new tramways) for the first time. Again, one could take hours just watching it all. Very impressive.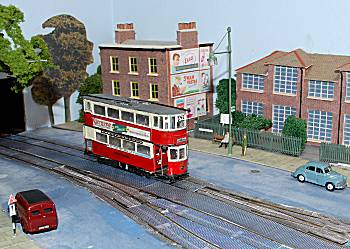 The top of Dog Kennel Hill, John Howe's 00 layout.
Up the spiral stairs (I remember them well from when I used to show my own end-to-end 1:16 scale tramway up here) to the balcony was an unaccustomed crowd. Why?, I wondered. But then I saw that David Voice and Alan Kirkman were manning their "helpdesk" with modelling examples up on the balcony, and all became clear! David had some particularly interesting pre-formed plastic O-gauge track (with roadway) that also incorporated a miniature central conductor rail which could be energized, thus enabling working London 'conduit' track to be modelled at long last! It all looked pretty realistic to me, and very neatly made. David also had three different off-the-shelf "0" gauge continental trams working, showing the considerable difference in physical size between them. Clearly 1:43 scale is a bit "nominal", rather as HO - 1:87 scale used to be before more accurate standards were observed.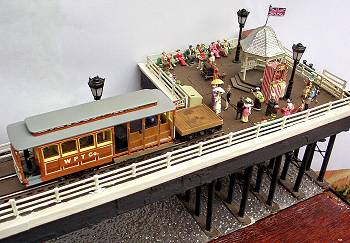 Dave Carson's H0 scale Walmington pier tramway. (Photo:Dave Carson)
Passing along the balcony, I came to the East Lancs Model Tramway Supplies stand run by John Whitehouse, with an amazing range of Eastern European Continental kits, parts, and complete models (mostly in HO 1:87 scale), but also in O 1:43 scale such as the Lehnhardt range of made-up running models (German prototypes) Some of the HO models - such as the Tatra T5 bogie car - were familiar to me in full size from my travels in Eastern Europe, but I had not seen them commercially modelled before. The standard of finish was fully up to "Western" norms (ok, we all remember those East German plastic kits from the late 1980s, but standards over there have improved immeasurably since!) The Czech HO kits looked particularly interesting - I didn't have time to investigate further, but the Czech Republic has long been a leading tramcar manufacturer in full-size!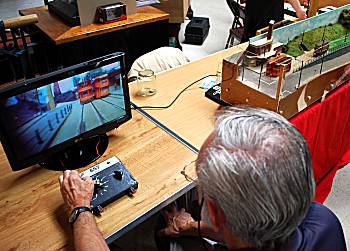 The camera controlled tram (brown car on the right) on Stepley. On the screen is the view looking towards the terminus from the tram's front.
Derek Lambelle had a wide range of interesting books on his TLRS sales stand, as well as some items from the TLRS Executor Service that sold very quickly. Meanwhile below Steve and Martin Whitley showed "Stepley Tramways" in 4mm scale, with a "CamTram" with onboard cameras. I didn't have time to investigate this in detail, but it sounded most intriguing! For a small fee members of the public could drive the tram, with a computer screen giving the driver's eye view. Very convincing and one of the items most commented on by visitors. Dave Carson's Walmington Edwardian Pier Tramway in HO / 3.5mm scale came next; I spent a lot of time looking at this, as some of the miniature figures were doing the most surprising things involving "industrial exploitation" and other less reputable activities of the Edwardian era. A beautiful and unusual model where the working pier tramway took second place to all the other activities portrayed.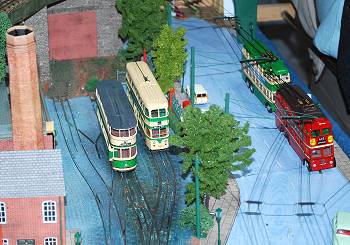 Trams and trolleybuses on David Wood's 4mm scale display
David Wood's automated trolleybus OO layout came next (also with working overhead Metro based on Paris). David uses a modified BEC motor unit powered from live overhead for the drive and a Faller Road System front axle for the steering. Very impressive. In this area of the exhibition, we also saw John Howe's "Dog Kennel Hill" in OO / 4mm scale - quite a large exhibit - complete with gradient and a four-track tramway with several HR/2s doing what only HR/2s do (like climb steep hills!) This exhibit attracted a lot of attention, deservedly so, and was its first time at the Festival.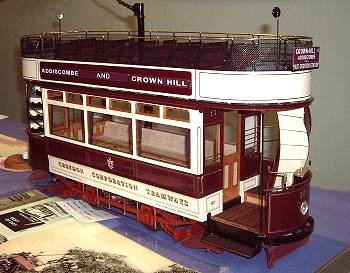 The Models Competition winner, Terry Russell's 1:16 scale model of a Croydon Corporation open-top tram. (Photo:David Voice)
Going on finally to the Mezzanine area by the entrance, the first thing to strike one's eye was the Models Competition table, with already a good array of smaller-scale models submitted even just after the Festival opened, waiting to be judged later by Ashley Best and David Voice. These were joined by more as the day went on, with the winner of the first day being an LUT single deck car in 7mm scale by Richard Moules. The second day winner and also the "best of show" was a Croydon open-top car in 1:16 scale by Terry Russell.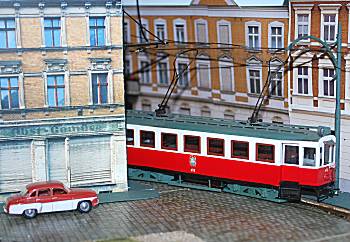 The H0 narrow gauge display representing Ostrava from Paul Penders.
John Prentice's meticulously modelled Torhampton-on-Sea 4 mm small layout, showing stud contact current collection, attracted a good deal of attention from the younger fraternity in particular, and Paul Penders' (from Brussels) HO mini-layout showing the Ostrava mixed goods/passenger 760mm gauge tramway in the 1950s (complete with communist-era Czech shop signs!) was quite a work of art in itself. Roger Crombleholme of Alphagrafix had an expanded range of card cut-out tram kits on show, both in 4mm and 7mm scales, together with some low-relief models of buildings in both scales that would vastly improve any layout! Roger's card tram models, if carefully assembled and with all windows cut out and glazed to permit full modelling of the tram interior, are extremely realistic and can be mounted on a truck mechanism to produce a very fine working model.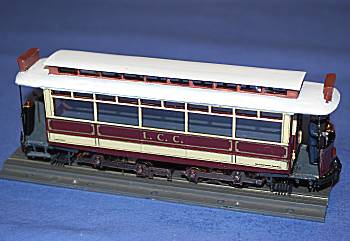 Chris Cornell's latest kit in 4mm scale, the LCC F class.
This is also true of Chris Cornell's etched brass tram kits, on show in the adjacent Mezzanine stand. Chris has expanded his range over recent years year to cover both 4mm and 7 mm scales, and has also branched out from his previous London United coverage to include Manchester prototypes and also the LCC/London Transport HR/2 and E/3 classes, with just-released kits of the LCC single-deck F and G type cars, as well as a generic "Preston-type" tram in 4 mm scale. Chris had some built-up examples of the London HR/2 and E/3 cars in 4mm scale running on a mini-layout on his stand, and I must say that their appearance was truly superb. Etched brass modelling is not perhaps the easiest - an article on Etched Brass Modelling shows how John Prentice did it - but it does produce a really good result. (Personally I'd be inclined to use a very small soldering iron using ordinary solder and jewellers' flux to ensure clean and unobtrusive joints, and then wash the whole thing in water very thoroughly before painting with an airbrush , but there are other methods too.) A very worthwhile addition to our hobby, and a very good (and lighter) alternative to the white-metal kits we once all used.
Overall, what to say? A few familiar faces amongst the usual exhibitors were absent, but there were some interesting new items and certainly quite an increase in Continental ready-to-run and kit items, which were as scarce as hens' teeth only a few years ago. Also six new British kits were launched at the show, one resin moulded, two etched brass and three in card. The balance between the various scales appeared to be much the same, and it was nice to see previous "first time" newcomers to the Festival now putting in a regular appearance.
---

Return to Festival of Model Tramways


© Copyright John R. Prentice Software 2009