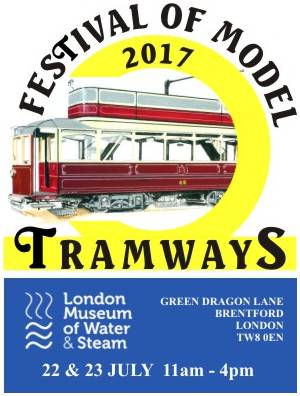 The 2017 Festival Of Model Tramways
The Festival of Model Tramways, is the premier national event for the model tram enthusiast.

The 2017 Festival was held on 22nd & 23rd July at the London Museum of Water & Steam, Green Dragon Lane, Brentford, London, TW8 0EN

Click here for List of Exhibitors at the 2017 Festival.




Festival Review by Bob Appleton (Tramfare Editor)
All photographs by the author unless otherwise stated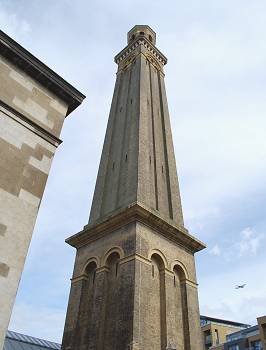 The 29th Festival of Model Tramways was held at its original home of the Kew Bridge Steam Museum (now the London Museum of Water & Steam) for the first time since 2011, but it's hard to believe that the very first such festival was held there back in 1989. The museum itself has seen a few changes in recent times but the model tram festival followed its standard and successful format of mixing model tramway layouts, some first-class static models and trade stands for books, photos, models and other tram-related 'bits and pieces'. With the best will in the world, no one can present a completely new working layout every year for this prestigious show but I did see some new layouts and others not seen for a decade or more. Nevertheless, there were still 17 working layouts in scales up to 1:16 - quite an achievement. A slight disappointment for visitors but perhaps a blessing for exhibitors was that the museum's steam engines were not running over this particular weekend to keep down the temperature in the venue, but the narrow gauge steam railway was running outside.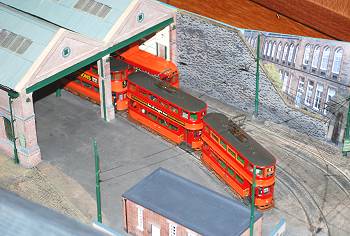 In the main Steam Hall, my eyes quickly dropped on the ever-popular 'Stepley Tramways' in 00 gauge [right], with its very own orange livery and ably managed by Steve and Martin Whitley. Layout format was the same as previously but with (for me) a new addition to the fleet in the form of a single-deck articulated Duewag tram. The innovative 'Cam Tram' was again in service and youngsters were keen to take up the driving challenge.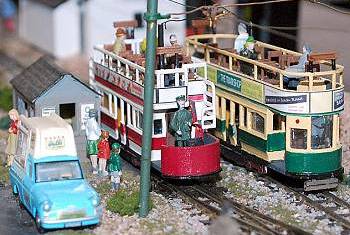 Next door, but only on the Saturday, Dave Packer was on hand selling tram photos from his massive stock - if he doesn't have a picture of the tram you want, one may not exist! On Sunday, Derek Smith took the slot for his 'Eastbourne Tramway' in 009 scale [left]. Although only a short end-to-end layout, it ticked all the boxes to convey the atmosphere of Claude Lane's seaside tramway that I knew so well up to 1969, after which it moved to Seaton. Delightful.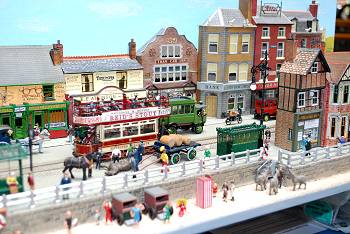 Festival organiser John Prentice had a small but busy 00 scale layout, Torhampton-on-Sea, [right] representing a town street and automatic operation using a Hastings open-top car demonstrating the prototype's stud contact current collection method. Attention to scenic detail (as here) is a key to success for so many tram and railway layouts.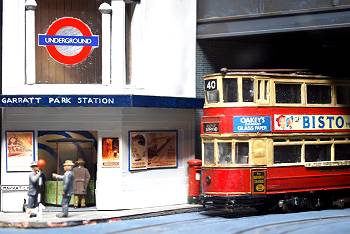 Next door, under the proud and watchful eye of its creator Ron Howes, was 'Garratt Green' [left], another 4mm scale 'blast from the past' working layout (built 1984) representing part of South London. The models had that 'lived in' look which added to the charm all the more. Pristine models look good but are not always realistic in a street setting and so many layouts look too clean to be authentic.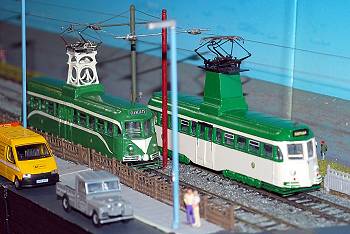 Negotiating my way through to the 100-inch Engine Room, I discovered Alan Kirkman in operation - either building or repairing model trams while his 'Leyburn Avenue - Norbreck' automatic layout in 00 scale ran faultlessly next to him, operating a range of Blackpool trams all day [right].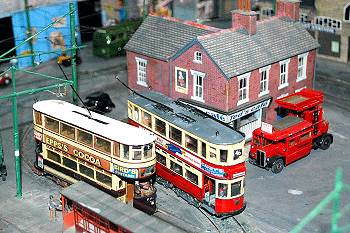 An 'about turn' brought me to Phill Yeend's London 'Broadway' layout, also in 00 scale [left]. The grimy London atmosphere was well represented and track layout allowed several semi-automatic routings. The scenery, street furniture and other vehicles added to the realism.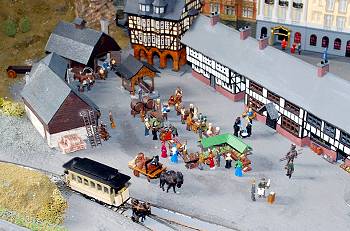 Also nearby was a smart 4mm scale town layout by Mick Taylor [right], unofficially called 'Shed' because that's where it usually resides at home! It represented a small German or Austrian town of mediaeval appearance with a looping track running past and between old buildings. Best runner was an electric-powered horse tram, although other trams were available.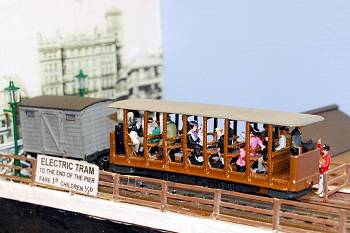 Before returning to the main display areas, I diverted to Dave Carson's charming 'New Walmington Pier' tramway in 009 gauge [left]. This is a rebuild of his earlier HO pier tramway with new end-of-the-pier entertainment in the shape of a revolving carousel and appropriate sound effects. (For the uninitiated, 'Walmington-on-Sea' is the fictitious setting for the famous "Dad's Army" TV series). Nearby was the TLRS Estates Service selling books, models and anything else to raise money for the society, all managed by its custodian Derek Lambelle.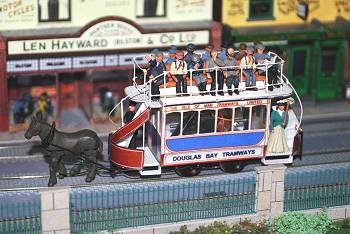 Passing back through the Steam Hall, perusing the LRTA book offerings on the way, I journeyed to the sound of 'clip-clopping' of tiny feet but, in fact, it was a pair of coconut shells that could only be guiding me to 'Dougal Corporation Tramways' [right]. Simon Hamlin's 00n3 layout based on Isle of Man horse trams has been a regular feature of the London festivals in recent years but the appeal is undimmed; the horses' working legs always fascinate young and old.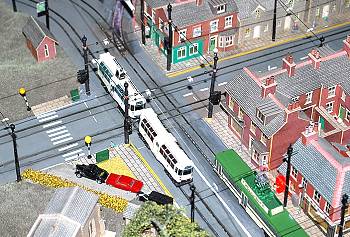 John Marfleet was again on hand with his compact 'Fleetwood Maries' clover-leaf layout [Left] and 'Huncote Tramways', both in N-gauge. A sign of things to come was on display in the form of a part-completed model of Hull's Marfleet depot - an ornate building in its day.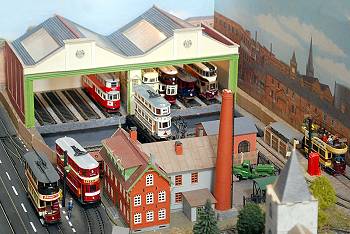 Moving to the Boulton & Watt Room, I found three well-attended sales stands - Charles Teader with his range of 'Majestic' tram kits, Rolf Hafke, all the way from Germany, with a sumptuous display of books and models, and the National Trolleybus Association with more books on trolleybuses than you could shake a stick at. However, there was something moving on Oliver Boorman-Humphrey's 'Semi-rural Tramway' [right] and not just the trams. There was also a working depot traverser that was frequently brought into use to change trams and to engage with the viewing public. This was a very nice compact layout full of subtle interest.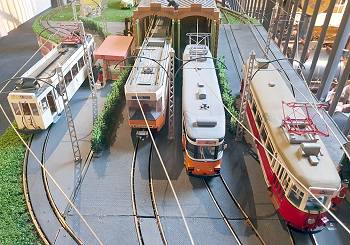 My next stop was the first-floor gallery, home to the G-scale 'Whiteleaf Tramway', a modular layout that can be 'mixed and matched' to suit almost any available space. There was a special display of Belgian 'Vicinal' trams by the late Peter Gavin [left photo Martin Eady]. Other trams on display or running comprised off-the-shelf LGB products and scratch-built trams.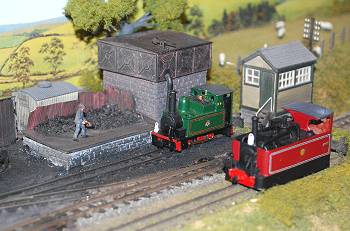 The other half of the gallery was occupied by Darren Franklin's 'South Coast Railway' in 009 scale [right]. Although not a tramway as most of us would recognise one, it certainly had many elements of a light railway - and all in superb detail too. It consisted of two end-to-end sections butted together, thereby giving a good long run for the little trains.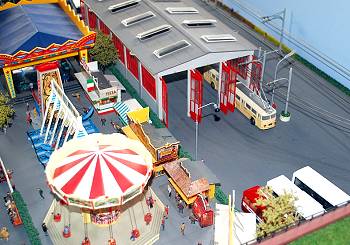 Going to the top floor of the museum got me to John Huddlestone's 3.5mm scale 'Cronenberg' continental trolleybus layout [left] for the first time. This operates with the long-discontinued Brawa and Eheim trolleybuses. The trolley booms are directly connected to the steering mechanism so the buses follow the road very well when the overhead is correctly aligned. A nod to trams was provided by the static tram café outside a 'Kaufhaus' department store on the layout that featured a lot of appropriate scenery including a trolleybus depot.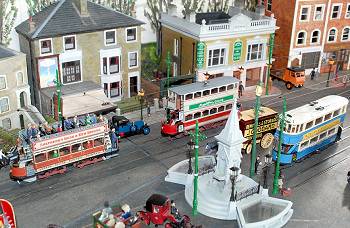 The 'Kew Bridge' 00 scale layout [right] of the TLRS Thames Valley Group was also on display here. It faithfully models the area immediately outside the festival venue, as it was in pre-war days. The fine-scale modelling of trams and buildings is immediately apparent and represents a quality to aim for when building a layout in this scale.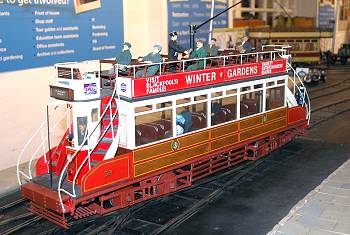 Returning to ground level, I entered the Babcock Room to find the 1:16 scale operating layout of Simon Cole and the TLRS Sussex Area left. Numerous guest models were running, including some of London, Bristol, Portsmouth, Weston-Super-Mare and Blackpool (Dreadnought 59 by the late Les Mitchell shown left), all contributing to an impressive display.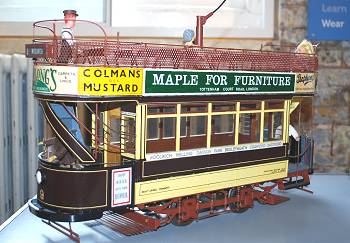 The Tramway & Light Railway Society Model Engineering Secretary, Peter Howard, was on hand to provide parts and advice on how to construct models in 1:16 scale and three models in that scale from the TLRS Collection were on display nearby, one of which (Bexley 9 shown here right) was built by the late Richard Elliott, the founder of the TLRS.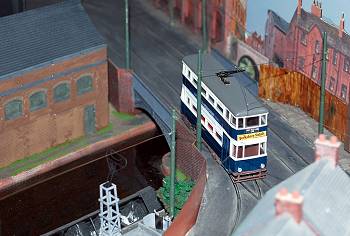 Paul Coles of 'KW Trams' was also here waving the flag for (principally) 00-gauge tram kits. New models are introduced every month or two - I don't know how he does it. A little further along, Andy Burrows was in charge of 'Florin Street', a small part of post-war Leeds in exquisite detail [left]. This 00-scale layout is best viewed at street level, from where the detail and realism can best be appreciated.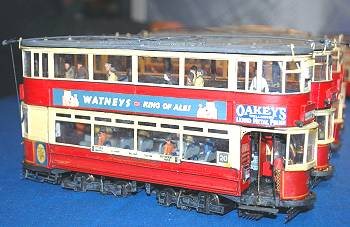 For the final section of the show, I descended into the basement. There were no operating layouts here but there were some amazing O-gauge tram models from Mike Skeggs and Eddie Dawes, both of the TLRS Thames Valley Group [right]. Mike had a collection of British and continental trams including wonderful models by St. Petersburg of Brussels, Antwerp and SNCV cars. Eddie had a sizeable fleet of London trams, also including Felthams by St. Petersburg, but his own scratch-built models had detail to the nth degree, such as used tickets littering the platforms!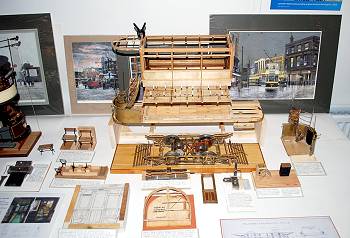 Ashley Best was displaying elements of his current modelling project in 1:16 scale, all expertly laid out and labelled [left]. His completed model of open-balcony Bolton 46 was on the stand and the half-completed tram will be a sister car. Four sales stands were also present which seemed to be surrounded by customers for much of the time. The 'LCCT Trust' was selling second-hand books etc. to raise fund for the restoration of LCC 1 at Crich, Roy Allen had a treasure trove of models, books and postcards to keep browsers and buyers happy for hours and Vic Mitchell was cheerfully promoting his extensive range of transport (mostly tram) book titles under the 'Middleton Press' brand. Almost last, but not least, was the 'J & K Video' stand with enough DVDs to entertain transport enthusiasts for a lifetime of wet weekends, including some very interesting new releases.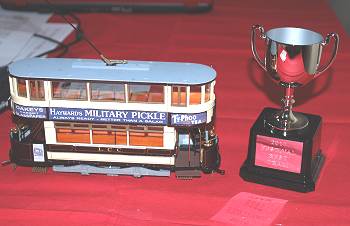 Actually last, but for good reason, is the 'Models Competition' which was run over the two days of the show. A selection of models was presented each day, although most were at 00 scale. There were two excellent O-scale models however: Phill Yeend's open-balcony Walthamstow tram that was very highly commended and Terry Russell's LCC M-Class car 1700 which gained the 'Best Model Tram' cup for 2017 [right]. On the Sunday, 'Best of Day' was an 00-scale model of Newcastle open-balcony car 17 by Paul Coles. It's always a shame there can only be one winner when standards are so high.

The 30th festival is due to be held at the Museum of Transport, Greater Manchester on 21/22 April 2018 when I'm sure there will be more great new layouts to see and admire.

---

Return to Festival of Model Tramways


© Copyright John R. Prentice Software 2017