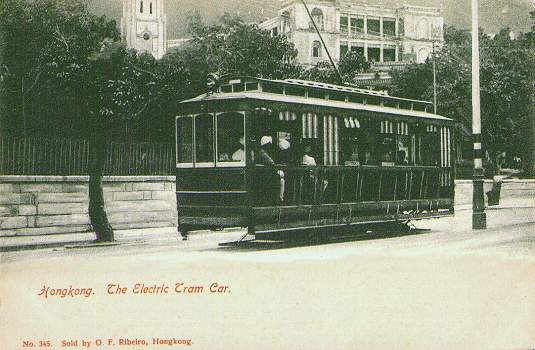 Hong Kong Cross-bench Electric Car, 1904
This postcard was published in Hong Kong by O.F.Ribeiro and is number 345 in his series. It was produced soon after the tramway opened in 1904. The simple caption of "The Electric Tram Car" tells us little, but in fact the view is in Queen's Road East by the Bank of China (this particular section being renamed Queensway in the 1950s), with the tram travelling westwards towards Des Voeux Road just before its junction with Garden Road, the Hong Kong Cricket Club being off to the right almost behind the camera. In the background to the left and standing in Garden Road, the tower of the colonial Gothic-style St. John's Cathedral can be seen.
To operate the tramway, 26 trams were originally ordered in 1903 from Dick Kerr & Company of Preston, England. Numbers 1-16 were open cross-bench cars, such as the one in the postcard, seating 48 third class passengers at 5 cents per ride on ten rows each of five of seats (two seats behind the driver being left empty). Numbers 17-26, were combination (or "California") cars. The trams were delivered to Hong Kong in a dismantled state, being assembled on site. They were painted canary-yellow and chocolate (deep red-brown), lined in gold. The bodies were built by the Electric Railway & Tramway Works Limited of Preston (a Dick Kerr subsidiary) and were overall 29 feet long and at the roof level 6 feet 4 inches wide. Mounted on Brush Standard four wheel trucks of 6 feet 6 inch wheelbase and 3 feet 6 inches gauge, they had two Dick Kerr 25B 25 horsepower motors supplied with current via two Dick Kerr form K controllers having rheostatic braking.
It can be seen on the card that at the time of building, these trams had no lifeguard gates, just a fixed wire tray ahead of the pilot boards. The headlamps were mounted on the roof. Striped roller weather protection blinds were provided. A wooden safety bar, which could be raised, prevented passengers from falling out of the "off" side. In 1906 the first dual class cars appeared and then the cross-bench cars had a partition added with three rows of seats at one end designated to first class and the rest remaining third class. By around 1911 normal lifeguard gates had been fitted, destination indicators had replaced the headlamps which were relocated to the dashes, the roller blinds had been replaced by rolled up canvas sheets for wet weather protection and the safety bar was replaced by a chain. The single-deck Hong Kong cars were withdrawn from 1912 (the combinations going first), their equipment being reused with new double-deck bodies. (See Postcard).
For a description of the tramway itself and cars 17-26, see the Hong Kong Combination Car Postcard.

Go to Postcard Of The Month Index




Reload Home if you linked directly to this page



Postcard of the Month is created by John R. Prentice © Copyright 2006