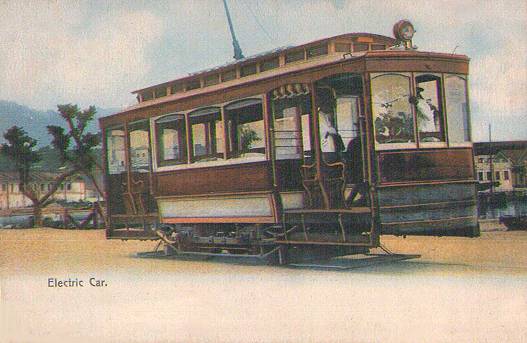 Hong Kong Electric Combination Car, 1904
The simple title "Electric Car" tells us little about the location of this postcard. It was produced by M. Sternberg of Hong Kong and is in fact a tramcar of this former British Colony. The view was probably taken near the Bowrington Canal in 1904, during the first days of the tramway, and is of a tram in the class numbered 17 to 26.
In February 1902 the Hong Kong Tramways Company Limited was formed in England with a view to building the line. Towards the end of that year the company passed into the control of the Electric Traction Company of Hong Kong Limited, who laid track during 1903. In turn this company was renamed Hong Kong Tramways Limited in 1910. On 2nd July 1904 the first car ran under test, and the line was officially opened to the public at 10 a.m. on 30th July 1904, the first car then being driven by a Mrs Jones, the wife of the Director of Public Works. The tramway ran, and indeed still runs for some 14 miles along the north coast of Hong Kong Island, from Shaukiwan in the East to Kennedy Town in the West, with a loop in the centre around the Happy Valley Race Course.
To operate the route, 26 trams were originally ordered in 1903 from Dick Kerr & Company of Preston, England. Numbers 1-16 were open cross-bench cars (see Postcard), seating 48 third class passengers at 5 cents per ride. Numbers 17-26, such as the one in the postcard, were combination (or "California") cars seating 32 first class passengers at 10 cents per ride (16 on longitudinal seats in the saloon, 16 on cross-bench seats outside). The trams were delivered to Hong Kong in a dismantled state, being assembled on site. They were painted canary-yellow and chocolate (deep red-brown), lined in gold. The bodies were built by the Electric Railway & Tramway Works Limited of Preston (a Dick Kerr subsidiary) and were overall 29 feet long and at the roof level 6 feet 4 inches wide. Mounted on Brush Standard four wheel trucks of 6 feet 6 inch wheelbase and 3 feet 6 inches gauge, they had two Dick Kerr 25B 25 horsepower motors supplied with current via two Dick Kerr form K controllers having rheostatic braking. Similar cars of both types were also supplied by Dick Kerr at this time to the tramway in Singapore.
In 1906 the first dual class cars appeared and then the combination cars had the open seats at one end designated to first class with the remainder becoming third class. From 1912 onwards several generations of the more familiar double-deck tramcars were introduced. (See Postcard). The single-deck Hong Kong cars were withdrawn from 1912 (the combinations going first), their equipment being reused with new double-deck bodies. To this day it is still possible to enjoy a double-deck tram ride along this interesting tramway.

Go to Postcard Of The Month Index




Reload Home if you linked directly to this page



Postcard of the Month is created by John R. Prentice © Copyright 1999