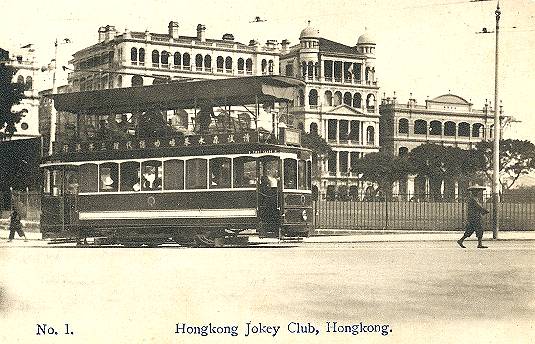 Hong Kong Double Deck Electric Cars, c.1925
Our main postcard shows a wooden roofed double-deck tramcar in Hong Kong around 1925. The card is from an unknown publisher, but was printed in Japan. The caption says 'Hongkong Jokey Club', a misprint for 'Jockey Club', but the view is in fact in front of the Cricket Club with the tram travelling eastwards at the junction of Jackson Road (southern end) and Queen's Road (eastern end and now known as Queen's Road Central), by what is today Chater Gardens. The tram carries an early advertisement which says "try our chocolate milk", with a company name which is probably Japanese.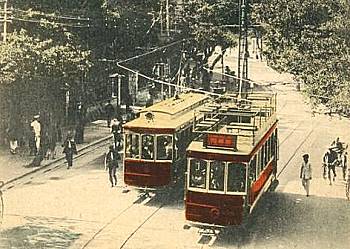 The smaller view here is an extract from a postcard by Diabatsu of Japan, and shows Queen's Road East near Arsenal in about 1912. The second small view showing the Causeway Bay shelter dates from c.1913 and is from an unknown publisher. The third small view is card no. 108 by K.M. Co., Hong Kong, from around 1925. It shows an open top car fitted with a canvas roof going westbound to Whitty Street and is seen on Des Voeux Road West, about ¾ mile before the terminus and before the many land reclamation projects took place here. The fourth small view is extracted from a postcard of about 1927 from an unknown publisher. It shows car 3 as rebuilt to its fully enclosed style, passing the Supreme Court building bound for Causeway Bay and close to the location of our main view. The final small view is from a 1929 issue of "Tramway & Railway World" and shows car 82, one of the first built new in 1925 as fully enclosed double-deckers.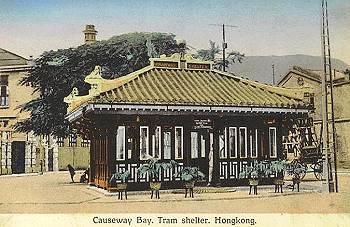 The first double-deck Hong Kong tram dates from 1912 (although one prototype may have been around in 1911). A batch of 28 open-top car bodies were built by the Hong Kong & Whampoa Dock Company at their premises in Kowloon. The ends of the trams and general style were very similar to the single-deck cars that they replaced, as can be seen in the view (above left), and the three front driver's windows are still to be seen in the very latest Hong Kong trams. Ten (numbered 37-46) received new equipment and the other eighteen took equipment and possibly the numbers from the single-deck cars that were being replaced, a practice of re-use of earlier materials that continues with Hong Kong tramways to this day. They seated 50, 21 first class on the upper deck, 8 first class in a saloon at one end of the lower deck and 21 third class in the remainder of the lower deck. Access to both sets of first class accommodation was from one end, usually the front. They had 6ft 6in wheelbase Brill 21E trucks, Dick Kerr DB1 form C controllers and two Dick Kerr DK25B 25hp motors.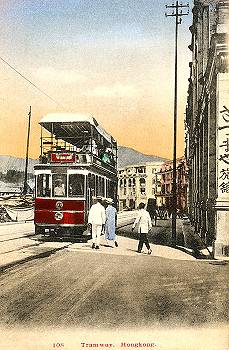 Beginning in 1913 cars were modified by the fitting of a light canvas roof, plus roll-up canvas sheets which would fully enclose the upper deck in poor weather. The tram in the small view (left) is in this condition. At the same date, to give extra weather protection to 1st class passengers, an ornate shelter (above right) was provided at Causeway Bay, being located within the turning circle there. Between 1918 and 1923, a second batch of 38 cars to the same design (numbered 47-80), were added to the fleet, these being fitted with the canvas roof from the outset. This second batch mostly had DK29 30 hp motors and various Dick Kerr controllers. Trucks were specified to be 6ft 6in wheelbase Brill 21E, but some may have been Preston built or Brush equivalents.
From 1923 onwards some cars were fitted with a wooden roof, with side and end boards holding canvas roller blinds for bad weather protection. This type of roof allowed the trolley base to be fixed to it, which enabled two extra double seats to be added to the upper deck. The tram in our main postcard picture is an example of a tram at this stage of development. Between 1925 and 1927 the trucks were lengthened to 7ft 6in wheelbase and from 1929 they were replaced by Peckham P22 or P35 trucks of 8ft 6in wheelbase.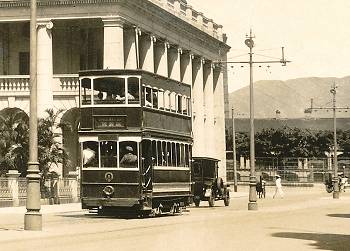 From 1925 onwards new cars (81-119) were to be introduced that were fully enclosed (below left) and from then the pre-1925 cars were systematically given similar enclosed upper decks (right). In 1927 trams received a destination blind in a nearside lower deck window, another feature to continue to the present day.
The earliest of the pre-1925 tram bodies had been scrapped by 1934, but the later ones, albeit much modified to the 1925 enclosed style, would have survived until the post-war 1950 re-bodying when some newer equipment would have been re-used and possibly even re-used again in the re-bodying of 1987.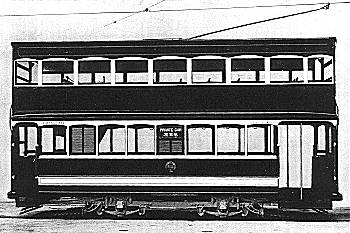 The double-deck tram is one of the classic images of Hong Kong. It is worthy of note that after a brief flirtation with a modern body design for four cars in 2000, the latest trial rebuild has reverted to a more traditional appearance.
Hong Kong is further described with our postcards of the Combination Car and the Cross-bench Car.


Go to Postcard Of The Month Index




Reload Home if you linked directly to this page



Postcard of the Month is created by John R. Prentice © Copyright 2011