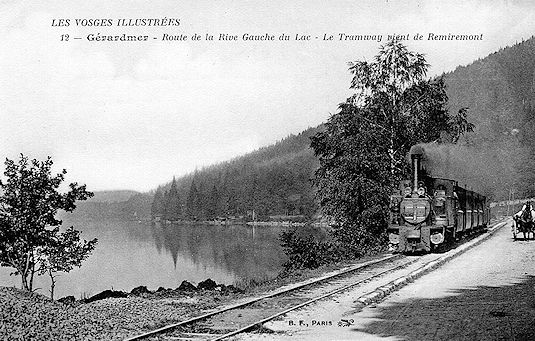 Gérardmer to Remiremont, Lac de Gérardmer
In our main postcard, alongside the Lac de Gérardmer we see a Batignolles tram loco pulling a train from Remiremont. The postcard was produced by Berthaud Frères of Paris around 1910. In the smaller view below is Remiremont station, also around 1910. The train is waiting to depart to Gérardmer. The track to the right goes to the goods sidings. The card is by Levy Fils of Paris.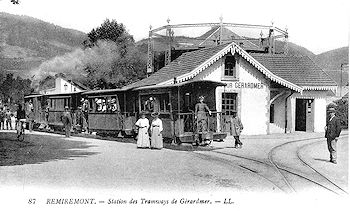 This Vosges metre gauge tramway was a 27 km line from Gérardmer to Remiremont, which opened on August 14th 1900. It was built on a concession to Mr. Montézuma Goguel but passed on opening to the aptly named Compagnie des Tramways des Vosges (TV). Gérardmer and Remiremont were both served by the standard gauge Compagnie des chemins de fer de l'Est (CFE) but on different lines. It was thought that the tramway would provide a better connection. Unlike the other tramways described, this one carried extensive freight, particularly granite from local quarries.
For the most part it followed Route National 417 from Remiremont via Bellevue-Saint-Étienne, Saint-Amé, Syndicate, Plaine Cleurie, Julienrupt, La Forge, Le Tholy and Le Beillard, then running along the north side of Lake Gérardmer to terminate in Gérardmer at the opposite side of the CFE station to the Tramways de Gérardmer line, to which it was not connected.
There were four Batignolles 0-6-0 locomotives numbered 1-4, supplied for the opening. There was also a 2-6-0 Corpet loco, numbered 5, added in 1909. There were twelve 2-axle passenger cars, and originally three enclosed box vans and twenty-seven 10-ton wagons, but the freight stock increased in later days. An all-season service was operated. However, the finances of the tramway were poor. In 1925 the TV was sold to the département who the following year leased it to the Société Générale des Chemins de Fer Économiques (SE). Further decline caused the line to be abandoned on March 31st 1935.

The Tramways of The Vosges Mountains
REMIREMONT - GÉRARDMER (This Page)

Intermediate towns Julienrupt, Le Tholy. A roadside steam light railway operated by Compagnie des Tramways des Vosges.

GÉRARDMER - RETOURNEMER (See Postcard)

Intermediate town Longemer. A roadside steam light railway operated by Société des Tramways de Gérardmer.

RETOURNEMER - LA SCHLUCHT - HOHNECK (See Postcard)

Electric tramway operated with railcars having two bow collectors by Société des Tramways de Gérardmer.. In addition to the through service (which reversed into and out of La Schlucht), the La Schlucht - Hohneck section had a shuttle service ran by two Preston built trams with single bow.

LA SCHLUCHT - MUNSTER (See Postcard)

Operated as the Münsterschluchtbahn using electric railcars with two bows similar to above, but rack assisted.

TURKHEIM to TROIS ÉPIS (See Postcard)

Electric tramway operated as the Tramway Touristique Turckheim - Trois Épis



Go to Postcard Of The Month Index




Reload Home if you linked directly to this page



Postcard of the Month is created by John R. Prentice © Copyright 2021