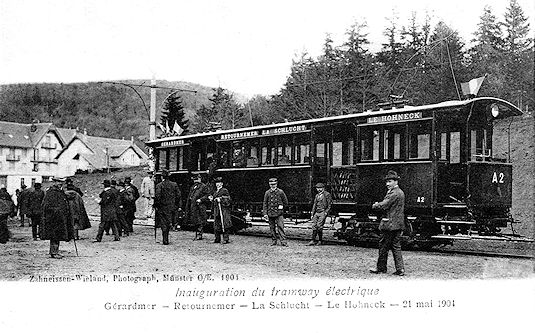 Retournemer to La Schlucht and Hohneck, Inauguration
Our main postcard shows car A2 at La Schlucht on 1st May 1904 at the official inauguration of the Retournemer - La Schlucht - Hohneck electric tramway. The postcard (which has an undivided back and was posted in August 1904) was published by Zahneissen-Wieland of Munster.
The most scenic tramway in the Vosges area with its fine mountain and lake views, was that to the peak of the Hohneck at 1362 m above sea level. After consideration of various traction methods, Mr. Henri Gutton of the Société des Tramways de Gérardmer was on 18th January 1902 granted a concession to operate an electric adhesion-based tramway running from the terminus of their steam line at Retournemer (781 m above sea level), climbing to La Schlucht (1139 m) at what was then the German border, then reversing and continuing on to Hohneck (1322 m) where there was a footpath to the summit. The maximum gradient was 80 mm/metre (8%). The line ran via Col des Feignes and Le Collett. Trams reversed in La Schlucht station for the last section up to Hohneck. After an inauguration on 21st May 1904 the line opened to the public on 29th June.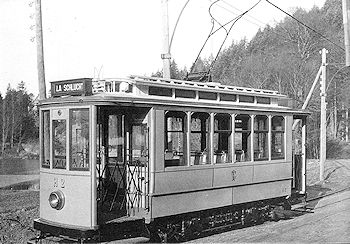 The rolling stock consisted of four De Diétrich bogie cars built in 1904 in Lunéville and numbered A1 to A4. They seated 70, and had two Brill bogies, each with a 25 hp motor from Compagnie Générale Électricité of Nancy. They used Westinghouse 412 controllers with 5 series notches, 4 parallel notches and 7 rheostatic brake notches, four of which also applied Westinghouse magnetic track brakes which in turn applied wheel brakes. The track brake could also be employed manually. Two 4-wheel cars (right) were delivered in 1913 to serve a shuttle on the La Schlucht - Hohneck section, mainly for passengers arriving from Munster. They were built by the Electric Railway & Tramway Carriage Works of Preston, England. They had Brill 21E trucks each with two 40 hp Westinghouse 840 motors and rheostatic and magnetic track brakes which could also be activated from the overhead supply. They were numbered H1 and H2. The six-track depot and the generating station were 500m to the west of Retournemer station. The generating system employed three Babcock & Wilcox boilers and two single cylinder engines each driving a dynamo generating 550-600 volts DC, supplied to the trams via bow collectors, two on the bogie cars.

The tramway mostly ran a summer-only service with the overhead on the upper section being removed during the winter, but in 1912-14 services for winter sports were undertaken as far as La Schlucht, as had been done famously two years earlier on the Wengernalpbahn in Switzerland. Similar services were occasionally run after WW1. Today there are a couple of ski lifts with downhill runs and a cross-country ski route at the Col de La Schlucht and more extensive downhill runs on the slopes directly above Gérardmer.
During WW1 the military took over the line to transfer supplies to the front line. A connection was made at La Schlucht and goods carried on the Munster line as far as Altemberg. A small turntable was added at La Schlucht to enable steam locos to be reversed for use up to Hohneck if necessary. Passing sidings were added at Le Collet and Les Feignes and a diversion was made to the Hohneck branch to avoid enemy fire. Some rolling stock was temporarily transferred from the Grenoble - Villars-de-Lans and the Nice (TNL) tramways. After the war normal service gradually resumed although car A4 was not usable. Some consideration was given to permanently joining the line with the route to Munster, which had not re-opened, but this was dismissed due to the need to re-route and eliminate its rack section. In 1923 there was a serious accident between La Schlucht and Hohneck when car A3 ran away and collided with A2, severely damaging both vehicles, causing several deaths and about thirty injuries. This left only A1 in service.
In 1925 Mr Gutton sold his concession to the Department and it was consolidated with the steam line into the Société Générale des Chemins de Fer Économiques (SE). A2-A4 were rebuilt by De Diétrich with more modern equipment and the driver's compartments were enclosed. In 1932 the line between Gérardmer and Retournemer was electrified and as there was no longer a need for H1 and H2 to serve La Schlucht after the closure of the Munster Line, they were transferred to that section. In 1935 control passed to the Société Auxiliaire des Transports Automobiles de l'Est (SATE). Some track was re-laid and the power system was upgraded to a high voltage AC supply from the Société Vosgienne d'électricité, with the power generators being replaced by a transformer and rotary converter to provide 700 volts DC. On 28th August 1940 the line closed as a result of WW2 and afterwards the occupying German forces dismantled the tracks, although the power supply was kept in working order. After the war the line never re-opened for economic reasons, which is a pity as its highly scenic nature probably would have secured its onward future had it been serviceable.
The Tramways of The Vosges Mountains
REMIREMONT - GÉRARDMER (See Postcard)

Intermediate towns Julienrupt, Le Tholy. A roadside steam light railway operated by Compagnie des Tramways des Vosges.

GÉRARDMER - RETOURNEMER (See Postcard)

Intermediate town Longemer. A roadside steam light railway operated by Société des Tramways de Gérardmer.

RETOURNEMER - LA SCHLUCHT - HOHNECK (This Page)

Electric tramway operated with railcars having two bow collectors by Société des Tramways de Gérardmer.. In addition to the through service (which reversed into and out of La Schlucht), the La Schlucht - Hohneck section had a shuttle service ran by two Preston built trams with single bow.

LA SCHLUCHT - MUNSTER (See Postcard)

Operated as the Münsterschluchtbahn using electric railcars with two bows similar to above, but rack assisted.

TURKHEIM to TROIS ÉPIS (See Postcard)

Electric tramway operated as the Tramway Touristique Turckheim - Trois Épis



Go to Postcard Of The Month Index




Reload Home if you linked directly to this page



Postcard of the Month is created by John R. Prentice © Copyright 2021