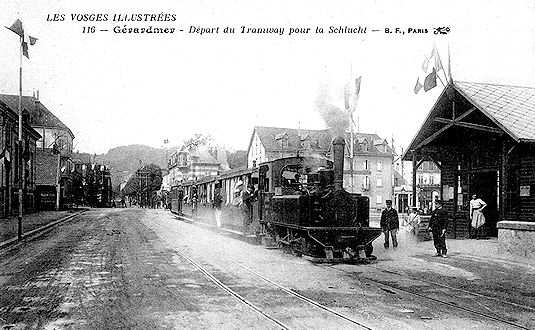 Gérardmer to Retournemer, Gérardmer station
Our main postcard shows Gérardmer station with a Weidknecht locomotive and train leaving for Retournemer, for the onward transfer to La Schlucht. The card was published around 1910 by Berthaud Frères of Paris. The smaller view below is a train at the passing loop at Le Saut des Cuves around 1910. This postcard is by Levy Fils of Paris.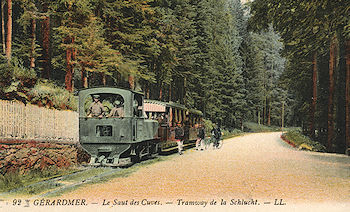 The first tramway to be opened in the Vosges Mountains was on 25th July 1897 with a run of 10.5 km from Gérardmer to Retournemer. This was on a concession to Mr. Henri Gutton, which passed in 1900 to the Société des Tramways de Gérardmer (TG). The tramway started at the railway station of the standard gauge Compagnie des chemins de fer de l'Est (CFE). It left the town by the Boulevard Kelsch, then crossed the River Vologne at Le Saut des Cuves, went through Xonrupt and Longemer, and then by a forest path along the north shore of Lake Longemer. After a short tunnel through rocks, it entered Retournemer to terminate to the north of Lake Retournemer. The line was single track, but there were passing loops at Les Saut des Cuves and Xonrupt.

Initially the line was to be worked by four Serpollet flash-boiler steam trams but, after a couple of weeks of trials, two Weidknecht 0-6-0 locomotives were purchased, No.2 named La Vologne and No.3 named La Jamagne. In 1908 a third loco was added, a second-hand SLM-Winterthur type2 of 1893, becoming no.1 and named La Forgotte. Ultimately there were fourteen 4-wheel trailer cars, mostly built at Blanc-Misseron. They were crossbench: class C being open, class D being glazed.
During WW1 the line was extensively used by the military who drafted in extra rolling stock from other steam tramways and at Gérardmer station a connection was made to the Remiremont line. A military cable-car was also introduced in December 1915 from Retournemer direct to Hohneck and beyond to the Wurmsa valley. Steam ceased in 1932 when the line was electrified as an extension of the adjacent route to La Schlucht, which was operated by the same company.
The Tramways of The Vosges Mountains
REMIREMONT - GÉRARDMER (See Postcard)

Intermediate towns Julienrupt, Le Tholy. A roadside steam light railway operated by Compagnie des Tramways des Vosges.

GÉRARDMER - RETOURNEMER (This Page)

Intermediate town Longemer. A roadside steam light railway operated by Société des Tramways de Gérardmer.

RETOURNEMER - LA SCHLUCHT - HOHNECK (See Postcard)

Electric tramway operated with railcars having two bow collectors by Société des Tramways de Gérardmer.. In addition to the through service (which reversed into and out of La Schlucht), the La Schlucht - Hohneck section had a shuttle service ran by two Preston built trams with single bow.

LA SCHLUCHT - MUNSTER (See Postcard)

Operated as the Münsterschluchtbahn using electric railcars with two bows similar to above, but rack assisted.

TURKHEIM to TROIS ÉPIS (See Postcard)

Electric tramway operated as the Tramway Touristique Turckheim - Trois Épis



Go to Postcard Of The Month Index




Reload Home if you linked directly to this page



Postcard of the Month is created by John R. Prentice © Copyright 2021