George Francis Train
By David Voice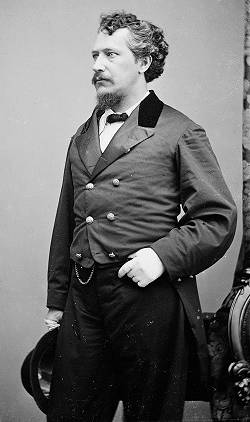 A portrait of George Francis Train photographed around the time that he was building his tramways in Britain.
The 150th Anniversary of the beginning of street tramways in the British Isles is on 30th August 2010, because that day in 1860 George Francis Train inaugurated his horse tramway in Birkenhead. George F. Train is a complex character and his entrepreneurial and eccentric attitudes led to both the pioneering of tramways in this country and antagonizing influential people, particularly the authorities, which probably delayed the further introduction of tramways by at least ten years.
George Francis Train was born on 24th March 1829 in Boston, Massachusetts he was orphaned at the age of four when his parents died during a Yellow Fever plague. He went to live with his strict Methodist grandparents, who had hoped he would become a Minister. A cousin of his father ran a shipping business and George joined it. A few years later, at the age of 21 years, he was sent to Britain to run the second cousin's shipping office in Liverpool. He brought a brash American approach and managed to alienate the authorities by insisting on burning bonfires in the dock so he could get his ships unloaded at night. This was to rebound on him later, but he was successful for his company and he became a partner in the Liverpool shipping house.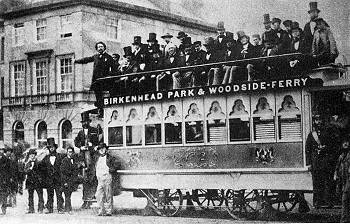 The inaugural run in Birkenhead with a very well patronized tramcar and a resplendent George Francis Train standing on the top deck at the left pointing the way ahead.
He went back to America for a holiday in 1850 and showed his brazenness when he was travelling, as he saw a girl and was immediately smitten, changed his journey plans so he could travel on the same train as her and 48 hours after first seeing her they were engaged. He then went back to Liverpool and they spent a year apart, returning to America to marry in 1851. Soon after being married he took his wife to Melbourne to join the gold rush. Rather than look for gold George F. Train persuaded backers to fund him build a railway and warehouse to supply Melbourne and he was able to make a considerable amount of money as a merchant. At this time he claims to have been invited to become President of Australia, by republicans rebelling against the British rule. He left Australia in 1855 to travel to China and thence to the Crimea to see if he could buy cheap munitions following the recent war. There were none and so he returned to America and became a journalist for the New York Herald. He also helped in the promotion of the Atlantic and Great Western Railroad. His nature was to bring in new ideas and initiate businesses, but then moving on. He did not have the patience to run an ongoing company.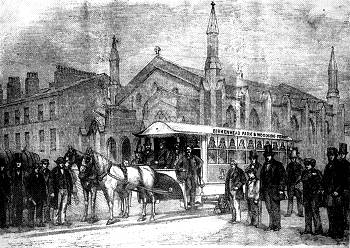 A contemporary sketch of a Birkenhead tramcar that was probably made by Stephenson and shipped across the ocean by Train's second cousin.
In 1858 he returned to Liverpool, bringing with him ideas he had seen on the street railways in Philadelphia. He knew that the ideal place to open a tramway was in London, at that time the largest city in the world. However, he encountered resistance and so he went to a city he was familiar with, Liverpool. Coincidentally at this time William Curtis had designed a 'railway omnibus', a vehicle with movable flange plates that allowed use on the road and on railway track. Curtis gained agreement from the Dock railways for a local omnibus operator to use his new design buses on the docks railway line. It is likely that George F. Train heard about this and thought he had a good chance to persuade the city authorities to agree to him laying tram tracks in the street. However when he approached them for permission the city fathers remembered the earlier times when bonfires were lit in the dock, much to their annoyance and they turned him down.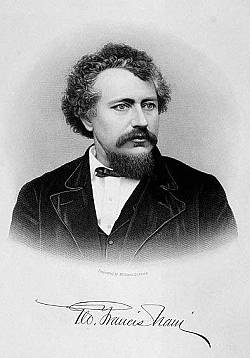 Train is a little older in this photograph that has been signed by him. Note the flourishes on the signature that illustrate his flamboyant nature.
George F. Train had the knack of getting to know important people and one such was John Laird, the shipbuilder, who was also then Chairman of the Commissioners of Birkenhead. When Train proposed laying track at his own expense in Birkenhead the Commissioners agreed, not surprising given the support of Laird. Six weeks after getting agreement the track for the 2½ miles long line had been laid and the system was ready to open (compare that to today's tramways!) In a typical George F. Train gesture a grand banquet was held to celebrate the opening of the line to which all the crowned heads of Europe were invited (none actually attended).
As we know now, with the benefit of hindsight, George F. Train chose to use the same step rail that was used in Philadelphia that annoyed the other road users possibly he was influenced by taking out a British patent in his own name on the design. The failings of the design were not immediately apparent in Birkenhead and the tramway was a success. One important decision of Train at this time was that he brought over an assistant from America. The assistant helped set up the Birkenhead tramway and was involved in the assembly of the tramcars used on the line. George F. Train said that the trams came from Robert Main, a Birkenhead coachbuilder, but it is far more likely that they were made by Stephenson in New York and shipped over by the company run by his second cousin, then finished by Main. The assistant was George Starbuck, who later became the most prolific tramcar builder in Britain.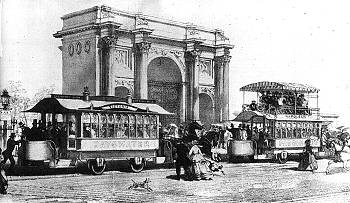 An artist's impression of what Train's first London tramway of 1861 would have looked like. It is in Bayswater Road showing Marble Arch.
As soon as the Birkenhead line was open George F. Train started looking for other opportunities. He approached Birmingham Council and had agreement, though nothing came of this because he went to London and set up his campaign to build tramways in the capital. He rented a house in Covent Garden and held 11.00am Sunday breakfasts, inviting the influential people of the city. He managed to get permission for three lines and these were built. By now George Starbuck had become the managing director of all three lines. After a few months from opening there was an accident in which a tram hit a boy who was killed. George F. Train was arrested and put in jail, though later acquitted. Within a year of the opening he was charged by the Surrey Assizes with obstructing the street and the court determined that an Act of Parliament was required to lay tram tracks and as he did not have it he was fined £500 and ordered to remove the track. He refused to pay and was put in debtors' prison. He tried to get an Act for his three lines, but his applications failed and he had to give up his lines. He moved to the Potteries where he opened a tramway in 1862 from Hanley to to Burslam and then another in Darlington (ran 1862 to 1864). But it was clear to him that he would not make his fortune from tramways and there were pressing matters in America with the start of the Civil War. For the rest of his life he did not become involved in any further tramway development. In America he worked on the Union Pacific Railroad, also buying up wilderness that lay close to the route of the railway, later making a fortune from developing and selling the land.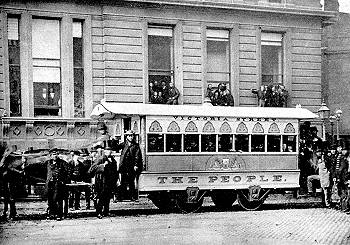 Probably the opening of the Westminster Street Railway, compare the design of the tramcar with the Birkenhead sketch.
Around this time he decided to tour around the world and he claimed to have done it in 80 days (one of three round the world trips he completed in his life) and he asserted that this was the inspiration for Jules Verne's Around the World in 80 Days. However, he actually took longer and deducted from the total the days when he was imprisoned in France. Some of his other adventures included being arrested 15 times, including once for publishing obscene literature when he printed quotes from the bible to demonstrate it was far worse than an article by Victoria Woodhull a supporter of free love, abortion, divorce, legalized prostitution and the women's right to vote. A District Attorney ordered him to be tried for insanity, but medical experts declared he was monomaniac rather than insane. At one stage when in prison he refused to be bailed out in protest against his arrest (though possibly a number of writs against him may have also been a factor). Later he was also arrested by the British police in Ireland when he was found to be carrying pro-republican literature.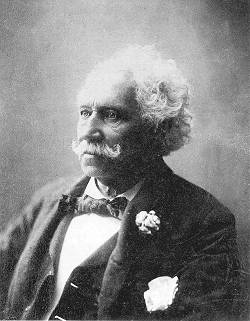 George Francis Train when he was older probably taken around the time he was writing is autobiography at the age of 73.
His very exciting life became somewhat calmer in his old age. He moved to the Mills Hotel in New York where he lived a comparatively calm existence. At the age of 73 he wrote his autobiography "My Life in Many States and Foreign Lands", a work that much of which feels like fiction. He died at the age of 75 peacefully in his room with his daughter by his side. At his funeral it was said that he was "one of the few sane men in a mad, mad world", though only invited guests were admitted because his ideas regarding religion were 'queer' and would upset the general public. He was buried in Greenwood Cemetery.


This article was first published in May 2010 in Tramfare, the TLRS magazine.
© Copyright David Voice 2010