Compressed Air Trams
By John Prentice
3. MINOR FRENCH LINES
AIX-LES-BAINS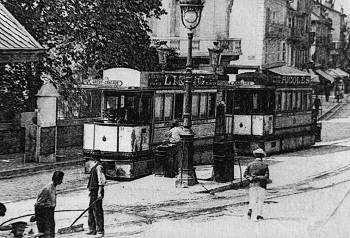 Aix-les-Bains Mékarski cars in Rue de Genève. The view shows the charging point and the turntable used to reverse these single ended cars.
This tiny system had in its day much opposition on aesthetic grounds and was never electrified. It only ran in the summer season. There were three routes of metre gauge running from Place de Genève, where there was a turntable and charge point to Port Puer (Le Grand Port), to Port de Cornin (le Petit Port) and to Gresy-Cascade, with a separate isolated route from Place Revard to Marlioz giving a total of four lines, mostly single track, running ten Mékarski trams and four trailers (only used to Grand Port).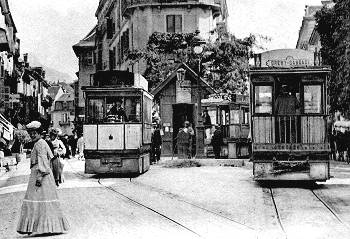 Another view of the tram terminus in Rue de Genève. Note the style of the open rear platform on these Mékarski cars and just in view is a car on the turntable.
The line began on the 18th April 1897 and ran summers only until the end of 1908. It is thought that the cars were retained for some seasons after the closure, and that one was loaned to the nearby Pont de Beauvoisin steam tramway for trials in 1913.

LA ROCHELLE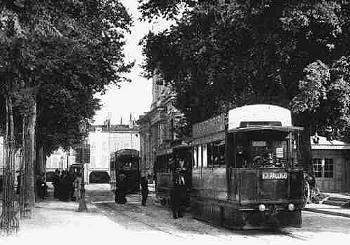 Mékarski cars at the tram terminus at Place d'Armes in La Rochelle.
On 21st January 1898 M. Mékarski was granted a 30 year concession to run tramways in La Rochelle. Passing this concession to his Nantes company, two routes were operated from 25th August 1901, Tasdon to the Quay at La Pallice and to the docks at Mail, giving 8.5 km. of metre gauge route.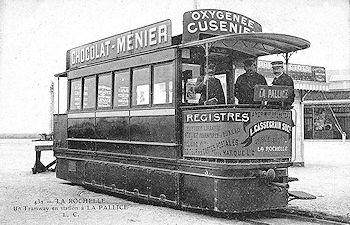 Mékarski car at the tram terminus at La Pallice in La Rochelle.
There were ten Mékarski cars and twelve trailers, sometimes running in pairs. On 23rd April 1924 the Tasdon section was cut back to Place Verdun followed a little later by the Mail route being closed. The remaining Section passed to the local council when the concession ran out in 1928 and was closed on 17th June 1929.

ST. QUENTIN
| | |
| --- | --- |
| | Side and end views of a Popp-Conti car in St. Quentin. |
During 1895 trials were undertaken in St. Quentin using the Popp-Conti low pressure system at 15 to 20 atmospheres, a system described in the section on the T.S.M. in Paris.

The St. Quentin Popp-Conti Compressed Air Tramcar.
An early source suggests that the Popp-Conti cars were also tested in Angoulême (where Société Générale d'Éclairage et de Force Motrice, the suppliers of the Popp-Conti system, claimed they had a concession) and Tarbes, but this cannot be confirmed. Angoulême was built as a metre gauge electric line in 1900 and Tarbes had no tramway.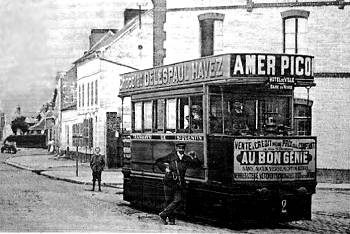 A standard gauge Mékarski car in St. Quentin.
A concession to Cie. des Tramways de St. Quentin was made on 30th August 1898 for mechanical traction. The Popp-Conti trials had been a failure and so a number of Mékarski cars (probably 12) were purchased to operate a network of four standard gauge routes from a central depot and charging point at Gare du Nord.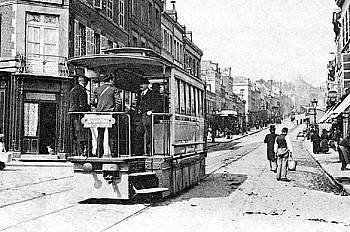 Rear view of a Mékarski car in St. Quentin.
The first section opened on 6th March 1899 from there to Hotel de Ville, extended to Cimetiere on 14th October 1899. The other routes were to Remicourt, Gare de Rocourt, and Faubourg d'Isle. However the somewhat old fashioned air cars had trouble in climbing the 6% gradients on Rue d'Isle so in 1907 it was decided that the routes should be electrified which occurred on 25th April 1908.

VICHY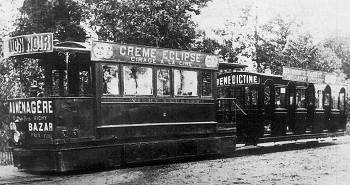 A Mékarski car on the Vichy to Cusset line.
From 15th December 1895 to 31st March 1927 a metre gauge line from Vichy to the nearby town of Cusset was operated by six Mékarski cars with six trailers. A 20 minute service was run from 5 a.m. to 8.30 p.m. The cars were said to seat 14 on black rexine covered longitudinal seats. The trailers were covered toastracks with four sets of back to back cross-bench seats.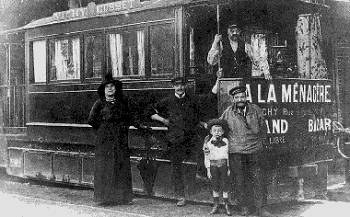 A second Mékarski car at Vichy with its staff.
The line had turntables at each end (by St. Louis Church in Vichy) but the cars could circulate in Vichy via Place du Centennaire, Cours Tracy and Place de la République. At Cusset on Cours Lafayette was a waiting room and air charging point. On special occasions a return service to Vichy was run at midnight. Apart from slight disruptions during the great war the service ran for 32 years eventually being replaced by buses.

MARSEILLE: Marseille used compressed air trams on a trial from 26th October 1891 until December of that year, running between Chartreux and La Rose. They were two Mékarski single deck trams (numbered 301 &302 in the Marseille fleet) constructed to his standard design by Etablissements Brissonneau. The compressor plant was installed in the depot at Chartreux. The trial was not considered successful and plans for additional trials in the area were not proceeded with. Despite an offer from Mékarski to buy back the trams for demonstration elsewhere, possibly at an exhibition in Chicago, they remained unused in Marseille for five years and were then rebuilt with Serpollet flash steam boilers in 1896.
LYON: In 1887 Mékarski trams were tested on the 5.6 km horse tram route of the Compagnie des Omnibus et Tramways de Lyon from Place Bellecour to Bon Coin, one year prior to the introduction of steam traction there.
TRAMCARS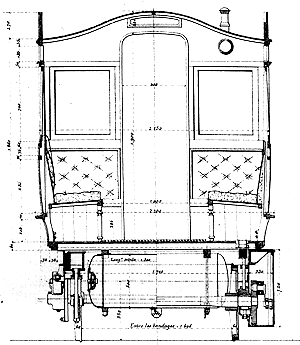 Cross section of a standard Mékarski car showing the air tanks below the floor.
Note that the Mékarski trams that ran on the above lines were all to a very similar design, that being like the later version of the Nantes cars (or the narrow gauge version as shown in the Bern drawing later in the article). They were single deck, single-ended cars on two axles, with a front driving position with a bouillotte with regulator wheel on top. There was a smallish body with longitudinal seating and a large rear platform with wide loading. All mechanisms were enclosed by horizontally hinged panels.

At this point, before returning to Paris, we should look at some compressed air experiments outside France.

Go now to Next Section



Return to Index


© Copyright John R. Prentice 1994 & 2022