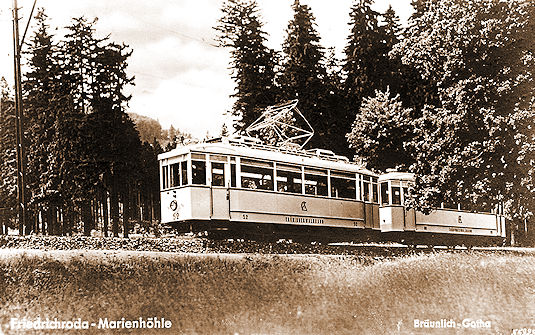 Postcard of the Month
Thüringerwaldbahn, Tram 52
The Thüringer Wald (Thuringian Forest in English) is part of a mountain range, running north-west to south-east, in the south of the German state of Thüringen (Thuringia). Near the northern flank lies the medium-sized town of Gotha (population approx. 44,000), almost in the centre of a reunified Germany. The town has existed since at least the 8th century but in the 19th century it became an industrial centre, including home to 'Gothaer Waggonfabrik' that built trams.
The Thüringerwaldbahn is a metre-gauge overland or interurban tramway that connects Gotha to the small spa town of Bad Tabarz, approx. 22km (131/2 miles) to the south-west and operated today by the 'Thüringerwaldbahn und Strassenbahn Gotha GmbH' (TWSB Gotha) as an extension to the Gotha town tramway system, which had opened as early as 1894 with electric traction from the start.
In 1897 there was an agreement between the state government of the Duchy of Sachsen-Coburg, Gotha and the town tramway operator Elektrizitäts-AG to build an overland tramway. Elektrizitäts-AG obtained a concession for the planned line although, in total, nine such lines had been planned. However, nothing came of these ideas at that time.
In 1911 a contract was signed between the Duchy and AEG for building an electricity power station and the Thüringerwaldbahn. Work began in 1914 and it is said that Russian prisoners of war helped build part of the line and a bridge, before work stopped in about 1916. Work was further delayed by the post-war inflation crisis of the early 1920s but resumed in 1928.
The new tramway opened on 17 July 1929 with a fleet of ten 4-wheel motor trams, seven 4-wheel trailers and a small luggage van. The motor trams of type designation T7 were built in Gotha by 'Gothaer Waggonfabrik' with AEG equipment in 1928-29, as were the trailers of type designation B7. The line operated under 600V DC overhead and a maximum line speed of 50km/h (30mph) was stipulated.
During the 1930s the line was very popular with up to 22 return journeys per day. In WW2, the line was spared until 6 February 1945 when air-raids stopped services. Further damage to a critical bridge occurred in April and full service was not resumed until October 1947.
In 1951 operation was invested in the 'VEB Thüringerwaldbahn und Strassenbahn Gotha'. (VEB = 'Volkseigener Betrieb' or Publicly Owned Enterprise in English, a form of state-owned industrial enterprise in communist East Germany). In 1958 route numbers were introduced and the Thüringerwaldbahn became (and remains) route 4.
In 1971 a short branch of about 1.6km (1 mile) was built into the town centre of Walterhausen, past the halfway point between Gotha and Bad Tabarz. After the "fall of the wall" in 1989 and subsequent German reunification between East and West, the aforementioned 'TWSB Gotha' took over ownership and operation in 1991 of the Thüringerwaldbahn and Gotha town tramways.
Our real photo postcard (serial number 55925) shows tram 52 and trailer 80 at a photo stop between Friedrichrode and Marienhöhle towards the end of the line near Bad Tabarz. It was posted by 'Walther' on 21 August 1929 (just over a month after the Thüringerwaldbahn had opened) to 'Minna', a lady living in Oranienbaum, Sachsen-Anhalt, just to the east of Dessau. This dating strongly suggests that the photograph was taken during a test phase and before the official opening just over a month earlier. This would have ensured that picture postcards were available when services started. There are at least five such postcards in a small series (numbered in the range 55921-55925) and they are all believed to depict the same motor and trailer set at various points along the route. They were published by H.G.Bräunlich of Gotha.
The route starts at Gotha Station and proceeds over double track to the town boundary at Waltershäuser Strasse. From there, the line is then single track all the way to Bad Tabarz where there is a double-track terminal loop. There are several passing loops and short working terminal loops at some of the stops along the way.
Fortunately and remarkably, motor tram 56 and trailer 80 (both built in 1928 and from the same batches as the tram and trailer in our postcard) survive as "historic monuments" and have often operated in the summer months although, at the time of writing in late 2023, they are stored out of use. They are painted in the original livery of yellow below the window line, and white above.
Today, services on the Thüringerwaldbahn (Gotha route 4) can be operated by almost any of the current fleet of trams selected from 1990 Tatra KT4D types (purchased ex-Erfurt over several years) or second-hand Schindler trams from Basel BLT (Baselland Transport) in 2018, but built in 1978-1981. The Gotha tramway still has a few 1960s Duewag cars acquired second-hand from Mannheim in 2011.

---
Previous Postcards
There is a full Index of Postcards shown in this series, all of which can still be viewed.


Reload Home if you linked directly to this page



Postcard of the Month is created by John R. Prentice © Copyright 2023