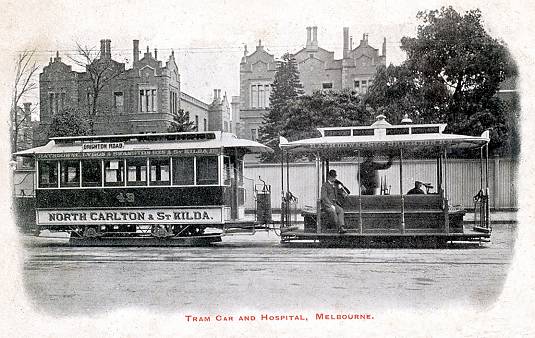 Melbourne Cable Trams
Our postcard shows a Melbourne cable-car set with 'dummy' gripper car and trailer no.49 in Lonsdale Street with the Royal Melbourne Hospital in the background. It appears to be on the Brighton Road route by way of the roof-mounted board on the trailer although the painted details on the rocker panel, North Carlton & St. Kilda, show its normal route. The card was posted from Melbourne to an address in McLeod Road, Abbey Wood, Kent (now SE London) in October 1905 to report safe arrival in the city.
Horse trams arrived in Melbourne in 1884 but disappeared in 1890. The first cable line (Spencer Street to Bridge Road, Richmond) opened on 11 November 1885. By 1891, there were 47 miles (75km) of standard gauge double track, approximately 1200 cable cars and trailers on 15 routes radiating from the centre of Melbourne. In its early days, it was one of the largest cable car systems in the world, comparable with San Francisco and Chicago, but there were very few hills or steep inclines to deal with.
Most of the infrastructure was built by the Melbourne Tramway Trust, made up by representatives of 12 local councils. The Melbourne Tramway & Omnibus Co. (MTOC) provided the trams and operated services from 1885 to 1916. On expiry of the lease in 1916, the network passed to the Victoria Government then to the government-owned Melbourne and Metropolitan Tramways Board (MMTB) in 1919.
The first electric trams only ran from 1889 to 1896 and did not seriously re-start until 1906, but from 1924 the cable lines were steadily converted to electric traction with the last cable trams running in 1940. A number of gripper and trailer cars have been preserved in Australia, most at the Tramway Heritage Centre at Bylands, Victoria.
The Royal Melbourne Hospital in the picture was taken over in 1946 when the Queen Victoria Memorial Hospital moved to the site.
Trams of various sorts have continuously operated in Melbourne since 1884. Today, the city has the largest urban tramway network in the world with 160 route miles (250km) and around 500 trams, eclipsing the extensive systems of, for example, St.Petersburg, Berlin, Moscow and Vienna.


Go to Postcard Of The Month Index




Reload Home if you linked directly to this page



Postcard of the Month is created by John R. Prentice © Copyright 2018