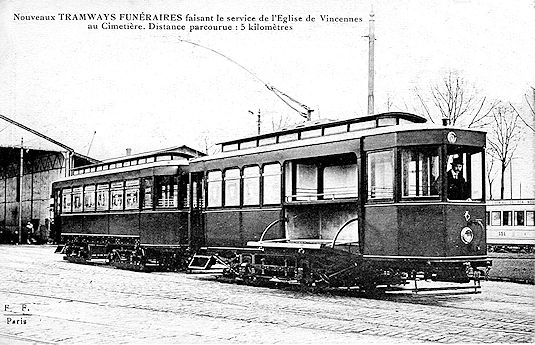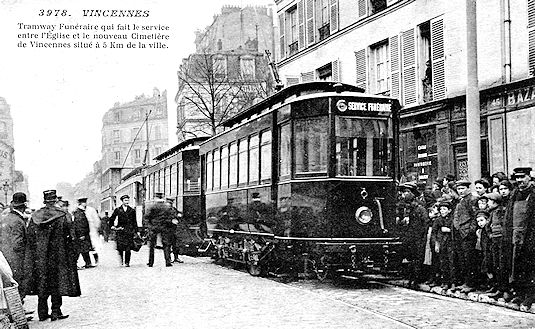 Postcard of the Month
Paris, Vincennes Funeral Tram & Trailer
This time we have two postcards. They show the funeral tram and trailer set of the Chemins de fer Nogentais. The upper card was produced in 1912 by Paris publisher Fernand Fleury, often shown just as "F.F." on their cards. It is outside the depot at Montreuil and in the background is single-deck trailer car 131 built in 1909 using the body of a former Mékarski car. The lower card is a little later in date and was published by E.Malcuit of Paris. It is in the Rue de Fontenay in Vincennes, quite close to the Église Notre-Dame de Vincennes.
The Société des Chemins de Fer Nogentais (CFN) operated the tram services in the east of Paris from 1887 until its joining with the other transport operators in Paris to form the Société des Transports en Commun de la Région Parisienne (STCRP) in 1921. The first vehicles used by CFN were Mékarski compressed air trams (see article). In 1900 the compressed air trams were replaced by double-deck electric cars (see postcard).
The funeral tram service was inaugurated in 1912. It provided the private hire of a tram and trailer to transport the funeral cortege between the Église Notre-Dame de Vincennes and the Vincennes "New Cemetery" (it still is known by that name), 5km distant at Fontenay-sous-Bois. The tram set consisted of a single-deck motor car on a Brill 21E type truck and a single-deck bogie trailer car, both painted black. The motor car had a compartment at the side to carry the coffin and floral tributes, as seen open in the upper postcard. It also had 29 seats behind for the close family and the clergy. The trailer had seats for 51 other mourners.
The later history of the funeral service is uncertain, it probably ceased in the 1920s, but all STCRP public tramway services ended on this route in 1934, being replaced by motor buses.


Go to Postcard Of The Month Index




Reload Home if you linked directly to this page



Postcard of the Month is created by John R. Prentice © Copyright 2022