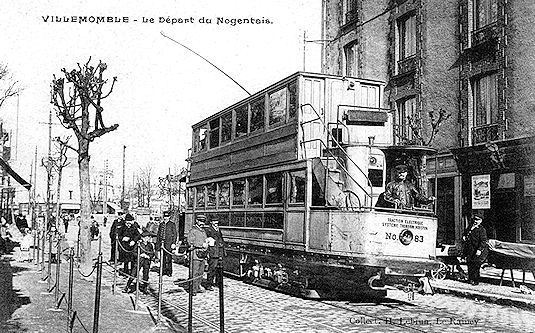 Paris, Chemins de Fer Nogentais double-deckers
Our main postcard shows large bogie car 83 about to depart from Villemomble. The card was published by H. Lebrun of Le Raincy in about 1910. The small view below is of the smaller type 4-wheel car at Noisy-le-Grand at a similar date and by a publisher known as E.S. of 2 Rue Ménars, Paris.
The Société des Chemins de Fer Nogentais (CFN) operated the tram services centred on Vincennes in the east of Paris from 21st August 1887 until its joining with the other transport operators in the city to form the Société des Transports en Commun de la Région Parisienne (STCRP) in 1921. The first vehicles used by CFN were Mékarski compressed air trams (see article). In 1900 the compressed air trams were replaced by double-deck electric cars such as these.
The main routes of the CFN were Ville Evrard to Vincennes, La Maltournée to Vincennes, Bry-sur-Marne to Vincennes, Rosny-sous-Bois to La Maltournée, Villemomble to République, Champigny to Vincennes, Noisy-le-Grand to Vincennes via Bry, Gagny to Vincennes via Noisy and finally Fontenay-sous-Bois to Vincennes. There were two depots, at Montreuil and Maltournée. The generating station was in Rue des Laitières, Vincennes.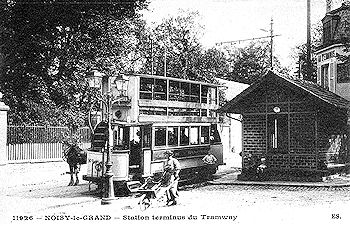 There were two types of double-deck tram that entered service in 1900. Cars 1-51 were 4-wheelers (view right), on Brill 21E style trucks of 2.13 metre wheelbase, later increased to 2.6 metre to prevent bouncing. They had seats for 54 passengers. Cars 52-93 were larger trams on Brill equal-wheel bogies and seating 74 passengers. As built, these could run using accumulators, conduit or overhead wires which were required for route 6 Villemomble to République, as in our main postcard view (above), although the section at the city end was electrified and accumulators were dispensed with in 1903.
Both types of trams had electrical equipment by Thompson-Houston with each having two TH2 43-horsepower motors and air brakes. The livery was yellow. By 1920 the open sides to the upper-deck had been enclosed.
After two experimental prototypes, in 1913 fourteen single-deck 44-seat cars were added to the fleet. All the trams passed into STCRP ownership on 1st January 1921 and the former CFN services ended in 1934-37, being replaced by STCRP motor buses.


Go to Postcard Of The Month Index




Reload Home if you linked directly to this page



Postcard of the Month is created by John R. Prentice © Copyright 2021