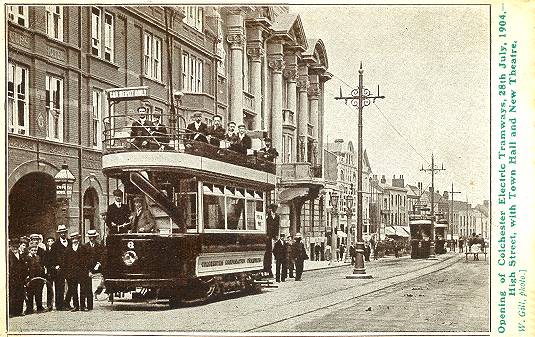 Colchester Corporation Car 6, Opening Tramway
This postcard by an unknown local publisher is from a photo by W.Gill, and is a "news" item commemorating the opening of Colchester's tramway on 28th July 1904. The destination of the tram reads "Car Depot Only" and this is most probably one of the first cars in public service. It is standing in front of the Town Hall and the New Theatre. Our card was posted on 3rd August 1904, 6 days after the opening, with the sender stating that he had taken a ride the previous day.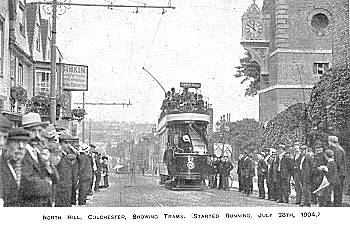 The smaller view left is also from an unknown publisher showing the new tramway and probably on the first day judging by the crowd of onlookers. This time it is car 13 on North Hill with the destination showing "Town Hall". Car 13 was in fact the very first tram and was driven by the Mayoress for the official opening, but this view would be later in the day. Our card was posted from Colchester on 16th August 1904. The sender wrote "I do not know if you will like the noise of the trams", and also seemed to recognize the gent on the left in the straw hat, perhaps himself.
In connection with a Christmas postcard, we have described the tramway and its trams before (see Postcard), so here it suffices to say that the two trams shown are from the batch of sixteen cars built for the opening by the Electric Railway & Tramway Carriage Works Ltd. of Preston.
The Colchester tramway closed on 8th December 1929 being replaced by motor buses.


Go to Postcard Of The Month Index




Reload Home if you linked directly to this page



Postcard of the Month is created by John R. Prentice © Copyright 2017