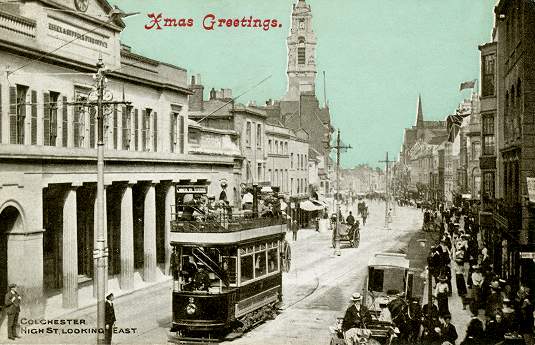 Colchester Corporation Car 3, High Street looking East
The postcard view dates from around 1905, and is in the "Dainty" series, produced by E.T.W.Dennis of Scarborough. This example has the "Xmas Greetings" overprint and is postmarked 25th December 1906, for in those days the British Post Office actually delivered on Christmas day.
The view shows Colchester Town Hall on the left, and the tram is on one of the few sections of double track on the system. The single track at either side of this location, was protected by light signals. The tramway, built to 3ft. 6in. gauge, was opened on 28/7/1904, and after a small extension on 28/1/1906 became 5.74 miles in length, comprising of four routes. The system closed on 8/12/1929.
Tramcar 3 was one in the class numbered 1-16. They were built in 1904 by the Electric Railway & Tramway Carriage Works Ltd. of Preston, and had Brill 21E trucks and Dick Kerr motors and controllers. Due to hills, all trams had track brakes. They had 22 seats on the lower deck and 24 on the upper. For the extension in 1906, two additional cars (17-18) were purchased, but by this time E.R. & T.C.W. had become the United Electric Car Co. Ltd. The livery is described as Maroon or Dark Brown and Cream.

Go to Postcard Of The Month Index




Reload Home if you linked directly to this page



Postcard of the Month is created by John R. Prentice © Copyright 1998