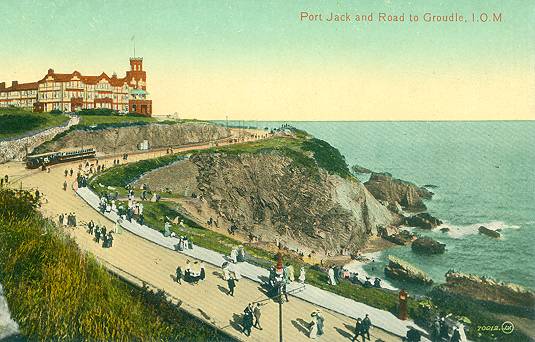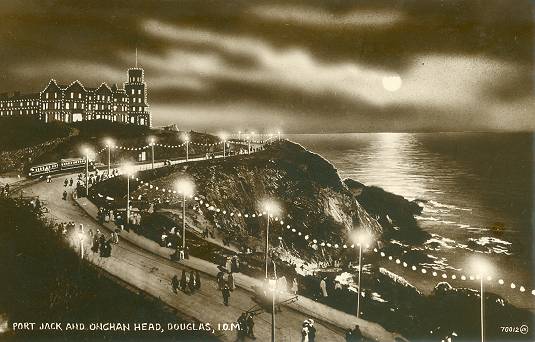 Manx Electric Railway, Port Jack
Our two views here illustrate another example of the postcard publisher's art. The first is titled "Port Jack and Road to Groudle, I.O.M.", the second "Port Jack and Onchan Head, Douglas I.O.M." Both are in the Valentine's series and are numbered 70012. The first is litho printed in colour. This card dates from 1910. The second is from the same negative but has been artistically modified to represent a night-time scene. It is printed in sepia by a photographic process, claiming on the back to be a "real photograph", somewhat of an exaggeration considering the modified nature of the content.
The small view below uses the same concept but is somewhat later, dating from the 1930's. It is Valentine's number 219622 and is in their "Carbo Colour" series. The view is in Loch Promenade at the southern terminus of the Douglas horse tramway
As the Douglas & Laxey Coast Electric Tramway Co., the Manx Electric Railway opened its first section of this 3ft gauge line as far as Groudle Glen on 7th September 1893. On leaving the terminus at Derby Castle, Port Jack is the first stop. The tram in our view is climbing the 1:23.6 gradient to Onchan Head. In the image it is very small but appears to be one of the "tunnel" cars, 4-9, pulling one of the earliest open sided trailers. The Manx Electric Railway has been previously described, (see Postcard)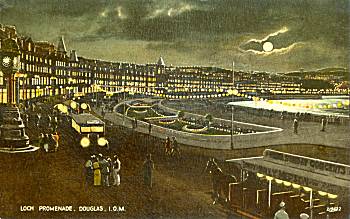 Valentine & Sons postcards were one of the most famous in the UK. The Valentine company was first founded as a printers in Dundee, Scotland in 1825 by John Valentine. His son James studied photography in Paris and then joined the company in 1851, where from 1860 onwards they produced portraits, photographic views, stereo views and lantern slides. James died in 1879 and then the company was run by his sons William Dobson and George Dobson, although George emigrated to New Zealand in 1884. From 1897 the company started to produce postcard views, many based on their existing negatives. By 1907 Valentine & Sons, by then a public company, employed some 40 artists who worked retouching the postcard views, something very applicable to the postcards here and to numerous other cards which include trams. In 1937 a new works was opened in Kingsway, Dundee (closed 1994). By the 1950s production had largely switched to producing greetings cards. The company was taken by John Waddington & Co. in 1963, and sold to Hallmark Cards Inc. in 1980, the last new postcard having published in 1967. The archive of Valentines views is held in Scotland by St Andrew's University.


Go to Postcard Of The Month Index




Reload Home if you linked directly to this page



Postcard of the Month is created by John R. Prentice © Copyright 2016