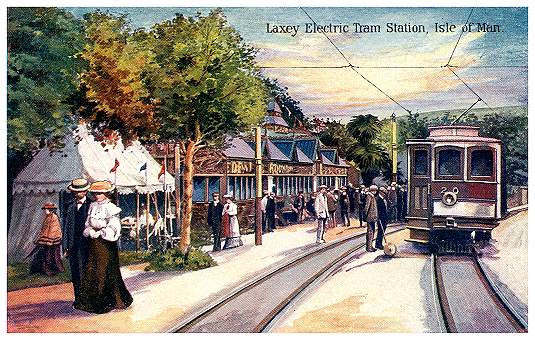 Manx Electric Railway Car 20, Laxey Electric Tram Station
Published in around 1910 by Boots Cash Chemists of Nottingham, this 'painting style' postcard shows the station at Laxey, Isle of Man, with Winter Saloon car 20 of the Manx Electric Railway. The debate as to whether it is a tramway or a railway continues to this day although the card publisher is obviously convinced and there is no doubt that the vehicle running on it is a tram. The first small view below is an extract from a card of Groudle Glen by an unknown publisher, posted in 1907 but with a much earlier photograph, about 1896, showing a very rare view of car 12 in service. The second is an extract from a card at Laxey by a publisher with the initials C & Co. and dates from 1904.
The Douglas & Laxey Coast Electric Tramway Co. opened the first section of this 3ft gauge line as far as Groudle Glen on 7th September 1893, extending to Laxey on 28th July 1894 and changing its name to the Isle of Man Tramways & Electric Power Co. The northern section to Ramsey was opened on 24th July 1899, bringing the coastal tramway to its maximum (and current) length of 17¾ miles. In 1894 the company took over the Douglas horse tramway with thoughts of extending the electric line through to the pier, and in 1896 opened the Upper Douglas cable tramway. In 1899 there was a financial scandal involving the funding of the Ramsey section by Dumbell's Bank which ultimately caused the collapse of the bank and drove the tramway into receivership. In 1902 the Manx Electric Railway Company was formed and took over from the receivers the coastal line and the former company owned Snaefell Mountain Railway (see Postcard), the Douglas horse and cable tramways (see Postcard) passing to Douglas Corporation.
There are depots at Derby Castle (Douglas) which is the main works, Laxey and Ramsey. Originally the system generated its own electricity supplied at 500 volts DC, with power stations at Douglas, Laxey and Ballaglass. Initially the trams used bow collectors (as in the small view of car 12 below) but these were replaced by fixed head trolley poles in 1898. At first the tramway was single track with passing loops, but later was doubled throughout. The livery of all the trams is red, white and teak, although it is thought that the initial batch of trams was originally painted Prussian blue. Most of the original rolling stock exists, at present 24 motor cars and 23 trailers, many of the trams still in regular service.
Passenger rolling stock consists of single deck bogie cars and trailers, some enclosed, some open crossbench. Car 20 in our main postcard is an enclosed 'Winter Saloon', one of a batch of four cars, numbered 19-22, built by G.F.Milnes & Co. Ltd. of Birkenhead in 1899 for the winter service. They seat 48 and since 1904 run on Brill 27Cx bogies with four 25 horsepower motors from Société l'Électricité et l'Hydraulique of Charleroi, Belgium (SEHC) and with General Electric K.12 controllers (converted from K.11 in 1936). All four are still in service today, although 22 was badly damaged by fire in September 1990 and was rebuilt with bodywork by McArds of Port Erin, returning to service in 1992.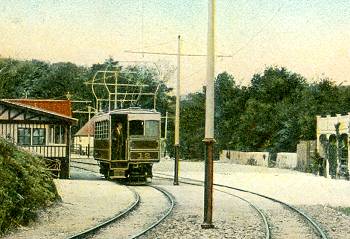 Car 12 in the small view left was one of a batch of four cars, numbered 10-13 and similar in design to the Snaefell trams, built by G.F.Milnes in 1895. They seated 48 and ran on Milnes plate-frame bogies with four 25 horsepower motors and other electrical equipment from Mather & Platt. All four were withdrawn from service in 1902, car 12 being converted into a powered cattle car the following year, was de-motored in 1912 and scrapped in 1927.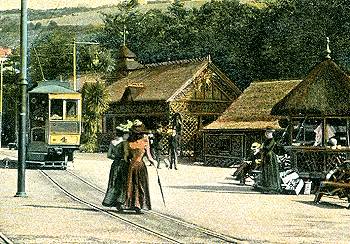 Car 4 in the small view right was one of a batch of six cars, numbered 4-9, built by G.F.Milnes in 1894. They had longitudinal seats for 36, giving the trams the nickname 'tunnel cars', and originally ran on Milnes plate-frame bogies with electrical equipment from Mather & Platt. Our car 4 together with sister car 8 were lost in the 1930 Laxey depot fire, but the other four remain in service although there have been modifications to seating and bodies over the years and they now have Brush type D bogies with four 25 horsepower SEHC motors and with General Electric K.12 controllers (converted from K.11).
Apart from the Laxey depot fire of 1930 which destroyed 4 motor cars and 8 trailers, the tramway had a fairly uneventful and profitable life until the 1950s. There was then a sharp fall in the tourist trade which badly affected the line, causing it to be nationalised by the Manx government, who briefly introduced a much criticised but short lived green and white livery. In 2005 the winter service was abolished, but apart from that you can still ride the line today and travel on a 100-year old tramcar, the newest dating from 1906. In fact, cars 1 and 2 of 1893 are believed to be the oldest trams in the world still in service on their original line.
For those with a further interest in the Manx Electric Railway and how to model it, there is a book available from the TLRS On-line Sales.

Go to Postcard Of The Month Index




Reload Home if you linked directly to this page



Postcard of the Month is created by John R. Prentice © Copyright 2010