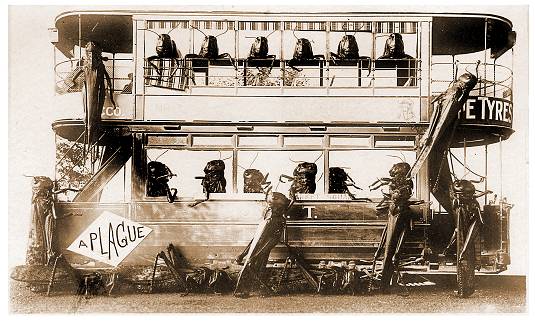 Johannesburg Municipal Tramways, Plague of Locusts
In another postcard we took a look at what postcard publishers would do using photo montage (see LCC Christmas Greetings postcard). Here is something far more bizarre, one might almost say macabre. The postcard was published by Sallo Epstein & Co. of Johannesburg. On 23 March 1907, the worst plague of locusts on record hit the city and this card 'commemorates' the event.
The view shows a tram of the Johannesburg Municipal Tramways, which we have described before (see Johannesburg postcard). Photographs of locusts, or maybe even dead locusts, have been placed on a photo of the tram and then a new image taken to produce this strange postcard. The only caption is the words "A Plague", superimposed on the car's dash. This would of course refer to the biblical text in the Book of Exodus, where ten plagues were brought down onto the Egyptians to persuade the Pharaoh (possibly Ramesses II) to allow the Israelites freedom from slavery and to leave the country, a swarm of locusts that ate everything and occupied the houses being the eighth plague.
Johannesburg Municipal Tramways operated electric trams from 1906 to 1961. The tram in the picture which is one of the initial order of 60, numbered 1-20 and 41-80, built by the Electric Railway and Tramway Carriage Works Ltd., (from late in 1905 renamed the United Electric Car Company Ltd.) at Preston, England in 1905/06. They were shipped in parts from Liverpool to Durban and assembled in Johannesburg. Each car had two Dick Kerr DK 3A4 35 horsepower motors, Dick Kerr DB1 form B controllers and was mounted on a Brill 21E, 6ft 6in wheelbase four-wheel truck. Cars 1-20 had transverse seating on the lower deck but on cars 41- 80 it was longitudinal. A number of Johannesburg trams were preserved and of the four-wheelers car number 20 (with other types) was kept in Johannesburg at the James Hall Museum of Transport and car number 60 is at the National Tramway Museum at Crich in England.


Go to Postcard Of The Month Index




Reload Home if you linked directly to this page



Postcard of the Month is created by John R. Prentice © Copyright 2016