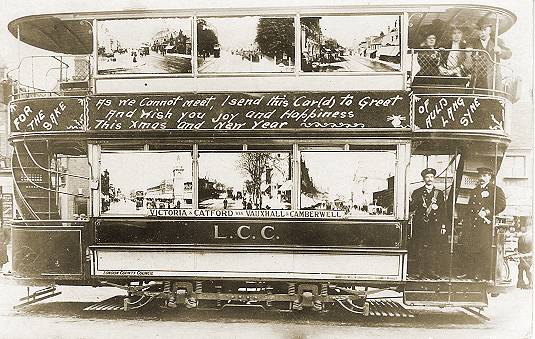 London County Council Class C Car, Christmas Greetings
Christmas Greetings. This real photographic card from an unknown but probably local publisher gives us a good example of the postcard maker's art. It depicts a London County Council Tramways class C tram in about 1910, but has been extensively modified.
The main advert panel carries the wording "As we cannot meet, I send this car(d) to greet and wish you joy and happiness this Xmas and New Year." Note the little cat in the bottom right hand corner. The end panels say "For the sake" and "of Auld Lang Syne". Of course all this has been added by the publisher. Each window of the tram contains smaller views, probably from other postcards, and each of these has a tram in it.
Although today this sort of thing would easily be produced using image manipulation software, in those days the card was probably produced using a photomontage. A large print of the tram photo would have been made. The advert panels would have been blocked out and the wording added. The small photos would have been printed, cut to the exact shape of the car windows and stuck onto the large picture. The whole thing would then be re-photographed and the card produced from that negative.
The tram itself is one of a hundred class C cars, numbered 202-301, supplied by British Westinghouse in 1904. The bodies were built by the Brush Electrical & Engineering Co. Ltd. of Loughborough, seating 22 on the lower deck and 34 on the upper. They had Brill 21E 6ft 6in wheelbase trucks with two Westinghouse type 200 30 horsepower motors, and used Westinghouse 90M controllers. A plough carrier was fitted between the axles in the centre of the truck. This tram has been rebuilt from its original open-top condition to have open balconies but retaining the reversed stairs and in this state was known as class C1.


Go to Postcard Of The Month Index




Reload Home if you linked directly to this page



Postcard of the Month is created by John R. Prentice © Copyright 2015