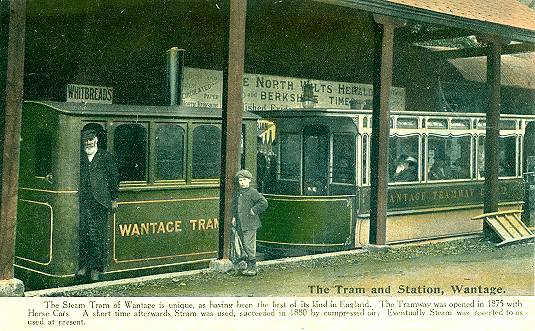 The Wantage Tramway Loco 6 and Trailer 5, Wantage Station
We see here the tramway of the Wantage Tramway Co. Ltd. Loco 6 and trailer 5 are standing in the station at Wantage. The photo probably dates from around 1913 although this coloured version could be a little later. The olive green colours are more or less correct for this period although earlier the trailers may have been brown and cream. The card caption gives a few historical details of the tramway. The postcard was published by Tomkins and Barrett of Swindon and is in their "Famous" series. The smaller contemporary view below is also from that series and shows these same vehicles but at Lockinge Park.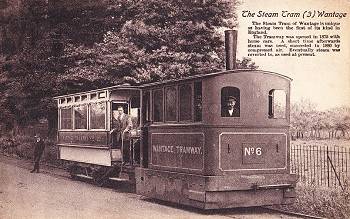 The Wantage Tramway was built as a horse tramway under the 1870 Tramways Act to connect the Great Western Railway's (GWR) station at Wantage Road on their route to Swindon with the town of Wantage, two and a half miles away. It was constructed to standard gauge with 40 lb. per yard bridge rails mounted on longitudinal wooden sleepers, single track with four passing loops although two loops were later removed. It was a traditional roadside tramway, quite common in continental Europe, but unusual in the UK. It opened for passenger service on 11th October 1875 although goods service had begun ten days earlier. At Wantage Road the tramway started just outside the GWR station. There was a connection to the adjacent GWR goods yard to enable the through running of wagons. It ran by the side of what is now the A338 and ended at a station in Wantage just off Mill Street in the town centre where there was also the depot and a goods yard. A second goods yard was added in 1905 near the Wantage arm of the Berkshire & Wiltshire canal, the only route change ever made to the tramway.
Even before the line opened there was experimentation with steam in the shape of trials of the Grantham Steam Car (see Grantham Steam Car article). This was later purchased by the tramway and ran until about 1890. At first there were two horse trams from the Starbuck Car & Wagon Company of Cleveland Street, Birkenhead, one double-deck for the opening (the only double-deck car ever used) and one single-deck delivered two months later. From 1877 more conventional steam traction was used to pull these trams, with horse traffic ceasing about 1888. The tramway did undertake a trial of two Mékarski compressed air locomotives for three months from 5th August 1880 (see Compressed Air Trams history). Passenger services continued until 31st July 1925, when traffic had badly fallen off due to the GWR's rival bus service. Goods traffic continued until 21st December 1946.
Rolling stock is complex as there were no two vehicles alike, most being second-hand, so it is easier to show it in table form. Photos of some vehicles can be seen in our Historical Photos section.
Locos
No.3 - Grantham Steam Car built 1873. (car number uncertain)

No.4 - Henry Hughes Steam Tram Engine built 1877.

No.5 - 0-4-0 well tank goods engine built by George England & Co. of New Cross, London in 1857 for the Sandy & Potton Railway. Sold to Wantage in 1878. Was known unofficially as "Jane". Preserved at Didcot.

No.6 - Matthews Patent Tramway Engine built 1882.

No.7 - 0-4-0 saddle tank loco built by Manning Wardle & Co. for the Manchester Ship Canal construction in 1888. Sold to Wantage in 1893. Was known unofficially as "Mary".

No.1329 - 0-4-0 saddle tank loco built for the Avonside Engine Co. in 1874 for the South Devon Railway. Sold to Wantage by GWR in 1910 but little used and so not renumbered.

Passenger trailers
No.1 - Double-deck horse tram built by Starbuck of Birkenhead in early 1875. Converted to single-deck before 1900.

No.2 - Single-deck horse tram built by Starbuck in late 1875.

No.3 - Single-deck trailer car built by G.F.Milnes of Birkenhead in 1890.

No.4 & No.5 (original) - ex-Reading Tramways Company horse trams from unknown manufacturer built 1880. Sold to Wantage in 1903. Converted to single-deck. Replaced in 1912.

No.4 (new) - Built by Hurst, Nelson & Co. of Motherwell in 1900 as a double-deck electric bogie car for the International Tramways & Light Railways Exhibition then stored. Rebuilt for Wantage as single-deck bogie trailer in 1912. The only bogie tram at Wantage.

No.5 (new) - Single-deck trailer part built by Hurst, Nelson in 1904 to an order for Bradford Corporation but never delivered. Completed for Wantage in 1912.

Loco 5 was bought in 1946 by the GWR after the tramway closed and after cosmetic restoration at Swindon and fitted with a name plate "Shannon", its original name at Sandy & Potton, was displayed on a plinth at Wantage Road station from 1948 until 1966 (Wantage Road having closed for passengers at the end of 1964). After brief local storage, since 1969 it has been at the Didcot Railway Centre where it has been restored and for a while was in running order, although now needs major work due to cracks in its firebox.


Go to Postcard Of The Month Index




Reload Home if you linked directly to this page



Postcard of the Month is created by John R. Prentice © Copyright 2015