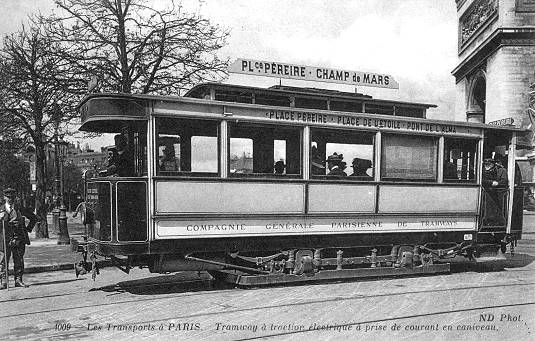 Paris, Compagnie Général Parisienne de Tramways Electric Tram 390
In 1910 Neurdein et Cie of Paris ("N.D.Phot") produced a series of postcards showing transport systems used in Paris. This is card 4009 in the series and shows electric tram 390 of the Compagnie Général Parisienne de Tramways. The card caption says that the tram is operated by conduit current collection.
Other postcards from this N.D.Phot series are:
Accumulator Car
Horse Tram
Lamm & Francq Fireless Steam Tram
Est-Parisien Electric Tram
Purrey Steam Trams (the small views).
Compressed Air Tram (the small view).

In 1884 the two main suburban horse tram companies in Paris, Tramways Nord in the north and Tramways Sud in the south were in financial difficulties and failed. Two new companies were formed in 1887 to operate the trams, Tramways de Paris et du Département de la Seine (TPDS) for the north and Compagnie Général Parisienne de Tramways (CGPT) for the south, and on 6th August 1890 they officially took over the former companies. CGPT in due course extended their tramway and electrified the system with a combination of overhead and side conduit current collection.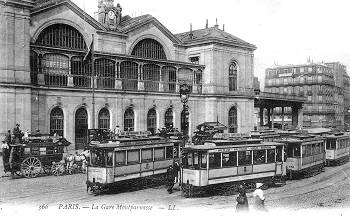 Tram 390 was one of 90 trams (301-390) built in 1900, initially for service on the routes around Montparnasse. The small view left shows a group of four of these trams at Montparnasse in around 1905 and is from a Levy Fils postcard. When built they were fitted for conduit only as in our views, but later were fitted with trolley poles. They were asymmetrical, having a large platform at one end, suitable for carrying goods and a smaller one at the other for the driver only. The electrical equipment was by Thomson-Houston and consisted of two 35 horsepower GE58 motors and K9 controllers having five series and four parallel notches. They were fitted with Lipkowski air brakes. The cars were mounted on 2.133 metre (7 foot) wheelbase Brill 21E four-wheel trucks. The body was divided into first and second class compartments fitted with longitudinal bench seats. At the large platform end was the second class which seated twelve, the first class seating ten. Thirteen standing passengers were allowed on the large platform and four on the small, bringing the total capacity to thirty-nine. The livery was yellow and cream with dark green dash panels.
The tram in our postcard is on CGPT route 14 which at that date operated from Place Périere to Champs de Mars via Place de l'Etoile and Pont de l'Alma. As with all the Paris tram companies, the CGPT passed to the control of the Société des Transports en Commun de la Région Parisienne (STCRP) in 1921. Trams were abandoned by 1938 in favour of motor buses.

Go to Postcard Of The Month Index




Reload Home if you linked directly to this page



Postcard of the Month is created by John R. Prentice © Copyright 2015