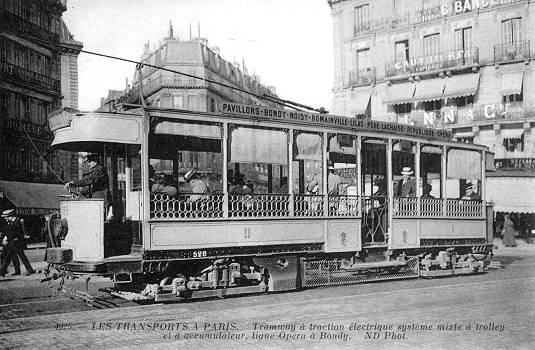 Paris, Compagnie des Tramways de l'Est-Parisien Electric Tram 528
In 1910 Neurdein et Cie of Paris ("N.D.Phot") produced a series of postcards showing transport systems used in Paris. This is card 4025 in the series and shows electric tram 528 of the Compagnie des Tramways de l'Est-Parisien (EP). The card caption says that the tram is operated by overhead supply and accumulators, but in fact is incorrect as the trams were overhead and conduit or studs.
Other postcards from this N.D.Phot series are:
Accumulator Car
Horse Tram
Lamm & Francq Fireless Steam Tram
CGPT Electric Tram
Purrey Steam Trams (the small views).
Compressed Air Tram (the small view).

The EP was formed from 1899 by the amalgamation of three earlier tram systems. First there was the Tramways de Saint-Maur, in 1900 the Tramway de Romainville joined and in 1901 the Tramway du Raincy à Montfermeil. The lines of these three companies were extended and various new routes added with routes terminating in central Paris at two points, Opéra (overhead) and Concorde (studs). The Saint-Maur lines which had previously been operated by Mékarski compressed air trams were electrified with overhead. Romainville used Claret-Vuilleumier surface contact mechanically operated studs. EP replaced these by overhead wires and Diatto studs. The Raincy line, previously steam had already been electrified with overhead. Later studs were replaced by overhead and in some places side conduit, the last studs being removed in 1913. The overhead in the central areas was also replaced by side conduit in 1909.
Tram 528 was one of 45 cars rebuilt by EP in 1907-10 from former trailer cars, which were originally built in 1900 on 6.3 metre wheelbase Rechter two axle radial trucks. Of these cars, twenty-three (512-521 and 523-535) were completely open sided and known as été (summer) cars. The other twenty-two (522 and 536-556) were known as mixte and had removable glazed side panels so the cars were suitable for summer or winter. They had centre entrances with first and second class compartments on either side, seating eight and fourteen people respectively on transverse seats. There was space on the platforms and elsewhere for a further twenty-five standing passengers. The trams were mounted on reversed maximum tractions bogies. Electrical equipment was by Westinghouse and consisted of two 30 horsepower W69 motors, and 28A controllers which had four series and three parallel notches. They had Soulerin air brakes and were fitted for overhead and side conduit current collection. The livery was yellow.
The tram in our postcard is on EP route 1 which at that date ran from Pavillons-sous-Bois (Bondy) to Opéra via Noisy, Romainville, Lilas and Place de la République. As with all the Paris tram companies, the EP passed to the control of the Société des Transports en Commun de la Région Parisienne (STCRP) in 1921. Trams were abandoned by 1938 in favour of motor buses.


Go to Postcard Of The Month Index




Reload Home if you linked directly to this page



Postcard of the Month is created by John R. Prentice © Copyright 2014