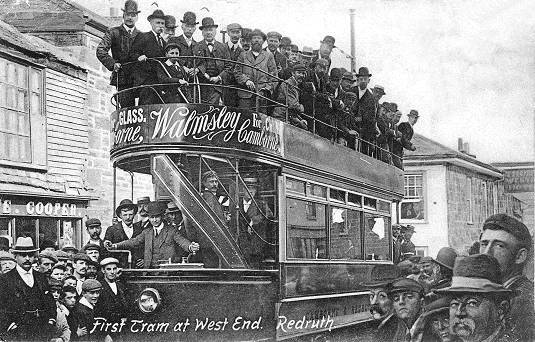 Camborne & Redruth Tramway Car 1, West End, Redruth
From postcard publisher F. Frith & Co. Ltd of Reigate we get this view titled "First Tram at West End, Redruth". The huge crowd suggests that the photograph was indeed a special occasion. Francis Frith has undertaken some retouching of the image, the people in the bottom right corner certainly look to have been adjusted, but the tram itself looks correct. By comparison with other photographs, we are fairly sure that this is the demonstration of the tramway to local councillors on October 1st 1902. The gentleman at the controls is Mr Shakespeare Hanning, the General Manager of the tramway owners, Urban Electric Supply Co. Ltd. Our postcard was posted in September 1905.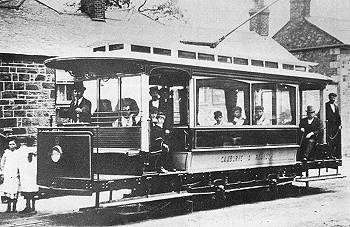 The two smaller views are from contemporary photographs. The single deck combination car is tram 6. It is seen during trials in September 1902 outside the "Plume of Feathers" in Pool. The locomotive is No. 2 and is pulling a tin ore train at the East Pool mine in 1904. The tramway has been described elsewhere (see Postcard) so here we will concentrate on the rolling stock.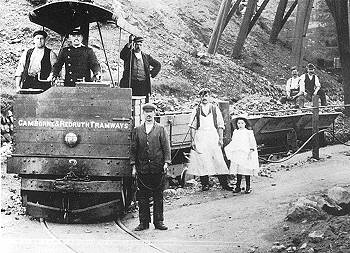 Car 1 is our main view was one of six built by G.F.Milnes & Co. at Hadley, Shropshire. Cars 1-4 were delivered in 1902 for the tramway opening and cars 7-8 followed in 1903. They were open top 4-wheel cars seating 22 inside and 26 on top. The trucks were Milnes own manufacture, each fitted with two General Electric GE 58-6T 28 horsepower motors and controlled by BTH B18 controllers. Trams 5-6 ( above left) were also from Milnes and were delivered in 1902. These were single deck combination cars used to assist the service in peak periods. They had the same equipment as the double-deckers. Passenger cars were painted green and cream. Finally there were two goods locomotives 1-2 (right). These were built by Milnes in 1903. They had rigid frames for trucks, fitted with two GE KT60 25 horsepower motors and controlled by BTH B18 controllers.


Go to Postcard Of The Month Index




Reload Home if you linked directly to this page



Postcard of the Month is created by John R. Prentice © Copyright 2014