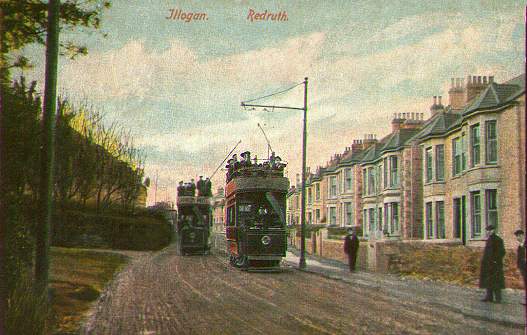 Camborne & Redruth Tramway, Illogan, Redruth
This postcard, printed in London, dates from 1905 and is postmarked on October 13th of that year. It shows trams 4 and 1 of the Camborne & Redruth Tramway, passing on the Barncoose loop on Illogan Highway, near Redruth.
The trams are typical of the six green and cream double-deck cars of the tramway, which was opened on 7th November 1902, to connect these two Cornish towns, and to serve the tin mines at Pool in between. There were also two single deck trams on the line, which was Cornwall's only electric tramway. As well as passengers, parcels were carried for a flat fare of 2d. These were then delivered onward by cart. In addition, at 12 noon, a tram known as the "Pasty Special" left Redruth. It delivered pasties and other hot lunchtime snacks prepared by miners' wives, to a number of fixed points, and for which the fare of 1d. per item was charged. The tramway closed for service on 29th September 1927.
Trains pulled by two small electric locomotives, ran over the tram tracks at Pool carrying ore from the workings of the East Pool and Wheal Agar United Mining Company to the crushing plant, known as "stamps", at Tolvaddon. This service began in May 1903, when branch tracks were laid to the mines on either side of the main tram route. The Cornish Engines in their engine houses at this location i.e. Old East Pool to the south and Taylor's Shaft to the north, have been preserved by the National Trust. The mineral service continued until August 1934 when it was replaced by a system of overhead buckets.

Go to Postcard Of The Month Index




Reload Home if you linked directly to this page



Postcard of the Month is created by John R. Prentice © Copyright 1999