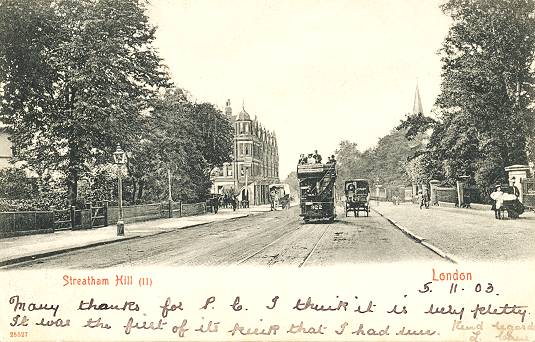 Kennington and Streatham Cable Tramway, Streatham Hill
Our main postcard (with an enlarged extract below) shows cable tram 922 on Streatham Hill in South London. It is an undivided back card published by Stengel & Co., London E.C. in 1901 or 1902, with our copy being posted from Brixton to Hounslow on 6th November 1903. It is serial no. 25527 and was printed by collotype in Dresden. The second smaller view below shows car 218 and is an extract from card serial no. 19726 from the same publisher and is a little earlier. The final view is at the same location as our main view, but this time shows the replacing LCC electric trams 157 and 159. Again from Stengel & Co., this is serial no. E 26293 and was printed in Saxony, our copy being posted in 1908.
The cable tramway was built by Dick Kerr & Co. Ltd. for the London Tramways Company under powers granted by the London Tramways Company Act of 1890, as an extension of the horse tramway which terminated at the foot of Brixton Hill. The new cable tramway ran up Brixton Hill and Streatham Hill, and the existing horse tramway was converted to cable back as far as Kennington. It opened for traffic on 11th August 1891 but with horse traction only and it was not until 7th December that full cable working started, with the completion of the Kennington section. In 1895 the line was extended to Streatham village giving a total cable tramway of around three miles.

Initially the line was worked by four-wheel cable dummies pulling horse trams which had journeyed from London termini as far as Kennington Church. The dummies were fitted with hand wheel operated grippers worked by the tram driver. Ultimately there were 50 of these. At first the trams were ordinary 44 seat horse cars, but from 1895 they were reconstructed in 7 and later 8 window forms to block the leading end nearside entrances (on a board of Trade recommendation). From 1889 passenger cars were fitted with their own gripper mechanisms, some 76 cars eventually being converted and it is trams of this type that are shown in our postcards.
The cable system was similar to that used on Highgate Hill (see postcard) and in San Francisco today. A continuously moving cable is housed in a conduit between the running rails, and when the gripper is engaged the tram moves forward. The conduit was formed by cast iron yokes carrying "Z" rails to create the slot. The cable was carried by 14in diameter vertical pulleys 50 feet apart, but at curves they were set horizontally at intervals to suit the conditions. The depot and engine house was at Telford Avenue. There were four mechanically stoked Babcock and Wilcox boilers, usually only three in steam at a time. These supplied steam at 100 psi to two horizontal compound engines with Corliss gear.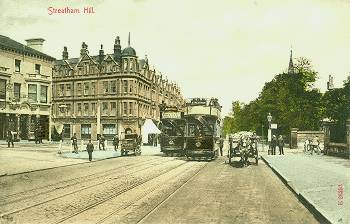 The London Tramways company was taken over by the London County Council on 1st January 1899. From August to October 1903, B class electric cars were experimentally cable hauled over the line but this was not successful, mainly due to the weight of the cars, so operation reverted to the cable trams with passengers changing cars at Kennington. On 5th April 1904 the cable line closed and was converted to conduit electric operation. For a while the steam engine was used to generate electricity.


Go to Postcard Of The Month Index




Reload Home if you linked directly to this page



Postcard of the Month is created by John R. Prentice © Copyright 2014