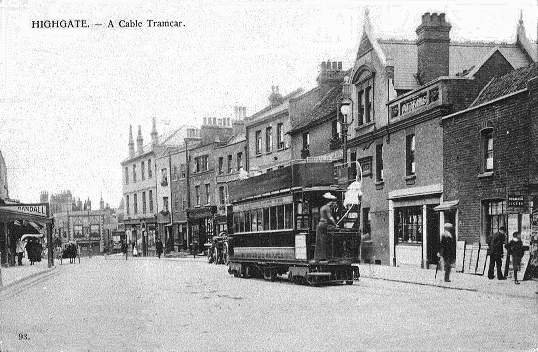 Highgate Hill Cable Tramway, Car 9
Published by Charles Martin of 39 Aldermanbury, London E.C. as No.93 in his extensive series of London view cards, this postcard shows double deck cable tram number 9 at the Highgate Village terminus of the Highgate Hill Cable Tramway. The view dates from around 1904, our example being posted on 9th August 1906. The smaller view below is from the same publisher and shows two cars at about the same date passing Cromwell House which was close to the depot.
Authorisation for construction of the tramway was given on 3rd July 1882 to the Steep Grade Tramway & Works Co. Ltd. (several changes of actual company ownership and name took place during the early days) and was built in 1883 by the Hallidie Patent Cable Tramways Corporation Ltd., managed by James Clifton Robinson. An engineer from San Francisco was originally employed to produce designs, but due to lack of progress was replaced by German born American cable tramway engineer, William E. Eppelsheimer. The line was to 3ft.6in. gauge, running just over five-eighths of a mile on Highgate Hill from a lower terminus outside the Archway Tavern to Highgate Village at the Junction with Southwood Lane. It used the Andrew Smith Hallidie system of a continuously running cable to which the cars can attach with a "gripper" as necessary to start and stop, as is still used in San Francisco today. Gradients varied from 1 in 28 to 1 in 11, with the line climbing about 200 feet. The first car ran (under test) on 10th May 1884, with an official opening by the Lord Mayor of London , Sir Robert Fowler, on 29th May, public service starting the following day. It was the first cable tramway of this type in Europe.
The continuous cable was some 8,000 feet long and about 15/16th of an inch in diameter. It passed from the winding house (and depot) about half way along the route and at right angles to the line, down to the lower terminus and round an adjustable counterweighted pulley, up to the top and around a fixed pulley and then back to the winding house. Descending cars would "drop" the cable while passing the winding house. Trams were propelled in and out of the depot by horses. The cable was carried on pulleys in a conduit between the running rails, the track being double downhill of the depot and single with passing loops uphill. The power was from two 25 h.p. steam engines by Jessop of Leicester, each having two cylinders of 14 in. diameter and 28 in. stroke, steam coming from two boilers by Babcock & Wilcox of Glasgow.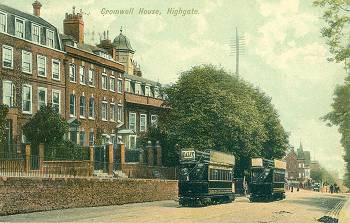 The original rolling stock of 1884 consisted of three double-deck four-wheel trailer cars (1-3) seating 20 passengers inside and 22 on top, 3 single-deck open sided "dummy" gripper tractor cars (4-6) which also had seats for a few passengers (see historic photo), and two double-deck self contained gripper bogie cars (7 & 8), with two additional self contained cars (9 as in our view & 10) being added soon after opening. All cars were built by the Falcon Iron Works of Loughborough. The cars had wheel and track brakes and speed was limited to 6 m.p.h., the cable being "governed" to this speed, with a 4 m.p.h. limit imposed when coasting downhill through the depot points. There is photographic evidence to suggest that some of the cars were later renumbered.
The fares were at first 2d. each way, later 2d. up and 1d. down and finally 1d. each way (1d. i.e. 1 old penny = 0.42 new pence). The line was never financially successful, mainly because it was initially constructed, equipped and staffed with a view to large extensions to the line which never occurred (6.5 miles to Finchley and Barnet), although at its peak it carried 680,000 passengers per annum running 85,000 miles. There were a number of minor runaways, but on 5th December 1892 a runaway and subsequent accident caused the tramway to close pending inspection and the operating licence was not renewed. It was not until 19th April 1897 that the tramway reopened under a new company, the Highgate Hill Tramways Ltd.
In 1909 the London County Council purchased the line for £13,000 and the cable tramway was closed on 24th August 1909. L.C.C. re-laid the track to standard gauge and reopened it as an electric conduit tramway on 25th March 1910. The conduit was strengthened to allow for special "slot" brakes which gripped the upper and lower surfaces of the slot rail. At first the service was run as a shuttle by B class cars 184 and 187 and C class car 277, to which the special brakes had been fitted, but after several months these were replaced by route 11 through service using new M class cars (1438 - 1476) which were constructed with these brakes. During 1931 the M class cars were replaced by the new HR2 class cars, and since the slot rail was by then considered worn out, slipper and magnetic brakes were used and were found to be adequate.
Finally, between 10th December 1939 and 19th July 1960 Highgate Hill was served by London Transport Trolleybus route 611 using forty vehicles of classes J3 and L1, fitted with special electrical brakes which prevented run backs and limited downhill coasting speed to 16 m.p.h. with a maximum of 19 m.p.h.

Go to Postcard Of The Month Index




Reload Home if you linked directly to this page



Postcard of the Month is created by John R. Prentice © Copyright 2002