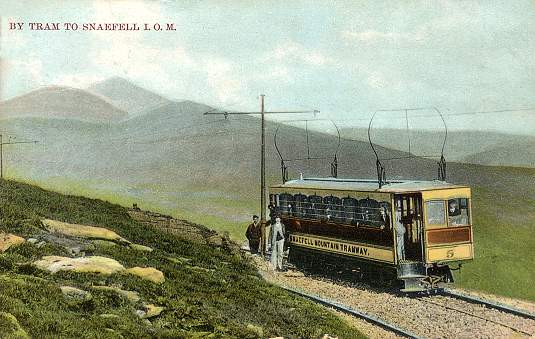 Snaefell Mountain Railway Car 5, Snaefell Summit
This postcard dates from around 1905 and is in the Baur's series, although the photograph is earlier as the tram does not have a clerestory roof which was fitted to all cars in 1896/7. It shows car 5 of the Snaefell Mountain Tramway in the Isle of Man. The caption reads "By tram to Snaefell", clearly it was considered a tramway when built. Our example was posted on 22nd May 1907 from Douglas IOM to Dover in Kent. The writer comments "We ascended this mountain yesterday but got down again as quickly as we could, owing to the bitter cold and a very heavy snowstorm which was raging". In May!
The summit of Snaefell, the Isle of Man's only mountain, is 2036 feet above sea level. In 1887/8 George Noble Fell made a survey for steam railways on the east coast of the island, including a line up Snaefell. On 4th January 1895 the Snaefell Mountain Railway Association was set up to build the line as an electric tramway and on completion to sell it to the Isle of Man Electric Tramways and Power Co., who owned the coastal electric tramway from Douglas to Laxey. As it was all on private land there was no need for parliamentary approval and in fact the line commenced public service on 21st August, just seven months later.
The railway runs for just under five miles from Laxey to a height of 1992 feet above sea level at a maximum gradient of 1:12. The track is 3ft 6in gauge and has a 'Fell' rail (like a bull-head rail on its side) fitted between the running rails, onto which opposing flanged wheels engage and a calliper brake is employed. This system was designed by George Fell's father, John Barraclough Fell, being used on mountain railways to provide extra traction. In the case of Snaefell it was just used to provide braking on the downhill run. The railway is double track using right hand running. The electricity supply is at 550 volts DC, originally with a power station at the halfway point, Bungalow. Current collection is by bow collectors. The depot is at Laxey.
The passenger rolling stock consists of six trams, numbered 1-6, built by G.F.Milnes & Co. Ltd. of Birkenhead in 1895. They seat 48 and as built were mounted on special Milnes plate-frame bogies with four 25 horsepower motors and other electrical equipment from Mather & Platt. The uphill controllers were replaced by General Electric K.11 units in 1903/4, modified to K.12 in 1954. In 1977/9 the cars were re-equipped by London Transport's Acton Works using electrical parts from ex-Aachen trams and new plate-frame bogies which are replicas of the Milnes originals, now having four Kiepe 50kW motors. Trams now use regenerative braking with the Fell brake just retained for emergencies. Car 5 on our postcard caught fire in August 1970 destroying most of the body. A replacement replica body was built by H.D.Kinnin of Ramsey and the car re-entered service in 1971. The new body does not have a clerestory roof, so the car has reverted to its original style. The livery of the trams is red, white and teak, the same as the Manx Electric Railway.
Subsequent history follows that described for the Manx Electric Railway (see Postcard). It has always been a summer-only service but today we can still ride to the summit of Snaefell on 100-year old tramcars and enjoy the fine views across the Irish Sea as far as England, Scotland, Wales and Ireland. Manxmen say seven kingdoms, the other three being the Isle of Man, the sea and heaven.
For those with a further interest in the Snaefell Mountain Railway and how to model it, there is a book available from the TLRS On-line Sales.

Go to Postcard Of The Month Index




Reload Home if you linked directly to this page



Postcard of the Month is created by John R. Prentice © Copyright 2010