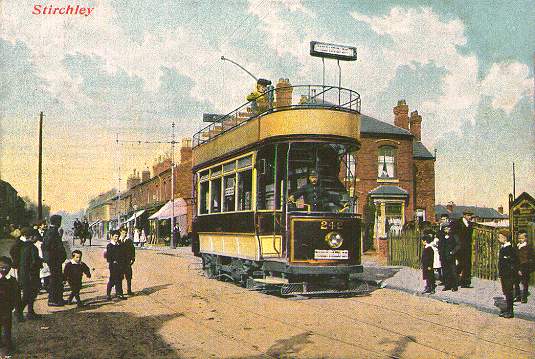 City of Birmingham Tramways Car 242, Stirchley
Our postcard, from an unknown publisher, shows car 242 of the City of Birmingham Tramways Company Ltd. (CBT), opposite what is now Mayfield Road, Stirchley, on the Pershore Road route to Cotteridge (Kings Norton). This route branched off the Bristol Road route (see postcard) at Pebble Mill Road. The temporary notice on the car dash reads "Stirchley & Breedon Cross", which together with the lack of advertisements on the tram suggests that the original photograph was taken in the first few weeks of operation of this section, that had opened on 10th May 1904.
Car 242 was one of four open top cars (239-242) built in 1904 by CBT themselves in their Kyotts Lake Road works, to a design identical to sixteen Brush cars already in their possession. They were mounted on Brush AA 4-wheel trucks of 8 ft. wheelbase, having two Brush 1002D 25 horsepower motors, Brush type 3A controllers and Westinghouse magnetic brakes. They seated 22 on the lower deck and 26 on the upper. The initial livery of this car was Munich lake and cream but after 1909 it was painted Corinthian green and cream.
When the CBT's lease on the Pershore Road track expired on 30th June 1911 the route passed to Birmingham Corporation. Car 242 was also passed to the Corporation and became number 472 in their fleet. Top covers and platform vestibules were fitted and equipment upgraded in the mid 1920s. Car 472 was withdrawn in June 1938 and was sold for scrap in the following August. The Pershore Road route continued to be operated by trams until July 1952 with the last tram running in Birmingham on 4th July 1953.

Go to Postcard Of The Month Index




Reload Home if you linked directly to this page



Postcard of the Month is created by John R. Prentice © Copyright 2007