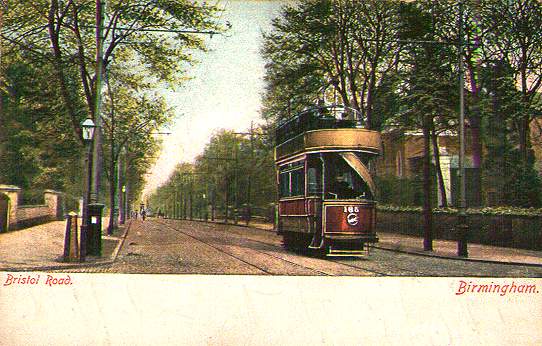 City of Birmingham Tramways Car 165, Bristol Road
2004 marked the centenary of the opening of electric tramways by Birmingham Corporation but they were not the first electric cars in the city, these being run by the City of Birmingham Tramways Company Limited. Our postcard shows tramcar 165 of that company running on the Bristol Road. The card is no.5 in the "Guest's" series and our example was posted on 15th July 1905, the view perhaps being taken a year or so earlier.
Car 165 in the picture was one of the first batch of open top electric cars, numbered 151 to 165, built for the company in 1901 by the Electric Tramway and Carriage Works Ltd. of Preston. They seated 22 on the lower deck and 26 on the upper. Their four-wheel trucks were Peckham 9A "Cantilever" type with two BTH 28 horse power GE58 6T motors and BTH B18 controllers. Initially the cars were painted brown and deep cream but soon became Munich Lake and cream.
The City of Birmingham Tramways Company Limited had taken over the Birmingham Central Tramways Co. Ltd. in 1896, and in October 1889 closed the Bristol Road standard gauge horse tramway for conversion to 3 ft. 6 in. gauge. When it re-opened on 24th July 1890 it was worked not by steam (see postcard) or cable as with earlier acquisitions, but with battery electric cars. These were open top bogie double deckers numbered 101 to 112 and they ran until 14th May 1901. From then on the route from the city to Bournbrook via Bristol Road (later extended to Selly Oak) was operated by electric cars using overhead current supply. Other routes were soon electrified and the company became a British Electric Traction Group subsidiary in 1902. When the lease on the Bristol Road track expired on 30th June 1911 the route passed to Birmingham Corporation who finally ceased to run electric trams in the city on 4th July 1953.

Go to Postcard Of The Month Index




Reload Home if you linked directly to this page



Postcard of the Month is created by John R. Prentice © Copyright 2004