Model Trams

Overseas Manufacturers
Miscellaneous Parts & Track
Overseas Manufacturers Miscellaneous Parts & Track
Note: Also check out the Suppliers list of websites for suppliers of materials and services for large scale modellers.

Alpine Division Scale Models

Alpine Division Scale Models is a US manufacturer based in Cerritos, California. They supply the products formerly made by Ed Suydam & Co. The overhead components are particularly useful and include overhead wire hangers (ears) for use with trolley poles, pantographs and for bracket arms, and overhead wire frogs. UK users have reported them to be better than anything available in Britain.
They will supply world-wide via internet orders from the "Trolley Supplies" section of their Alpine Division Scale Models website.
---

Electric Avenue
"Electric Avenue" (formerly "Easy Street") 00/H0 street track comprises a set of preformed straight and curved, solid Nickel Silver girder tram rail sections, of a very low, flat profile, simulating just the visible top of the railhead. These are used in conjunction with a wide range of strips of plastic pre-textured street surfaces of matching height.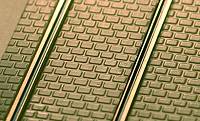 The rail is a chemically milled grooved H0 scale simulated rail head and flangeway, approximately 0.7 mm high and 2mm wide. This can be glued directly to a baseboard, so that the rail web and base appear to be buried in the street. The plastic road surface is then laid between the rails. This rail could also be used for H0m or 00 scales. The rail is sold in straight or preformed curved sections and pointwork is be available.
In the United States these products are stocked and supplied world-wide over the web by Andy Reichert's Proto:87 Stores.

---

Elody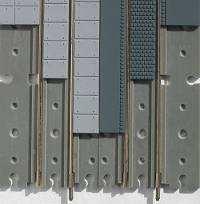 The Elody Tram Track System is from French manufacturer Malutram Sarl, who also make a small range of H0 and H0m light railway vehicles. The H0 track is in pre-formed plastic sections which lock together. Inlays are then fitted to provide a variety of road surfaces.
More details and a link to Malutram are available from the Elody website.
MALUTRAM - Lars & Annie Uenver

Lieudit Bezememe

F-01540 VONNAS

France



Phone: +33 474 502593

Fax: +33 474 502297
---

ETS
ETS is a German manufacturer of a track system for use with its 0 gauge tin plate models.
For Contact details see their entry on the 0 gauge page.
---

Hartel
German manufacturers Conrad produce the Hartel tram track system for H0 scale. This consists of short lengths of straight and curved track, plus right and left hand points, that clip together with plastic mouldings to form the cobbled road surface.
Hartel track is sometimes available from Model Masters
---

Hollywood Foundry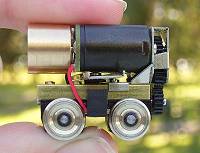 Hollywood Foundry is the Australian manufacturer of the BullAnt motor bogie. They can be ordered in various gauges (16.5mm, 14.2mm, 12mm, 10.5mm, 9mm) and with wheelbases as small as 14mm. (Example shown is 9mm Gauge, with 8mm disc wheels and a 14mm wheelbase). They can also be supplied with 3 or 4 axles. A brass spine section carries all of the components in a strong, rigid structure. A nickel-silver gearbox frame mounts the Mashima MHK-1015 motor and flywheel, along with 3 moulded Delrin spur gears, to transmit power down to just above axle level. Then a silver-steel horizontal lay-shaft runs underneath the brass spine, carrying the steel worms that provide power to the wheels. The gear ratio of 15:1 provides a good balance of power and speed range. The price is 85 Australian dollars. Matching unmotorized bogies are available at 25 dollars.
For supply see Motors & Bogies in the UK section.


---

i.materialise
Belgium based supplier of 3D printing services. They also offer a platform for selling products produced by their customers. There are UK and overseas tramway related items. Search in their website.
---

Kato
Kato produce a range of complete roadway sections with N gauge street track embedded. They are in an American style.
For Kato trams and track see the N gauge page
---

Luna-Tram
The Luna-Tram track system is made in Germany by Tillig Modellbahnen GmbH & Co. KG, who are normally known as a TT model railway manufacturer. The system in H0 and H0m is made up in track sections which clip together with a variety of spacers to form the road bed. The surfacing is then clipped on. Various curves, straights and points are available. The road surface can be asphalt, grass or paving, or can be a mixture of all three.
For further details see the Luna-Tram website
The Luna-Tram system is marketed by Navemo.
It can be obtailed online from Conrad Electronic
---

Magnorail
Magnorail from the Netherlands produce a kit to make a working cyclist in H0 scale. It has to be seen to be believed. They also produce a range of paving.
For details of Magnorail products, including videos of their cyclist, see their website.
---

Mashima
Mashima are a Japanese manufacturer of small 5 pole 12 volt D.C. electric motors that are suitable for use in model trams. Sadly they are now in short supply, but there are alternatives.
For supply see Motors & Bogies in the UK section.

---

Miroslav Barnet
Miroslav Barnet (MB Models) is a Czech manufacturer of model trams. They also produce a track system in H0 or H0m with grooved rail based on a rectangular section. There are straights, curves and points. Sections fix together and there is an infill of setts available.
For further details contact their website
---

Micro-Mark
Micro-Mark is a US small tool specialist based in New Jersey. They can supply the special paper used for producing water slide decals for your models. The required design is created by the printer of your home computer (inkjet or laser) and is then fixed with a varnish (e.g. with Humbrol spray varnish) before application to the model. Although not cheap, UK users have reported these products to be the best currently available.
Micro-Mark will supply world-wide via internet orders from their website.
---

Modellbahntechnik-Hof
Modellbahntechnik-Hof (formerly trading as ER-Decor) is a German manufacturer producing a track system for 12mm and 16.5mm gauges. The road is resin moulded complete with setts into which the rail is glued. The rail itself is inverted code 40 railway rails where the tram wheels run on the base. There are straights, curves. points and crossovers. The remainder of the road surface is made of a flexible material with matching setts which can be shaped to the track layout.
More details are available from the Modellbahntechnik-Hof website.
---

PA Heritage Models
PA Heritage Models is a USA manufacturer of a track system using plastic covers that clip onto standard flexible track to produce a roadway. They offer these in grey or red brick colours on a simulated brick surface and also a macadam finish (no surface detail) in black.
For Contact details see their entry on the 0 gauge page.
---

pmt
pmt (profi modell thyrow) is a German manufacturer of model railway equipment with an impressive range of motor units suitable for tramcars. There are downloadable pdf data sheets (in German).
More details are available from the pmt website.
---

Preiser
Preiser is a German manufacturer with a large range of scale model figures for model layouts. Preiser also own Merten figures. Figures are available in G, 1, 0, H0, TT, N and Z gauges.
The H0 range is particularly extensive and even includes a set of six tram personnel.
Most good model railway shops stock Preiser Figures.
---

Ophir Mines Railway
Rich Eaton of Ophir Mines Railway produces a range of overhead equipment for use in H0 scale, but which in most cases would also be suitable for 00. Included are frogs, hangers, traction poles, wire and sprung trolley poles.
Eaton Custom Engineering

120 Ness Road,

CASTLE ROCK, WA 98611

USA



Email: richeaton4@aol.com
---

Redutex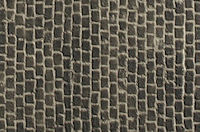 Redutex is produced by Spanish manufacturer Newkit Model S.L. It is a range of over 1,000 self-adhesive 3D texture sheets that faithfully reproduce a large number of architectural finishes and textures. There are several setts and cobbles types which are suitable roadways and tramway track infill. Sheets can be cut to shape with scissors, a hobby knife or laser cutter. They are in Z, N, 00/H0 and 0/1 gauges plus a larger size suitable for dolls houses and large scale tramway buildings.
Available from the Redutex website.
---

Shapeways
US and Netherlands based supplier of 3D printing services. They also offer a platform for selling products produced by their customers. There are UK and overseas tramway related items. Search in their website.
---

Sommerfeldt
Sommerfeldt is a German manufacturer of parts for the construction of overhead current collection systems on model railways and tramways.
Pantographs and bow collectors suitable for trams are available in G, 0, H0, H0m and N scales. Some H0 items are of use for 00 scale. Tramway overhead masts are made in H0 and N scales and there are light railway masts in H0m.
---

Steam Era Models
Steam Era Models in Australia produce ready to run "Black Beetle" motor bogies in HO, OO, EM, P4 and On3 gauges. The can have a variety of spoke and disc wheel sizes and can have any wheelbase from 25.5mm to 40mm, in steps of 0.25mm, some therefore being suitable for the tramway modeller. They are fitted with Mashima motors.
Their address is:-
Steam Era Models

C/- P.O. Rhyll

Victoria 3923

Australia



Phone/Fax: +61 35956 9389

For supply see Motors & Bogies in the UK section.


---

Tenshodo


Tenshodo is a Japanese manufacturer of 16.5mm gauge railway motor bogies which are also suitable for trams.

The range includes these wheelbase lengths: 24.5mm, 26mm, 28.7mm, 31mm, 35mm.

Most good model railway shops stock Tenshodo motor bogies.


For supply see Motors & Bogies in the UK section.


---

Thingiverse


Site for the free download of 3D printing files including some trams and tramway parts. Search in their website.

---

Tomytec/Tomix


Tomytec/Tomix produce a range of N gauge track sections, including paved street track.

For Tomytec trams and track see the N gauge page

For more information see this Unofficial Tomix website.








Reload Home if you linked directly to this page



© John R. Prentice Software 2021