Model Trams

Overseas Manufacturers of OO gauge trams
Overseas Model Tram OO Gauge (1:76 scale) Manufacturers

80M Bus Model Shop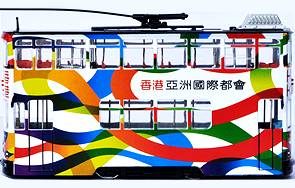 The 80M Bus Model Shop in Hong Kong supplies a number of die cast models of Hong Kong trams in 00 scale, similar to the Peak Horse models (below). In addition 80M sell Bachmann China and other Hong Kong tram models in various scales including N gauge.

80M Bus Model Shop website.


---

Bachmann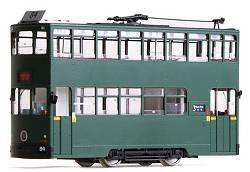 Manufacturers of ready to run tramcar models. Bachmann China produce a range of motorized Hong Kong trams.
See Bachmann in the UK section.

---

Citoys
Chinese manufacturers of 'pull and go' model toys. Scale is roughly 1:76.
Carriage inscribed 'Fast Transit System', which looks like a cross between a tramcar and an underground car. The doors are for high platforms, there are 2 pantographs, the driving position is at one end and it is designed to run with other carriages as the non-driving end has a door for connections with the next carriage which can be hooked on. The livery is silver and orange. Price about about £3.
They are available in the UK from some toy shops and the importer is:
CITOYS,

Blackpool, FY4 4QQ.
---

Cooee Classics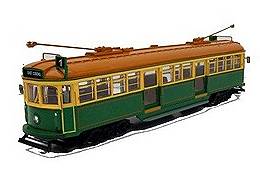 Australian manufacturers of die caste painted models. Scale is 1:76.
The models are based on the Melbourne class W trams. They are available in a number of liveries including a Yarra heritage car, Bendigo Restaurant tram and Metropolitan Transit with adverts. They come both in static or motorized form.
Cooee Classics website.

In the UK some static cars are marketed by EFE.
---

Modemo
Japanese manufacturers of plastic tramcar model kits. Scale is given as 1:80 on 16.5mm gauge track. These are superb kits with full transfers so that an excellent reproduction of the complex advertisements can be achieved.
EC1 Neiji Seika Go bogie tram car at about £10.
EC51 Enoshima motorised bogie tram car at about £69.
EC52 Tokyo Toden Type 7000 series motorised bogie car at about £69.
EC55 Momotaro 'Deluxe Go' motorised tramcar at about £69.
EC101 Tokyo Toden Type 6000 series bogie car at about £10. All over advertisement 'Nova Go'
EC102 Hakodate City Shidan tramcar at about £10. Advertisement 'Kaisen Ichiba'
EC104 Momotaro Dentetsu bogie tramcar at about £10. All over advertisement 'Happy Go'
HT1 Tokyo Toden Type 6000 series motorised bogie car at about £77. (Ready to run)
OE2 Momotaro tramcar at about £9. All over advertisement 'Dentetsu Go'
---

Peak Horse Ventures
Hong Kong manufacturers of diecast tramcar models.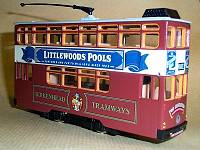 Their 1:76 model of a modern Hong Kong double deck tram was introduced in 1998. The body casting has four small holes and separate rear view mirrors are supplied for the modeller to fit. The wheelbase is 33mm and the wheel diameter is 10.5mm. The fine wheels supplied are set at 3' 6" gauge but there is enough room for 16.5mm gauge wheels if the trucksides are moved out a few mm. More recently some have been supplied by Bachmann as motorized models and some livery versions were commissioned by the 80m Bus Model Shop (See website).
Liveries produced included:
Green and cream/off white 1920s (upper deck white).
Green and cream/off white 1930s (upper deck green).
Green.
Green lined gold and lettered "Hong Kong Tramways".
Gold.
The livery of the Birkenhead heritage tramway.
All over advertising livery for:

Scotts Emulsion
Longevity Milk
Nissin Foods
Taikoo Sugar
Double Happiness Cigarettes
Pentax Cameras
Principal Insurance
T & T Telecomms (IDD 007)
Konica Film & Cameras
Promise
Chubb
Fisherman's Friend Red
Fisherman's Friend Green
Fisherman's Friend White
Fisherman's Friend Green Striped
Fisherman's Friend Blue Striped
Fisherman's Friend Yellow Striped
Po Sum On Medicine Oil and Healing Balm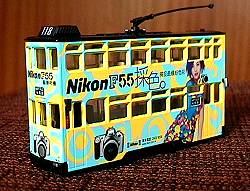 A special issue "not for sale" version of the Hong Kong tram produced by Peak Horse for Nikon Hong Kong Ltd. The girl is Hong Kong pop singer Joey Yung.

---
Transit Graphics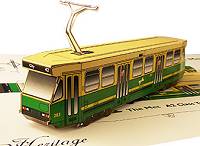 Australian manufacturers of push out and fold up models of various Australian trams printed onto plastic coated paper. Scale is approximately 1:76.

Details can be found on their website or on Facebook






Reload Home if you linked directly to this page



© Copyright John Prentice Software 2021