Model Trams

Overseas Manufacturers of G gauge trams
Overseas Model Tram G Gauge (1:22.5 scale) Manufacturers
Manufacturers of ready to run tramcar models.
See Bachmann in the UK section.
---

LGB
From German manufacturer, Lehmann, come the LGB ready-to-run electric and steam trams come in several versions, re-issued at intervals in different liveries. The trams can be open or vestibuled, having three or four side windows, with pantographs or bows for current collection. The recently available models are:-
Unvestibuled 4 wheel motor car and trailer car set, presently in the green and cream livery of 'Electrischen Strassenbahn Weimar'.
Unvestibuled 4 wheel motor car in Cologne livery.
OEG Steam tram engine 'Fiery Elias'.
Electric steeple-cab locomotive.
First released in the US and new for Europe in 2004 are:-
Perley Thomas style bogie car in New Orleans livery.


As above but in New York livery and with a trolley sound module.


As above but in "Christmas" livery available with or without trolley sound module.

Lehmann also make a Rigi cable car set (10mm scale) and the Gnomy toy tram (about 7mm scale).
LGB models are available from most good model railway shops.
---

Light Rail Products
Light Rail Products (LRP) are US manufacturers producing high quality, detailed and well thought out kits which can be assembled with only basic modelling skills. All of these kits are G-scale versions of products that were used on a wide variety of interurbans and streetcars (body enhancements, trucks, trolley poles, couplers, headlights, controllers etc.) These parts and kits can easily be used to improve commercial models.
For more details check out their website.
LRP's address is:-
Light Rail Products,

1406 Crespi Drive,

Pacifica, CA 94044,

U.S.A.
Email: info@lightrailproducts.com
---

OcCre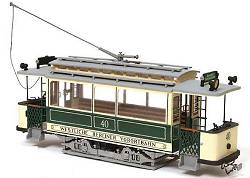 OcCre are Spanish manufacturers producing wood model kits including a number of trams in G scale. Current models are for Berlin (shown right), San Francisco, Lisbon, Sóller, Barcelona, Madrid, and Stuttgart. In 2011 OcCre released a splendid model of LCC 106 (below). Models are unmotorized but there is a motorizing kit available.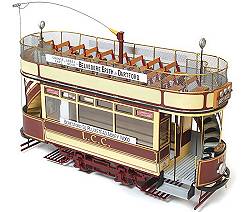 For more details check out "Railway Models" on their website.
In the UK they can be obtained from Glendale Junction, who also have their own cheaper motor unit:-
Glendale Junction,

5 New Row,

Deeping St. James,

Peterborough,

PE6 8NA

Glendale Junction website
---

SEMMELBAHN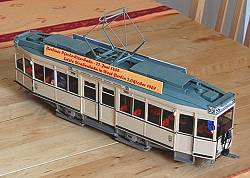 Semmelbahn are manufacturers of cut parts for building model trams in 1:22.5 for G scale track, aimed at the DIY modeller. Depending on the vehicle, these consist of milled polystyrene, wood, plexiglass and brass as well as lasered Invercote Duo in various thicknesses.
For further information and ordering details see the section "Teilesätze" on their website.
---

TRAMANIA
Tramania (a Belgium tramfan club) is launching a subscription for the production of five model tram kits from the SNCV (Vicinal). These are made in wood, steel and brass ( G/IIM scale, like LGB )
Very detailed, based on original SNCV drawings, five different trailers are proposed:
ex steam trailer 2d class 6 equal arched windows,
ex steam trailer 2d class 6 equal rectangular windows,
ex steam trailer 1rst and 2d class 6 unequal arched windows,
Luggage van (original aspect - no platform windows)
trailer B.328 of the CBR (preserved at MTVS) (will be produced for a a total of 5 orders only)
Kit assembly: nothing to solder, nothing to cut. A file, plyers, glue, pencils and paints are sufficient. The pre-cut metal pieces are assembled by plying, rivets or bolts. The pre-cut wood pieces are to be glued.

For further information and ordering details see the section "Models" on their website.







Reload Home if you linked directly to this page



© Copyright Tramway & Light Railway Society 2020